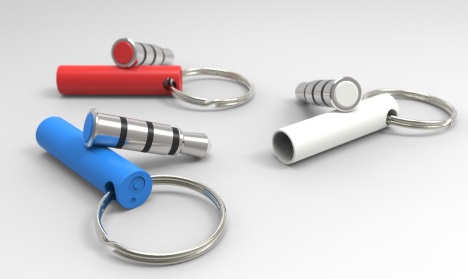 Pressy, the Almighty Android Button, is a great example of a successful Kickstarter campaign. It was one of those simple ideas that really caught peoples imagination and the aimed for project goal of $40,000 was obliterated!  On the close date of 14th October 2013 the total raised was a staggering $695,138! I backed the campaign as did my fellow CoolSmartPhone writer Tom Ranson and after some delays due to quality control we both finally have the device in our hands and devices. What follows is a joint review / assessment of both the button and the app that is used to operate it.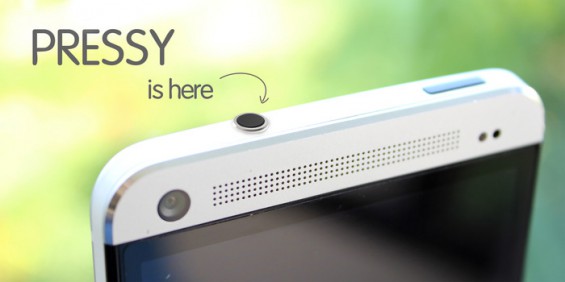 The Pressy Button is the pointy end of a headphone jack that you insert into the aperture you normally plug in your earphones. This leaves just a raised edge which you can press and thus acts as a button. You can use this button to activate any program and system function you can think of that your phone can normally perform.
When you download the pressy app and open it you have to authenticate via a code to prove you are using an original pressy device. To set up an action you click through to choose the kind of process you want and then choose a number of clicks to activate it: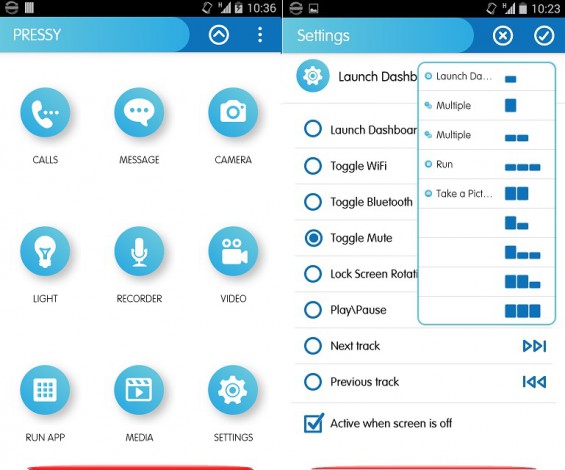 In the above example I clicked the SETTINGS option on the left screen, the TOGGLE MUTE option on the right and then you get a pop up option to choose how to activate your action;  press, long press or a combinations of the two. The result is when I click the Pressy Button once my phone is put into mute, another single press un-mutes it. Simples. There are nine different 'pressing combinations', so you can program nine different actions!!
The button itself has a comfortable, easily clickable action which seems sturdy and responsive. For me the killer-convenient functionality is that a press can be done even if the screen is asleep / off. So a click sequence of the button when I take my phone out of my pocket can take a picture or launch the Pressy dashboard (which allows a plethora of system functions) all whilst ignoring the screen lock on my phone. My one gripe (and completely understandable as it is a new app and product which cannot have been tested on every device out there) is that the 'click to take picture' option does not seem to work on my Nexus 4 or Xperia Z Ultra from a closed screen. This is a disappointment as this is would be a hugely beneficial click but I have e-mailed the developer team and look forward to seeing what can be done to fix this. Overall I am very happy with the Pressy.  Time efficient and convenient, the benchmark of any gadget!
Tom here!
Hi guys! My experience with this little device has been much the same. It took me mere minutes to fall completely in love with it. For such a tiny device it's astonishingly well made. I'm a huge fan of a well thought out product and everything about this thing is simple and easy to get to grips with. I think my favourite thing about using it is simply the feel of the button, it's a very satisfying click.
As always these things aren't without their downsides! Being a very first release I am not going to be too critical but I have had a couple of issues. Firstly is my experience using it in my LG G2. As I am sure a lot of you do, I use an launcher other than the one that ships with the phone, I use the Google Now Launcher for that 'stock' feel. However, from the homescreen Pressy was completely unresponsive, it was only when I pressed the button while in the Facebook app and the Pressy app responded instantly by turning my flashlight on that I realized it was the launcher messing with things. I've since tested it with others like Aviate and Action Launcher and things seem to function as expected. Also, when inserting the Pressy it's obviously very difficult to do so without actually pressing the button, since it's basically the entire top face. On a couple of occasions I was given a message warning me that I had pressed the button while inserting the Pressy and that I should try inserting it again. Strangely I've been unable to replicate that despite purposely holding the button as I insert it! Despite those troubles I haven't had the problem since inserting it the first few times.
On the whole I agree completely with Aran in that it's a fantastic little device, i'll leave you with an image of the little button next to a 5p so you can get a sense of how tiny it really is!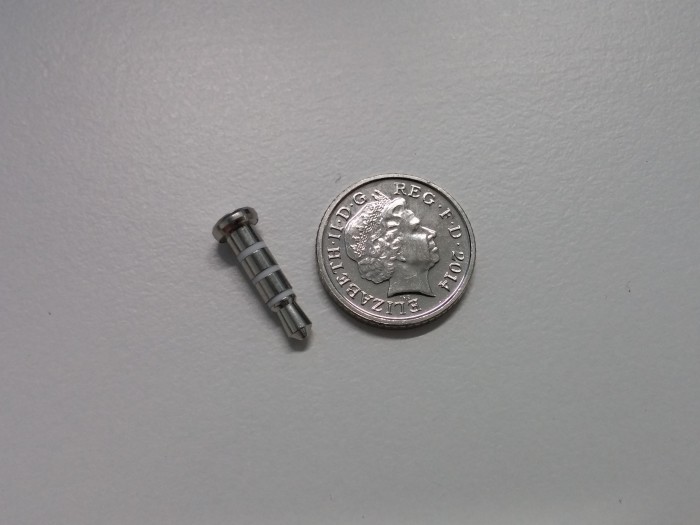 You can get your hands on one of these over at the official Pressy website right now for $27, that's about £15.86. Shipping to the UK is $5. It gets our vote. 
Link – Get Pressy!