LG have started sending out press devices of the new LG G3 so that sites can get reviews up, and that means the general public should also be able to purchase one shortly.
We heard lots of talk that the G3 will launch in the UK on the 1st July, but we now have a date from Three which puts the release even earlier on the 26th June… just a few days away!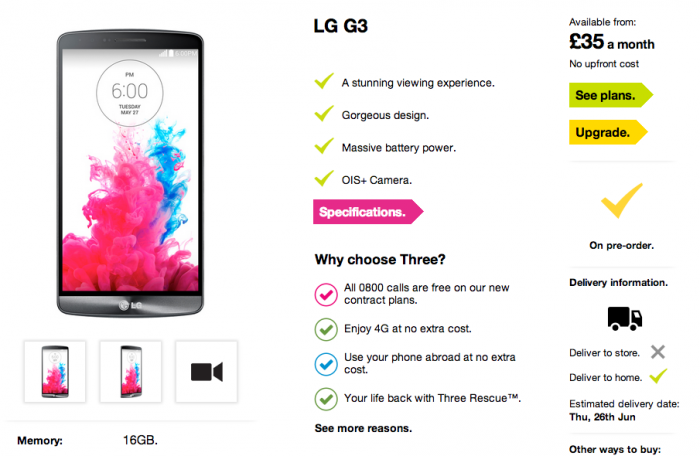 There are three different price plans on offer, and great to see a PAYG price right from launch.
£35 a month gets you 600 Minutes, Unlimited Texts and  AYCE data
£35 gets you AYCE Minutes, AYCE texts and 2GB of data
£38 a month gets you AYCE Minutes, Unlimited Texts and AYCE data
PAYG costs £499.99 plus top-up
The device on offer is the 16GB black model only, so no luck if you're after white or gold. However, with the G3 now confirmed to hit the UK in just a few days and various sites having their press units for review, expect there to be a LOT of LG G3 content over the next week.
With a new laser focus 13 megapixel camera, outstanding battery life and a 2K resolution screen, the LG G3 is set to be one of the best phones of the year, also thanks to the amazing almost bezel-less design.
You can pre-order your own LG G3 on Three right now.
Source: Three Store  –  Three Blog