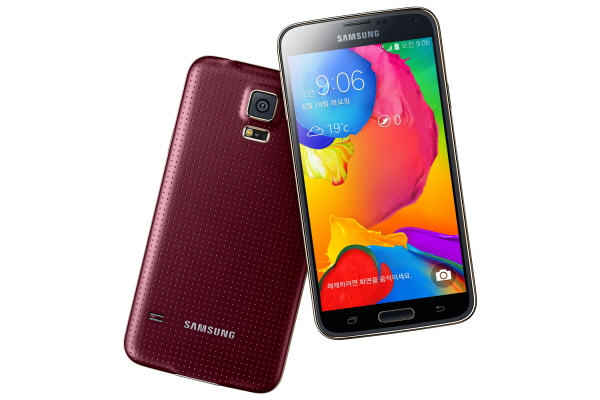 When I say "sort of" I mean that they have announced another variant of the Galaxy S5 and it comes with vastly upgraded specs, meaning this is more than likely the fabled "Prime" version of the Galaxy S5 that people have been banging on about for a while now. What they have actually called it is the Galaxy S5 LTE-A, which really plays down on what's inside.
The Galaxy S5 LTE-A spec wise is a bit of a beast packing a SnapDragon 805 Processor, a WQHD (2156×1440) display and 3GB of RAM. The S5 LTE-A also is dust and water resistant, has the same camera as the normal model and for me it almost sounds like the sort of spec bump I was expecting for the Galaxy Note 4. Although one thing is obvious and that is that there isn't any metal backplates to be seen, maybe they are being saved for the rumoured Galaxy F.
Processor: SnapDragon 805 2.5GHz Quad Core Processor.
Display: WQHD Super AMOLED (577ppi, 2,560 x 1,440).
3GB RAM.
WiFi: 802.11 a/b/g/n/ac HT80, MIMO(2×2).
Bluetooth®: 4.0 BLE / ANT+.
USB: USB 3.0.
NFC, IR Remote, Accelerometer, gyro, proximity, compass, barometer, Hall, RGB ambient light, Gesture(IR), Finger Scanner, Heart rate sensor.
Internal Memory: 32GB.
microSD slot upto 128GB.
Dimensions: 142.0 x 72.5 x 8.1 mm, 145g.
Battery: 2,800mAh
Basically if you have bought a Galaxy S5 recently you have reason to be angry with Samsung shelving it so soon, but there is one piece of news that might be of interest and that is that the Galaxy S5 LTE-A is a Korea exclusive device at the moment so it's unlikely to ever make it to these shores.
The Galaxy S5 Broadband LTE-A will be offered in Korea beginning this summer in charcoal Black, shimmer White, electric Blue, copper Gold, sweet Pink, and glam Red (Only for SKT).