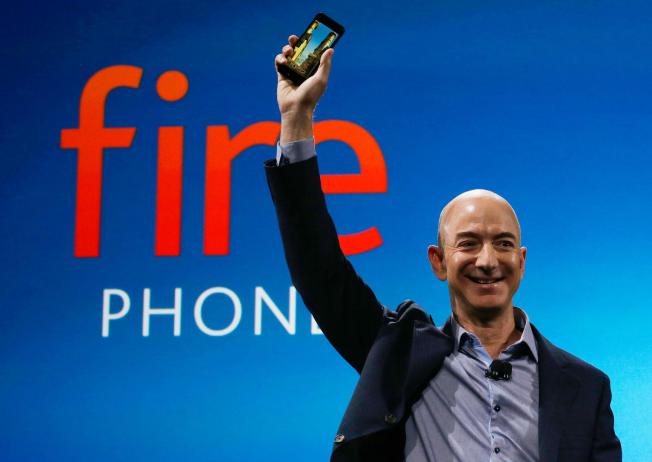 We knew it was coming, but the announcement has still been a bit of a surprise for many. Details are still emerging currently, but we do know that there's be "unlimited" storage via the Amazon Cloud Drive system and it comes with a 4.7″ screen and 13 megapixel camera.
A lot of features have been carried across from the Fire HD tablet, including the "Mayday" function that'll give you a live helper when you get stuck with your phone. Other features include Prime Music for streaming and downloading music plus ASAP for viewing video content from the Prime Instant library.
Special camera technology up front will alter images on screen so that they appear differently depending on your view point.

The device also has something called "Firefly". This is an image recognition application which, according to the spiel, detects and identifies more than 100 million items including songs, phone numbers – even a jar of Nutella.
Pictures of the device, which you can see here, reveal a "it's not really Android" world where Amazon is in firm control of the experience, the purchasing of goods and the design.
There is, we have to say, absolutely no news about when or if this phone will be available outside of the USA. It'll be available on July 25 and is an exclusive AT&T handset. You can pre-order it on www.amazon.com/Fire-Phone and the 32GB is available for $199 on a two-year contract. A 64GB version is also going to be available for $299 on a two-year contract.
We now have further specification details too. The device is powered by a quad-core Qualcomm Snapdragon 2.2 GHz processor and has 2GB RAM. The screen, as we mentioned before, is a 4.7″ HD unit with "DIC" (Dynamic Image Contrast) for better viewing in sunlight.
WiFi and WiFi channel bonding is available plus 4G, NFC, and Bluetooth.
Amazon have also learned a little from HTC, with dual stereo speakers at the front. It has Dolby Digital Plus for a "virtual surround sound experience". The 13 megapixel camera has an LED flash, 5-element f/2.0 lens and OIS. This is supplemented with a 2.1 megapixel selfie cam.
Put into perspective though, this is a very expensive phone considering what it brings to the table. It also seems to be designed to help you buy other items, and there's no news about making it available in other countries. All a little puzzling.