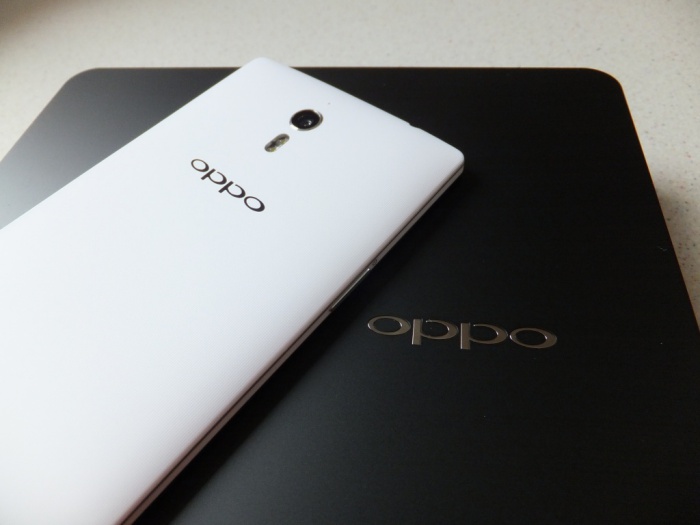 In this day and age now and again you have to take a punt on something, just in case you've found something special. That's exactly what I did with the Oppo Find 7a. But is it a dud? No its not, you'll have to read on to find (see what I did there?) out why.
Oppo are slowly getting a name for themselves within the Android enthusiast niche and here at Coolsmartphone we've been involved with that for a while now with various members getting their hands on various models. This year it's my turn to get an Oppo. Over the last few months we heard no end of hype about the 2K Resolution display on the Oppo Find 7, it soon became a fabled device, with killer specs and a killer screen. What we got at the Oppo Find 7 event was a new phone, available in two models and two price points. The Find 7 and the Find 7a, which soon became available on pre order and I just couldn't wait for the slightly higher spec 2K screen model. I've been interested in trying out an Oppo phone for a while, thanks to the mid range pricing, the high end specs and the ease of messing  about with custom ROMs and the like. So onto my review, starting with my good and bad points.
Good Points
 Great big bright crisp screen with great viewing angles.
Memory card slot and removable battery.
Great camera with lots of options and settings, including 50MP, HDR, long exposure, GIF and RAW modes.
Great spec (apart from the internal memory).
Ridiculously fast charging.
Crazy loud stereo speaker.
Really impressive sound quality using headphones.
The notification light  in the bottom bezel is really rather cool.
Great price for what you get.
Bad Points
Partitioning the 16GB internal memory into three partitions in 2014 is almost incomprehensible.
It runs Jellybean not KitKat.
Fast charger is a two pin euro style plug with a UK adapter thing.
Color OS is a rather heavy skin, barely anything has been left untouched.
Color OS although smooth at times feels a tiny bit laggy, a different launcher or animation tweaks fix that.
New features and bug fixes feel few and far between.
Micro SD seems to unmount itself sometimes leaving files inaccessible.
The backlight for the capacitive buttons is so dull most people think it's broken.
The volume and power buttons  feel a bit loose and rattle when shook.
Screen gestures are just too complex.
The volume is too loud. Even notifications need to be turned right down.
It struggles to keep hold of a weak signal, where other devices wouldn't.
Design
The Oppo Find 7a is a nice looking device, I opted for the white version and yes parts of it are white, other parts annoyingly are a different shade of white and the front is black.
There is no getting away from the fact that the Oppo Find 7a is a large device at 5.5″ with capacitive buttons and then some extra bezel above and below the screen you're probably going to need two hands to use it. In one hand I can just about reach three quarters of the screen rendering the rest almost pointless, in two hands you can reach the whole screen though.
In the hand the Oppo Find 7a feels nice, thanks to the curved backplate, the white version has a nice fine grid pattern on it which is nice to touch.
The front of the phone is pretty plain, with the hard to see capacitive buttons, the front facing camera, the earpiece, proximity sensors and then the rather swish notification light in the bottom bezel.
The sides of the phone are made of a different material, with a two thin strips of metal under the screen and under the backplate. I guess this adds to the rigidity of the device. The edges house the ever so slightly rattly power button and volume rocker. The top edge has the headphone socket and the  bottom edge has the Micro USB port and a microphone. The backplate is removable, which can interestingly be achieved by pushing a SIM removal tool into a  recessed button at the bottom of the right hand edge. The backplate itself houses the camera, the flash and a secondary microphone.
Overall I like the design, the only thing I'd possibly change would possibly be the overall size of the device, by trimming the bezels they could have made it a bit smaller, if they'd used onscreen navigation buttons as well that would have saved space too.
Hardware
Spec wise the OPPO Find 7a is definitely a modern flagship. Everything you'd want to see is there. Let's have a look at the spec.
Processor: Qualcomm Snapdragon 801 MSM8974AB Quad-core 2.3GHz.
Screen: 5.5 inch LTPS with Corning Gorilla Glass 3, 1080×1920 FULL HD, 403 PPI.
Internal Memory: 16GB.
RAM: 2GB LPDDR3 1866MHz.
Card reader: Up to 128GB.
FDD-LTE Bands B1/3/7/20.
TD-LTE Band B40.
UMTS/HSDPA/HSUPA/HSPA+/HSPA+42 (850, 900, 1900, 2100MHz).
GSM/EDGE (850, 900, 1800, 1900MHz).
802.11a/b/g/n Wi-Fi (802.11n 2.4GHz and 5GHz).
Wi-Fi Direct.
Android 4.3 (Jelly Bean).
Fast Charge Technology.
Wi-Fi Display.
Digital compass.
Light Sensor.
IR Proximity Sensor.
Magnetic Sensor.
Gravity Sensor.
Battery: 2800 mAh removable lithium-ion battery, fast Charge Technology.
Camera Main: 13-megapixel Sony Exmor RS stacked CMOS sensor with dual LED flash, 6P Blue glass/AR+AF cover glass, f/2.0 aperture.
Front Facing: 5-megapixel, 80° visual angle, 5P lens, f/2.0, Blue glass.
Dimensions: 152.6×75×9.2 mm.
Weight: 170g.
During my initial impressions about the Oppo Find 7a I was a little bit disappointed about how Oppo  had continued the trend of partitioning the internal memory and leaving the user with an app storage section of only about 3GB. After using the phone for about a month I found I just adjusted my app installation to suit the ludicrous limit Oppo had set. Although I did try out a few methods to get round the problem, the first being too install App2SD which transfers apps to the SD card, which was OK until I realised that sometimes those apps wouldn't be available. Now and again the SD just wouldn't be available, which Oppo seem to have fixed in the recent firmware update. I finally settled for a method of not installing all the games I could possibly ever want to play and just sit patiently for someone to hack the partitions and publish details of how to do it. It is really really bad that Oppo haven't addressed this issue and they almost seem to think that it's a good thing because that's how it's done in China. Oh well.
The rest of the hardware is pretty impressive, the speakers are loud, albeit too loud. On the lowest volume setting notifications are too loud and music is loud too. Loud doesn't equal quality though, as at volume music is a bit tinny with no depth or bass, it doesn't distort though. Headphones though are great sounding with wonderful bass response, you even get two equalisers to play with. An AudioMaxx one and a Dirac one, I don't have a favourite as they both enhance the music being played.
Software
Oppo have had their own unique skin for Android for a while now, which if you've got a Find 7a you have two versions to choose from. I'll deal with the version that comes pre-installed first though, as the second version is still in beta testing.
Color OS is a rather heavy skin on top of Android 4.3. Which to look at you'd be hard pressed to point out things missing from KitKat it's that skinned. Oppo have reworked every single core Android  app and added little  enhancements or tweaks along the way. Some things are intuitive such as the notification drop down and some are just pointless like the Calendar app which is nearly unusable (I had to install the Google Calendar). The launcher itself feels quite fluid and animations are nice, although using a different launcher it really flies.
As you can see the launcher is a mish mash of Oppo designed icons and core Google ones, needless to say I ended up using an alternative launcher and a better selection of icons.
Oppo have added quite a few apps to the selection you get out of the box, they're basically redesigns of stuff that already exists, some like the Data Monitor, Backup and Restore and Power Manager are just skinned Android apps but others like the Themes, Permission Monitor and Block are useful additions to the device. Yes there are quite a few pre-installed but I never felt overpowered by them.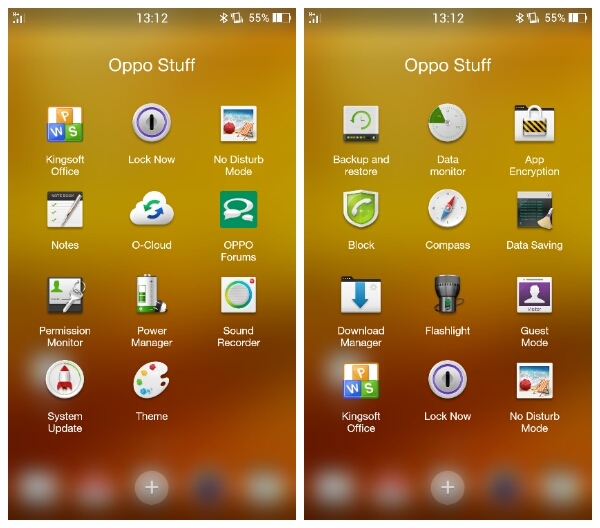 Gestures
Somewhere along the line someone at Oppo decided that people instead of using onscreen controls or buttons to control apps would rather try and remember a long list of swipes and gestures to control their phones. You basically have screen off gestures, screen gestures in a fancy drop down panel and then a selection of random motions and gestures to cover other thing. I'll quickly run through some of them.
First of all you have the Gesture Panel which pulls down near the Notification pane when you don't want it to, the thought being that you draw a shape and it loads an app.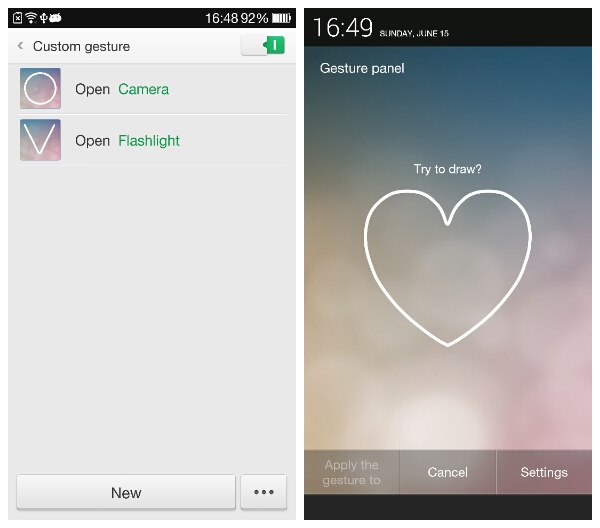 Next up we have the screen off gestures, so you can trigger apps, wake it up, control music all whilst the phone is turned off. The double tap to wake and camera shortcut were actually quite useful here.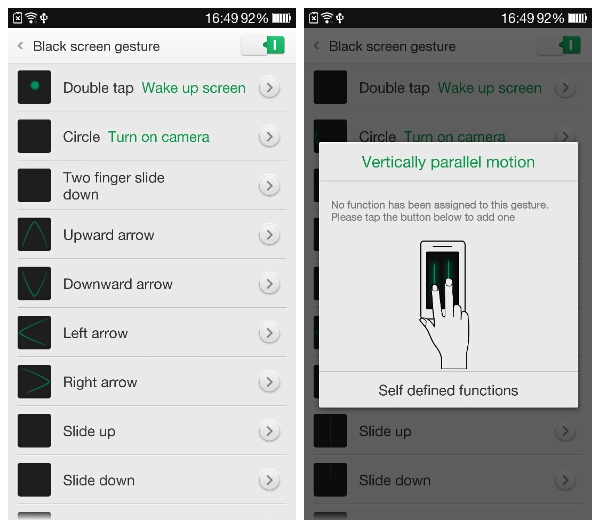 Next is the more general stuff, the three finger Gesture Screenshot is what ruins multitouch capabilities of the Oppo. Turn it on and you get 3 or 4 multitouch response from the screen and not 10 as normal. No doubt Oppo will fix this though. The double tap of the home button to lock the device is quite handy though.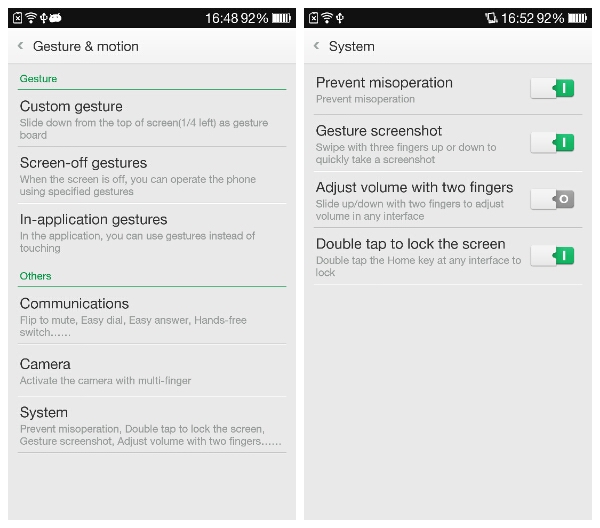 Beta test version of Color OS
The beta version of the software didn't really add much to the experience, it was still based on Android 4.3 and in truth it only really offered improved lockscreens and lockscreen themes, a rather fancy looking recents/multi tasking panel and some rather nifty app folders. It was nice to see what Oppo have in mind for the future but at the moment the beta version doesn't have the improved battery life like the stable firmware.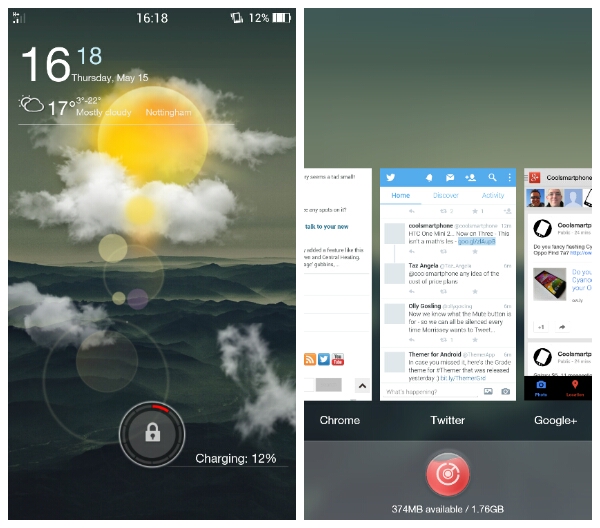 Other notable stuff
Benchmarks
Benchmark wise the Oppo Find 7a performs as you'd expect, which isn't saying much as it shares the same chip in most cases. Although it is weird seeing it bench higher than the KitKat running Sony and Samsung in most cases.
Antutu X – Oppo Find 7a – 35958 (Sony Xperia Z2 32384, Samsung Galaxy S5 27113, LG G2 – 28587)
Quadrant – Oppo Find 7a – 21907 (Sony Xperia Z2 17470, Samsung Galaxy S5 23264, LG G2 – 19250)
3DMark – Oppo Find 7a – 20275 (Sony Xperia Z2 18685, Samsung Galaxy S5 18720, LG G2 – 17730)
Battery life
Battery Life has been hit and miss, the Firmware that the Oppo shipped with was atrocious and the device actually used more power in standby than it did whilst actually being used, the Beta ROM is just as bad. A few weeks ago Oppo pushed out some new OTA firmware which fixed the Idle Screen battery drain issue. But it still isn't ideal.
Most days with the Oppo ended up with me having to charge the thing after lunch and that gets me to the next point. The Oppo Find 7a charger is insane, paired with a spare battery I really didn't care that the battery performance wasn't up to par, I could recharge it in an hour almost or just another battery in.

The camera
The camera on the Oppo Find 7a is a 13MP unit, with no OIS and a few software tweaks up its sleeve. When they announced it a while back Oppo were full of chatter about the 50MP mode which I was hooked by, I just had to see how it worked out in real life. So setting out the camera section of the review was going to be fiddly. I basically wanted to test out normal mode, HDR mode and the 50MP mode. What I've done is to take some random shots around Nottingham, for each shot took the shot in normal mode, 50MP mode and then HDR mode.
I found that the OPPO Find 7a could take some really nice shots, as long as you went to the effort of selecting a focus area and it was well lit. The 50MP took a couple of seconds to take a few shots and stitch them all together and holding the phone still during this was a struggle, a tripod mount of some sort is recommended. My favourite mode is the HDR mode which created some really nice contrasting images, it took longer than a normal shot to create but no where near as long as the 50MP mode. The RAW mode would be useful to some, not me though.
Picture 1
Picture 2
Picture 3
Picture 4
Picture 5
Picture 6
If you fancy downloading a folder full of these images then you can here. So you can see the tiny tiny extra bit of detail in the 50MP shots.
The camera has a few other tricks up its sleeve, with a Beautify mode to enhance face shots and selfies, Panorama mode, a slow shutter mode with up a choice of exposure times from 0.5 seconds up to an absurd 32 seconds, Audio photo mode, GIF mode for slightly unnerving selfies and RAW mode for importing into Photoshop and having a fiddle with.
Overall I liked the camera on the Oppo. It took decent shots in good light, in faltering light the HDR mode really created some nice shots. The HDR mode really made the camera for me, creating nice effects of sunsets or blue skies, it has made me look at other devices with HDR differently. The 50MP mode I found to be a bit of a rather slow gimmick though, the resulting pictures were large and barely any more detailed than the original, it sounds good on paper though.
Shoot 50-megapixel photos with the "Ultra-HD" multi-shot feature.

While in "Ultra-HD" mode, the Find 7 is able to focus in on more details. This is accomplished by taking ten photos at the backend with just the press of a button, it will then automatically create and combine them into a 50 megapixel photo. Perfect for high quality prints.
Conclusion
Overall the Oppo Find 7a has the potential to be an amazing device, it's just Oppo pitched the ball a little too short with it's release. At times it felt like I was beta testing something for them or that I'd bought a pre production model or something.
Admittedly at times I was running the beta version of Color OS, but only because of the extra features. So much about the device screams compromise, it's running Android 4.3 because Oppo just haven't got round to adapting Color OS to work with it, even though it was release last November. It's got a crippled internal memory just because Oppo think that's what people want, despite many complaints on their own forums, for both the Oppo Find 5 and the Oppo N1. The poorly optimised software that at times leads to poor battery life and countless other bugs or issues that only exist because Oppo have assumed that people want it that way, like the absurd number of gestures that come out of the box.
Don't get me wrong though there is a lot to like about the Oppo Find 7a like the sound quality, the quality of the screen, the overall size and feel of the device, of course the insane speed at which it charges up, the massive potential it has if various bugs are squashed and the fact it's one a few flagship devices with a removable battery and Micro SD slot.
So now I'm torn do I sell it, cut my losses and buy something costing twice as much? Do I wait for Oppo to push out bug fixes and maybe one day they'll push out a KitKat ROM? Or do I hack it to pieces, fix the dodgy memory partitions and install Cyanogenmod on it? It's a hard choice……
Oppo Find 7a - Review
Design - 7
Hardware - 7
Software - 6.5
Camera - 7.5
Screen Quality - 7
Battery Life - 7
7
Overall the Oppo Find 7a has the potential to be an amazing device, it's just Oppo pitched the ball a little too short with it's release. At times it felt like I was beta testing something for them or that I'd bought a pre production model or something.