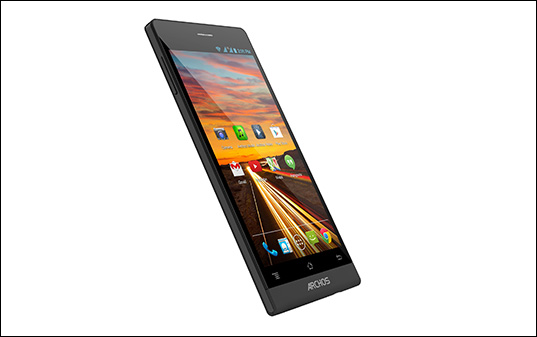 Archos have just announced a cheap smartphone for you. Well, actually they've announced two of them. The first is the Archos 50b Oxygen smartphone, which costs a mere £129. It has a full black laminated 5″ IPS HD screen and an 8 megapixel camera with 1080p encoding and decoding. Powering it is a 1.3GHz quad-core processor, but for bit more cash you can have the Octo-Core powered 50c Oxygen version.
Now, although we have the press release (below) there's not a great deal we can tell you apart from the fact that it's a 1.7GHz Octo-Core CPU, it has dual-SIM, it runs Android, has a microSD card, 5″ 1280 x 720 screen and an 8 megapixel shooter. That's about it to be fair.
Thankfully though, the Oxygen 50c product page is a tad more helpful, and reveals that the press release is wrong and this handset actually has a 13 megapixel camera. Err… It also says that the CPU is actually a 1.5GHz Octa-core processor, not 1.7GHz, but if you click "tech specs" it actually then shows a 1.7GHz Octo-core CPU and an 8 megapixel camera.
So.. someone has got a bit confused then.
Basically, the 50c appears, we think, to have an 8 megapixel shooter and an Octo-core 1.7GHz CPU. Maybe. There's also, if these bits are right, 8GB of internal storage, WiFi, GPS, FM radio, all the usual sensors and it runs… Android 4.2 Jelly Bean.
Get more detail, which may or may not be correct, for the 50c here and the 50b here.
Update – The Press Office has confirmed to us that the Archos 50c Oxygen definitely has a Mediatek MT6592 / Octa-Core @1.7 Ghz Cortex A7 chip and an 8 megapixel camera with autofocus and an LED Flash. They're going to tweak the web page details to match.