One of the main factors that frequently draws me back to Android after using Windows Phone is the endless customisation available. Nowhere is this more apparent than in the launcher. With fond memories of using SPB Shell, a 3D launcher on the old Windows Mobile phones, I had high hopes for UR Launcher.
UR Launcher is the creation of a French company called Sien and was unveiled in beta form on the Google Play store a few weeks ago.
The apps Store description makes some bold claims:
Get stunning 3D live themes and wallpapers in high definition with UR Launcher™, all for free.
Choose from our catalog of incredible live themes and wallpapers and change your background as fast as you change your mood. UR Launcher organizes your apps according to how you use them and lets you customize your phone, quickly and easily.
FEATURES
✖ catalog of FREE interactive 3D Iive themes & wallpapers
✖ option to add your own photo & text to the background
✖ fast and user-friendly interface
✖ handy sidebar to organize your most recent apps
✖ gallery of tons of beautiful images in HD
✖ lightning fast in-phone search bar to find apps, contacts, and web results
✖ FREE

Your phone doesn't have to keep the boring default settings it came with—choose from our beautifully designed live themes or from our impressive gallery of wallpapers, all in high definition.
The launcher itself is fairly standard fare.  The range of customisable changes is really quite limited: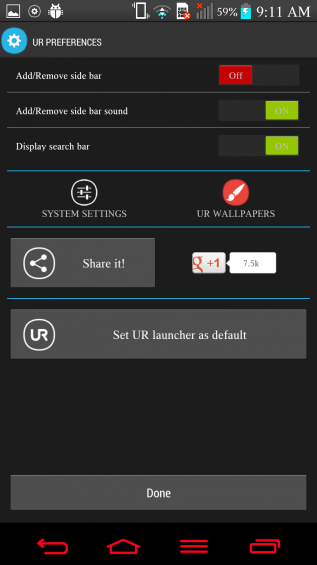 Apart from the icons, the app drawer itself doesn't seem to change as a result of the launcher: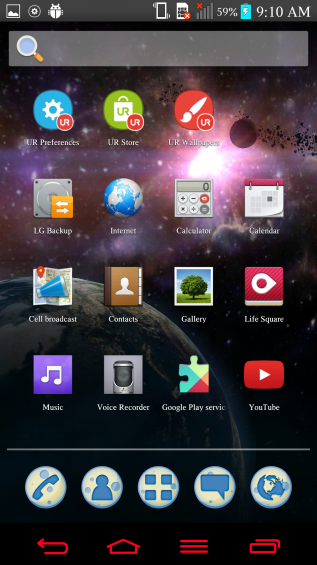 The side drawer is a useful addition, providing access to your most recently used apps: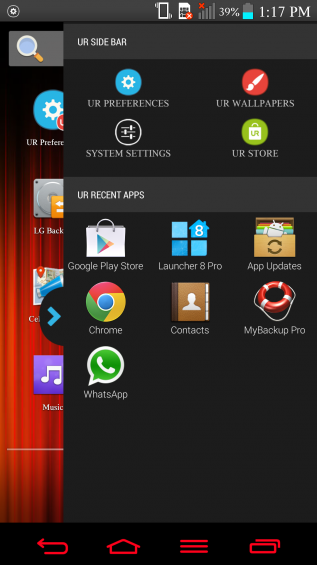 The search bar is designed to browse not only the web, but also your phone, although I could only seem to get it to search google: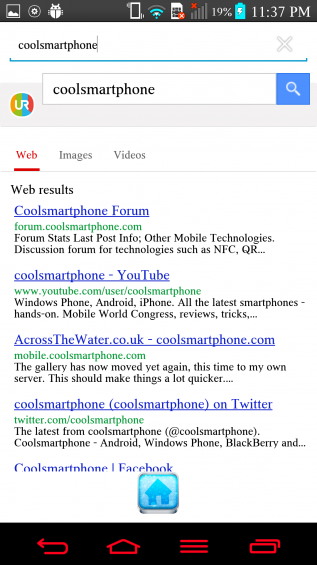 UR launcher's main selling point is its backgrounds.  There are a number that can be chosen and each has limited customisation options.  Here are some, available through the Play store: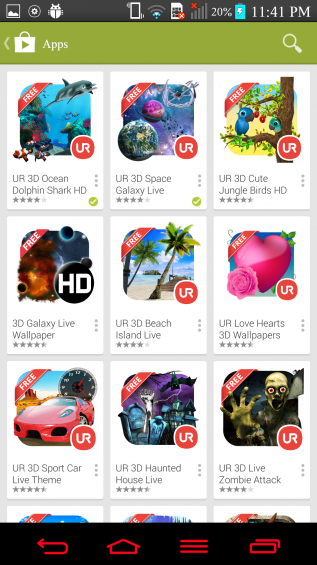 UR launcher scrolls seamlessly and beautifully between images. Images are in high resolution and include moving content.  Here are a few snaps from the space background:
My favourite was the radioactive barrel in the underwater scene: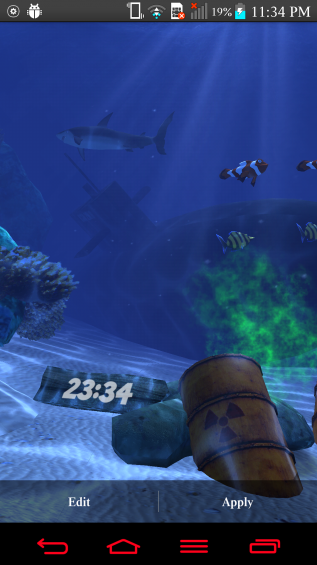 I can't help feeling a bit let down by UR launcher.  The background images are nice and the way that they scroll is effective, but I always shied away from live wallpapers as they were notorious battery hoggers.  The creators do emphasise that the launcher will not use much battery and only time and playing around would tell. More importantly for a launcher though, there's not really much new here to warrant using it over other launchers. It is certainly worth seeing how the developers continue to work on it, but at the moment UR launcher is a bit too similar to what already exists, with too few features, to really recommend it (steaming green barrel aside). If you want to give it a go head to the link below.
Google Play Store Link – UR Launcher