Those posh sports cameras are good, but they do tend to cost quite a bit. The Garmin Virb I looked at a short while ago can be around £200+ and, whilst it produces excellent footage, it's quite a bit of cash.
This then is READYACTION – a body or bike mounting system for your smartphone or digital camera. I've been trying it out over the last few days and you can hopefully see how it fits on me below…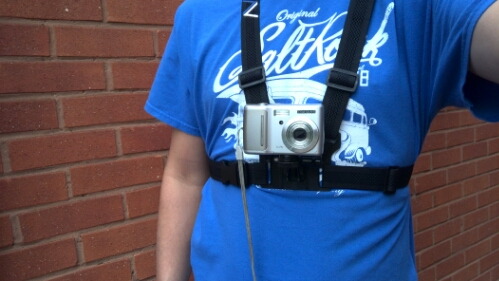 Three straps are already in place, with the fourth clicking in easily under your arm. These are adjustable so that you can tighten it to your requirements and it's made from strong material.
As you'll see on ReadyActionGo.com, there's a number of devices that you can attach to this and the adjustment bolts mean that you can point the camera or phone up or down to suit your requirements. On a bike, if you decide to use the chest harness (even though a bike mount is available) you can point this up so that you're not recording the floor.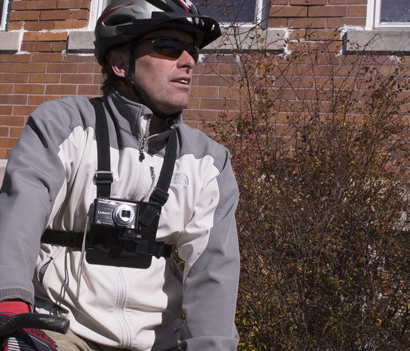 The adjustment bolt on the side fits into a sturdy and grooved fitment which holds the device in place. The grooves or "teeth" ensure that your smartphone or camera doesn't suddenly start drooping when you're running, climbing, cycling or skiing.
Fitting the actual camera (we haven't got the smartphone fitting here unfortunately) is very easy indeed thanks to the screw at the base of most digital cameras. This simply screws onto the READYACTION mount and then you simply click the mount into the harness (if it isn't already). This is great if you've already put the harness on and don't want to faff about too much – the actual mount itself simply clicks in without much effort.
Here's an overview video showing the chest mount…
I've also got you an example video filmed with the chest mount. This isn't a real action film unfortunately, as I found that my old digital camera was rather poorly and only seemed to operate for about 5 minutes at a time. I'll follow up with another article showing you a slightly more interesting video of me riding on a bike soon, but this does at least show another application – video blogging 😉
The mounting system is patent-pending and, for a fraction of the price of a GoPro or Garmin sports camera, you can strap your HD smartphone to this and record your activities. It's effectively a "poor mans GoPro", but don't feel that you're skimping too much – the body harness does give a stable video as it's firmly attached the the part of your body that probably has the least amount of judder. There's a lot of thought in the design too. That flat piece that the camera or phone attaches to is called a "stability plate" and basically stops your phone twisting and wobbling all over the place while you're filming.
Their advert, below, shows how the mounts can be used.
The company has just closed out a successful Kickstarter campaign with $28,000 raised and this is now getting manufactured in the USA. I'll be giving the bike attachment a whirl next. Again, you just slot in the fitment and you're good to go – no real hassle at all. There's various other fittings too, including a helmet and "office" mount so that you can put a tablet onto your chest and work on the device that way. Check the website for all the details, but here's the office model in action…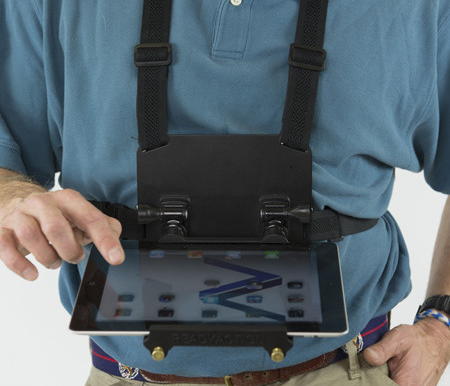 If you've got a pole, you can attach that cycle fitting to this too. That'll let you produce results like this..
Prices are pretty decent, with the chest harness we've looked at here retailing for $45, which is around £27 at the time of writing. The handle bar mount starts at $29.99 depending on the size of your handle bars, which is £17.90
I'll be back with more on this soon, when we'll be looking at more examples from the mounts from READYACTION.