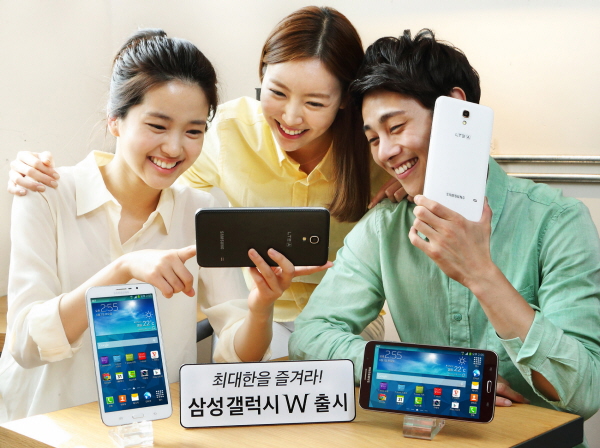 Bigger is better, right? Phones certainly seem to be getting bigger each year and certain companies keep pushing the boundaries of what we call a phone, what we call a phablet and what we call a tablet. The latest company to push this are Samsung with the recently announced Galaxy W which is 7″ and in all truth we'll probably never see it on these shores.
Spec wise it's a bit basic, it's similar to the Galaxy Mega range from last year. I guess they could have called it the Galaxy Mega 2 7″, but that was probably too complicated. Using another letter easily avoids complications.
Galaxy W (Galaxy W) Specifications
Size 191.8×99.6×8.8 mm 245g.
Network LTE-A.
Display 178mm (7.0″) HD (1280×720) TFT.
Platform Android 4.3 (Jelly Bean).
Processor 1.2GHz quad-core.
Memory 1.5GB RAM, 16GB Storage (up to 64GB external memory support).
Camera 8-megapixel rear, 2-megapixel front.
Battery 3,200 mAh.
Colour Black, white, red.
Key Features In landscape mode, multi-window, split-screen, pop-up Play.
So all in all a peculiar device. No doubt some people will see the image at the top of the article and want to be as excited about the huge slab of plastic held to their ear and others will just want to be the envy of their friends by having the biggest phone in the office. For me though it's a no.