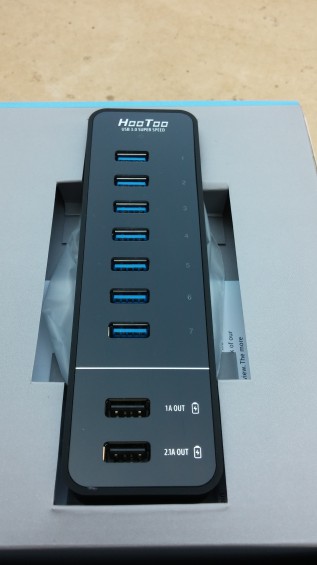 With more and more devices now using USB 3 there's always call for a hub, but charging your phone from one can be a painfully slow process. Add an external drive into the mix and things start to fall over. To solve this HooToo have created a powerful, but slimline, 7+2 port hub.
What's in the box
Power supply, mains lead, USB 3 cable, instructions, the hub itself.
Design
The hub is slimline with the ports stacked above each other, the two charging ports towards the bottom.
All black, save the bright blue USB 3 connectors, the front of the unit is shiny with the rest of the body soft-touch and matte. This gives the whole unit a professional and premium persona.
In Use
The first thing I noticed when siting the HooToo on my desk was that it works so much better on its side. The whole unit topples over when plugging anything into the top port, whereas lying it down makes things a whole lot more stable. This, of course, is no big deal as it's only the writing that's on its side. No big deal, that is, unless you suffer from a mild case of OCD – something a lot of technophiles seem to have, in my experience!
With a stress ball in hand and dolphin music playing, I managed to ignore the writing and continue to use the HooToo.
The power supply that it comes with is a good indication of how serious this hub is; you could be forgiven for mistaking it for a netbook trailing lead supply, it's that chunky! In use this is a great advantage. Charging an iPad Mini and a Nexus 5 at the same time as transferring files to a USB drive was no problem, and adding further peripherals didn't cause it to shrug.
Test Results
Real world data transfer speed tests showed it to be very similar to just plugging the drive directly into the PC's own USB port.
| | | |
| --- | --- | --- |
| Ports used | Large file (4.32GB) | Misc Folders (890 Folders, 4728 Files) |
| USB-PC (through hub) | 49.79 MB/s | 32.86 MB/s |
| USB-PC (direct to PC) | 48.67 MB/s | 30.72 MB/s |
| PC-USB (through hub) | 34.65 MB/s | 4.73 MB/s |
| PC-USB (direct to PC) | 33.07 MB/s | 4.37 MB/s |
N.B. Tests carried out copying the same files/folders each time to and from the same PC and USB flash drive. Times will differ with your own equipment. These tests are to show comparative speeds with and without the hub, not the maximum file transfer speed of the hub.
From a purely Coolsmartphone perspective, the iPad Mini and Nexus 5 both charged in similar times compared to plugging into their genuine wall chargers.
Conclusion
At the RRP of £59.99, the HooToo HT-UH010 is only a consideration for true power users (if you pardon the pun), but at the time of writing it is at a sale price of £32.99 on Amazon. This lower price makes the HooToo a good buy for anyone that has a lot of USB peripherals and doesn't want to have multiple wall chargers for charging multiple phones, tablets and the like.
I can see this being the perfect docking station for laptop users who just want to plug in one USB cable when they get to their desks and not worry about which is the USB 3 port when using external drives.
Overall the HooToo HT-UH010 is a high quality and useful piece of kit, and at £32.99 it makes sense for its particular use case.
You can buy the HooToo HT-UH010 on Amazon here.
HooToo HT-UH010
Design - 7.5
In Use - 9
Value (at sale price of £32.99) - 8.5
8.3
A quality piece of kit that will be useful to anyone with multiple USB 3 peripherals