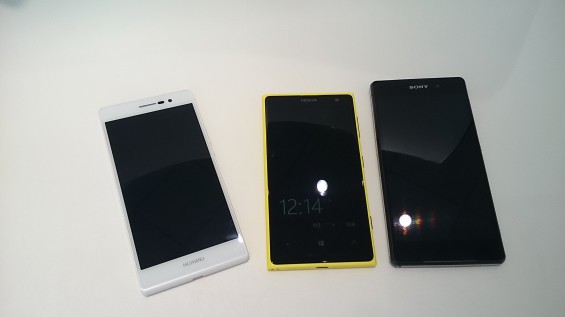 I now have 3 very good smartphones with awesome cameras in my possession, so it would make sense for me to do a "camera face off".
We are going to compare the Nokia Lumia 1020 and Xperia Z1 against the new-comer – the Huawei P7.
The test is in no way scientific and I will be using everyday items as subjects in everyday conditions. Unless stated I have used the "Auto" modes on each phone. This means on all three there is some work going on in postprocessing but I am hoping it will give the truest representation across the board.
If you wish to view the full size image you can do so by clicking on the image thumbnail.
In all the galleries the order of pictures are the 1020 then P7 and then Z1.
First up is a shot that was taken in middling light at a distance of about 2 foot.
1020 / P7 / Z1

Next up is another close up from about 1 foot.
1020 / P7 / Z1

This one is a macro shot and it highlights the issue with 1020's auto mode. If I had taken this further away than 12 cm it would have worked brilliantly. However, a quick jump into the excellent manual controls of the 1020, and using manual focus gets the result that we want. Is this within the capabilities of the casual user ? Almost definitely
1020 / P7 / Z1

Here is selection of Panoramas. This again showed up issues with the 1020 for speed of setup.
1020 / P7 / Z1

I am pretty impressed with the quality of photos but a few things that stuck out for me. The P7 had a "pocket to shutter" time of 1.3s to capture the shot.  Also the panorama mode is awesome, it gives near a 360 effect – albeit not quite as quickly as the Z1 with its Sweep Panorama mode.
One of the big areas where both the P7 and Z1 are a little lacklustre is the distance shot, and this really where the 1020 packs its punch with the 41 mp sensor. This is shown in this quick comparison below.
1020 / P7 / Z1

Finally some selfies. This should be a big area for the P7.
1020 / P7 / Z1

For me the results from the 1020 are very good and the P7 and Z1 are just behind it. However, that is purely based on my experiences using the 3 devices and you may feel different. Feel free to mention these thoughts in the comments below.
I am working on the review of the Huawei P7 as I type this so it will be going online in the very near future.