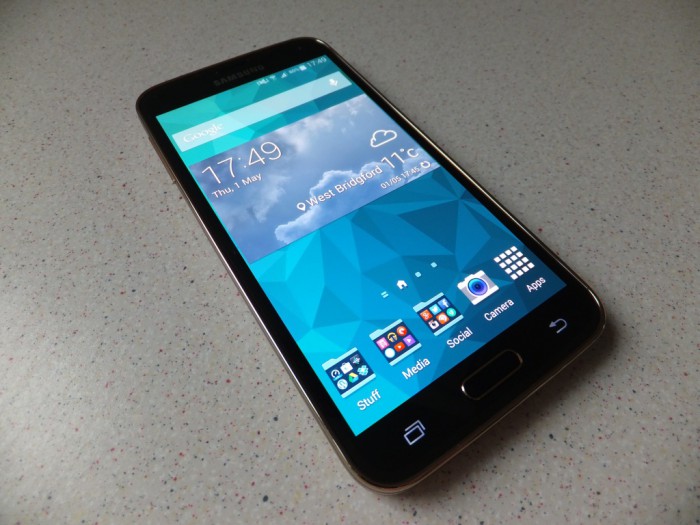 The Galaxy S range has become a bit of a Marmite thing. Many many people love the Galaxy S range, with the S3, the S4 and now the S5. But contrary to there are many people who really do hate them. Often on Twitter I'll mention something to do with Samsung and be met with a barrage of negativity. Personally I've been jumping between love and hate with the Galaxy range, I've loved all of the Note range, I loved the S2, didn't like the S3, was fairly keen on the S4 and now on my desk is the Galaxy S5. How do I feel about it? Well you're just going to have to read on to find out. Starting of course with my good and bad points.
Good Points
Great crisp vibrant colourful screen.
In broad daylight the camera is really good.
Memory card slot and removable battery make for a flexible device.
Water and dust resistance IP67
Bad Points
The built in software is getting a bit much.
Camera struggles in certain situations.
The launcher is a bit laggy to launch folders and return home.
Overall feel isn't as good as its flagship competitors.
Rear speaker is little odd sounding at times.
Design
The Galaxy S5 is obviously just a slight difference from last year in the way that it looks, although gone are the weird super gloss backplate and the strange patterned screen bezel and in their places are plain black bezels and a soft touch faux leather driving glove effect backplate instead. As Vodafone sent me this device to review, they sent me the gold model, which is exclusively available from them at the moment. Did I like the gold colour? Well at first it was quite jarring and after a few days I started to like the gold side strips, the backplate however I'm just never going to like the look of. No doubt someone out there will do though.
The device itself is pretty much as per standard Galaxy S design principles, with the volume rocker on the left hand side, power button on the right, home button at the bottom of the screen, headphone socket at the top, IR blaster at the top, Micro USB charging at the bottom, the camera and the flash are on the back in the middle near the top, removable backplate hiding the Micro SIM and Micro SD slot and then the usual capacitive menu and back buttons. Oh wait did I say menu button? Yes well it seems Samsung have actually changed something in their design, you now get a back button for the right button and the Google recommended Recents button on the left, within older apps that support a hardware menu button a long press of the Recents button acts as menu though so don't worry.
One other slight difference from last years model is the edge details, which are still pretend metal, which in this case are gold, but they're kind of ribbed. I guess they want to do something with the edge strips but just can't figure out what. I did quite like the implementation of it on the Galaxy Note 3.
If you are wondering how it sizes up compared to some of the other devices around at the moment then this image is for you. From left to right Oppo Find 7a, Samsung Galaxy S5, LG G2 and Nexus 5.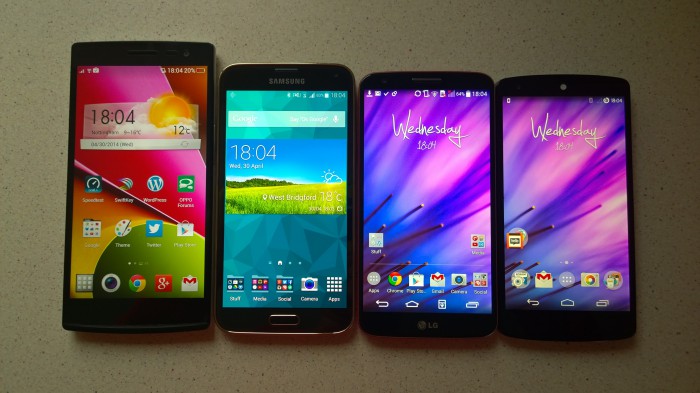 Hardware
The Samsung Galaxy range have always been up there with the other high end phones and this years model is no different, with a few extra bits thrown into the mix too.
Processor: 2.5GHz Quad core Qualcomm SnapDragon 801 MSM 8974 Krait 400.
GPU: Adreno 330.
Display: 5.1" FHD Super AMOLED (1920 x 1080), 432 ppi.
RAM: 2GB.
Internal Memory: 16/32GB.
MicroSD slot (up to 128GB).
WiFi: 802.11 a/b/g/n/ac.
IP67 certificated Dust & Water Resistant.
Camera Rear: 16MP (1/2.6", Phase Detection AF).
Camera Features: HDR (Rich tone), Selective Focus, Virtual Tour Shot [email protected], HDR, video stabilization.
Camera Front: 2.0MP (1920 x 1080, Wide-angle lens).
Network: LTE Cat.4 (150/50Mbps).
NFC, Bluetooth 4.0 BLE, IR LED.
Battery: 2800mAh Removable.
Sensors: Accelerometer, Gyro, Proximity, Compass, Barometer, Hall, RGB ambient light, Gesture, Fingerprint, Heart Rate Sensor.
USB 3.0 (cable not included).
OS Android 4.4.2 (Kitkat).
DimensionS: 142.0 x 72.5 x 8.1mm.
Weight: 145g.
Highlights for me are the screen which is in my opinion the best overall screen on a device at the moment, the fingerprint and heart rate monitors are handy for some people and the SnapDragon 801 Processor really helps shift everything along. The battery also is handy being removable, it lasts for a day if you're careful. If you're not it won't usual stuff really with something around 2800 mAh.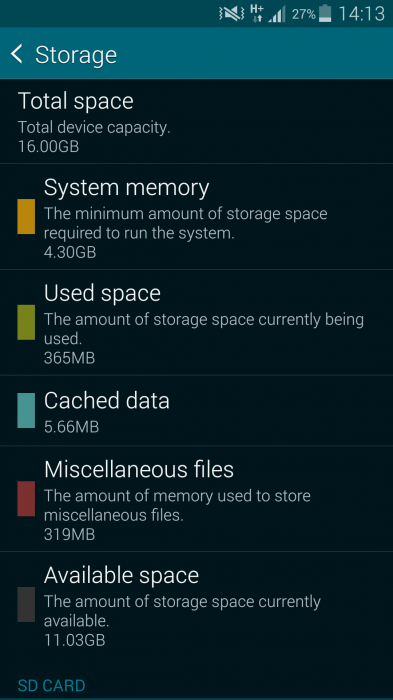 Downsides are that it doesn't have 3GB of RAM and that the base model doesn't have 32GB of internal memory. I'm guessing as usual Samsung are leaving the really high end specs for the Note 4 later on in the year or possibly the S5 Prime if it exists.
Software
I am just going to come out and say it, the Samsung software, whatever it is called these days be it Nature UI or TouchWIZ is a flippin mess. Several things make the situation on the Galaxy S5 worse than any year previously. The "flattening" of the UI has created some nice elements such as icons and widgets. But delve into the settings menu and you enter into a maze of confusion unlike anything I've seen on any other Android device ever. That is saying quite something, you open up the settings menu from one of the various methods and you are presented with 62 different icons, with all the usual settings there but in a way only Samsung could have dreamt up and in some cases with different names. You can view this list of options in three different ways too.
The removal of the capacitive settings button also adds to the confusion, the Galaxy devices are the most mainstream consumer Android device out, which now suddenly on the latest model doesn't behave like the others. I know why this has been done before you angrily respond, I just don't like how jarring the lack of easy access to the menu button is.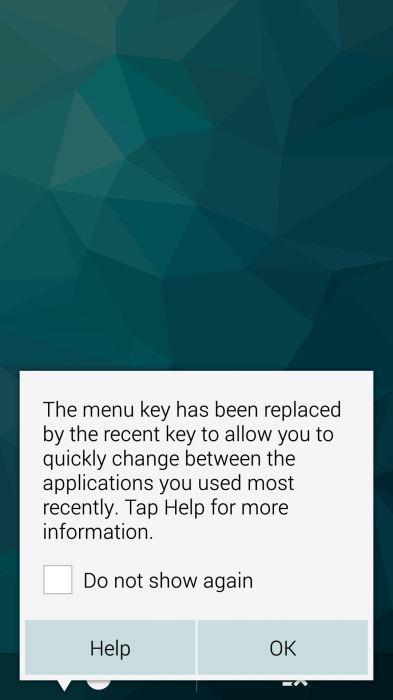 New things to be found on the Galaxy S5 are the Fingerprint unlock method and the heart rate monitor, plus some variations on multi window, there is now something called "Toolbox" which allows you to float some shortcuts over everything else, it is actually quite handy.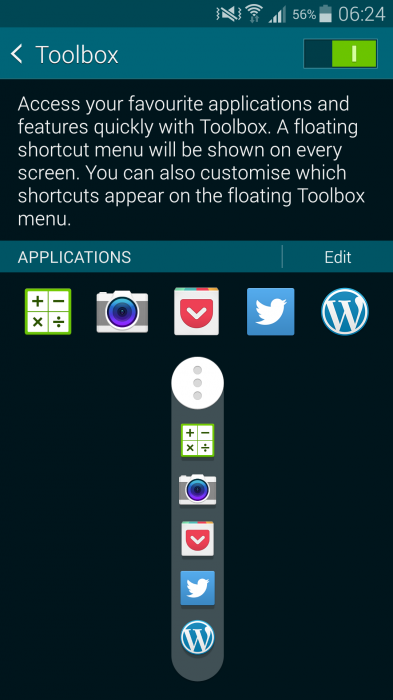 Another nice touch is that Samsung have removed a lot of the Samsung apps, instead letting the user to install them from the Samsung app store if they want. This was no doubt done to free up internal memory. Overall the software takes a bit of getting used to, especially if you've come from a Nexus device. Everything you'd expect to work these days does, music through headphones sounds great, games play perfectly and browsing the web is done without a glitch.
Other Notable Stuff
Benchmarks
I ran a few benchmark tests on the S5 to see how it fared, I was intigued as it felt a little slow at times, mainly thanks to transitions and the like. For comparison I did the benchmarks on my LG G2 (SnapDragon 800) and also my Oppo Find 7a (SnapDragon 801). The higher the score the better.
Antutu X – 27113 (LG G2 – 28587) (Oppo Find 7a – 35958)
Quadrant – 23264 (LG G2 – 19250) (Oppo Find 7a – 21907)
3DMark – 18720 (LG G2 – 17730) (Oppo Find 7a – 20275)
So as you can see benchmarks don't really help with anything apart from confusion.
The Camera
The Camera on the Galaxy S5 can be amazing and it can also be a bit pants. In normal light taking a picture of a stationary object and you yourself are stationary then you'll probably get a good shot. Stray away from those ideal circumstances and things will degrade. Samsung use software image stabilization which adds a few seconds to shots taken in low light, I always forget it's on and move the camera. The selective focus feature is one of those things that you must have these days and it works reasonably well, the lense itself is capable of taking macro shots with a blurred background without fiddling with settings anyway.
Conclusion
Overall I grew to like the Galaxy S5, yes the overall quality isn't as good as some of the other flagships flying around at the moment. Yes the launcher and the home button do create quite a bit of lag opening up folders and returning to the home and yes it doesn't take the best shots in low light. But the screen and what the Galaxy range has become (on a global scale), somehow charmed me. Oh and the waterproof water resistant side of things makes it feels a little more safe in my hands, obviously you'd need a decent case if you're going to get really rough with it. It is a nice feature to have though.
How would I improve it? I'd make the base level model have 32GB of storage, like they do with the Note range now. I'd have made the sides out of actual metal this year. Lastly I would have made it available in a whole load of different colours, green, yellow, orange as colourful devices certainly appeal these days. Personally I will never buy one though, my LG G2 is still my goto device, but for many millions around the world this device will no doubt become their favourite device for the next few years.
Lastly a big thanks to Vodafone who lent  us this Galaxy S5, you can get the exclusive Gold model and all of the other colours here at their Samsung Galaxy page.
Samsung Galaxy S5 - Review
Design - 6.5
Hardware - 8.5
Software - 7
Battery Life - 8
Camera - 7
Screen Quality - 10
7.8
Overall I grew to like the Galaxy S5, yes the overall quality isn't as good as some of the other flagships flying around at the moment. Yes the launcher and the home button do create quite a bit of lag opening up folders and returning to the home and yes it doesn't take the best shots in low light. But the screen and what the Galaxy range has become (on a global scale), somehow charmed me.