Every year we have the same old iterative roll out of products from Samsung, although it seems that Samsung are trying to make things a little more confusing this year as to what on earth each product is. I'm talking about the rumoured Galaxy S5 Mini, which we've all become accustomed to knowing it will be a dumbed down version of the Galaxy S5 at a slightly lower cost. Samsung seem to be going to call it the Galaxy S5 Dx, which along with the Galaxy K Zoom will make for a perfectly clear product range this year! If only…..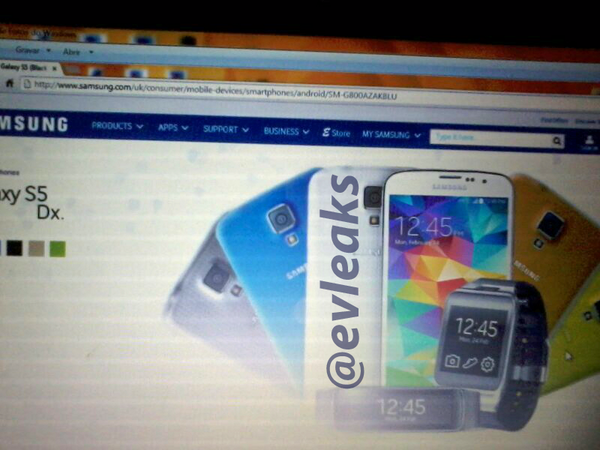 The above image has been posted by @evleaks which apparently appeared on the Samsung UK website. So expect something official at some time soon.
Personally I thought what they did last year with their naming convention worked and you could work out where each device stood in the range. I wonder what the Active model will be called this year?
As I mentioned earlier it's going to be a lower spec model and SamMobile have apparently learned of the specs for the Dx. Let's have a look.
– 4.5-inch Super AMOLED 720p display.
– quad-core processor.
– 1.5GB of RAM.
– 16GB storage.
– 8-megapixel camera.
– 2,100 mAh battery.
– Android 4.4 KitKat.
So it's going to be mid range and cheaper than the S5 and if previous years experience are anything to go on it will be just as popular.