So there we have it – the Huawei P7. It has now been announced to the world's press.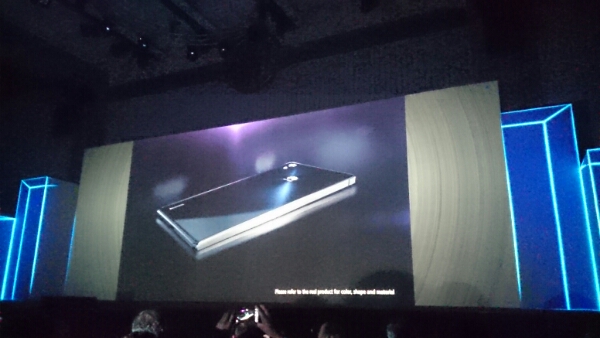 It's a beautiful looking device which has a glorious feel to it thanks to it an all metal construction, very similar to its predecessor the P6. The dimensions come in at a svelte L 139.8 x W 68.8 x D 6.5 mm and it weighs in at a featherweight 124 grams. Pretty good going for a 5″ phone.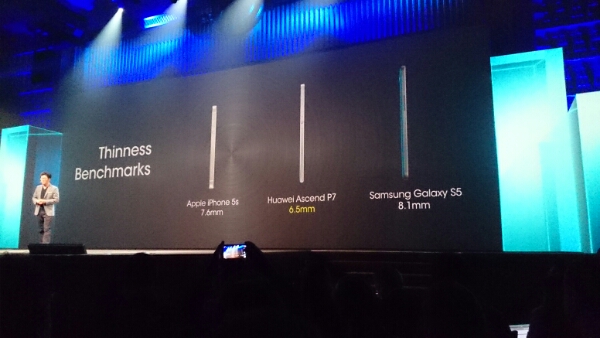 The screen is a fantastic high res display that just begs to be touched. It sports IPS and measures 5″ across with a PPI of 445 thanks to its 1920 x 1080 resolution.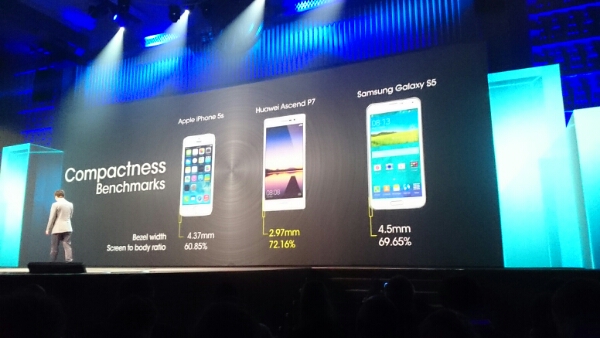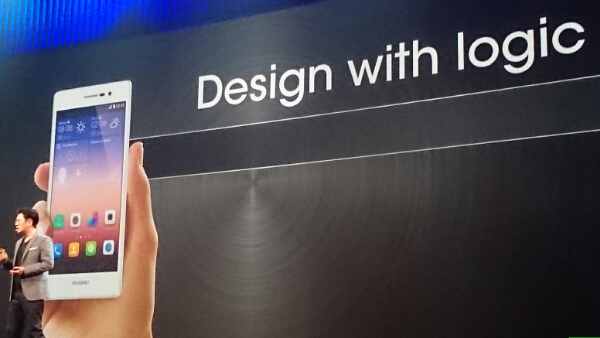 The guts of the phone contain the brains which, as suspected, is Huawei's own silicon HiSilicon Kirin 910T. It's a Quad-Core 1.8GHz with a Mali T450 covering the graphics portion of the package. Memory-wise we are looking at 2GB RAM and also 16GB inbuilt storage. This will support up to a 32GB card which is slightly disappointing as competitors now take up to 128GB.
The power plant for the phone comes from a 2500 mAH battery pack that is sealed inside and is not removable.
All of this runs the most up to date version of Android in its yummy Kit Kat 4.4 form alongside the Emotion UI 2.3 custom skin that we have seen previous versions of in the past.
The good news is that, unlike the P6, this phone will support several flavours of connectivity including the much vaunted LTE bands 800/900/1800/2100/2600 MHz (max download speed 150 Mb/s) as well as the standard 2G and 3G spectrums that you would expect on any other European release these days. It's quad band also, so it should be a world phone. I cannot speak for the States based carriers at the moment but I'll ask in the upcoming Q and A.
For WiFi we have 802.11 b/g/n and hotspot support, it will also allow WiFi Direct, which means quick data transfers and will play nice with any DLNA kit that you own. Finally we also have NFC and Bluetooth 4.0 with (Bluetooth Low Energy support).
Supporting all of the above goodies are the usual other toys we come to expect from a modern smartphone such as GPS, A-GPS, GLONASS for your location based apps such as Google Maps etc. There are also all the usual sensors to support all the features that you would expect ie G-sensor, Accelerometer, Proximity & Light Sensors, Compass.
There is also a treat for music fans as the handset supports DTS audio to give that slightly better quality for sound.
Now to get down to the real standout feature of this phone – the Camera. This is, as far as we are aware, the first phone out to have an 8 MP front camera with fixed focus and 1080p support. A new feature for a front facing cam is the Panoramic mode so you can get the extreme wide angle selfie's to encompass all your mates, like the infamous Oscar's picture. So for all you selfie fanatics out there you will love this phone.
..but that is not all. On the rear we also find a 13 MP auto focus with backlight sensor illumination and  F2.0 aperture. This will also record at 1080p for videos as well.
So there we have it, the Huawei P7. The new flagship. I am now going to go and have a more extensive play and get you some hands on pictures of the device which I'll post later.
So keep it glued here for more action from the P7 launch in Paris.
Update the RRP for the device will be €449