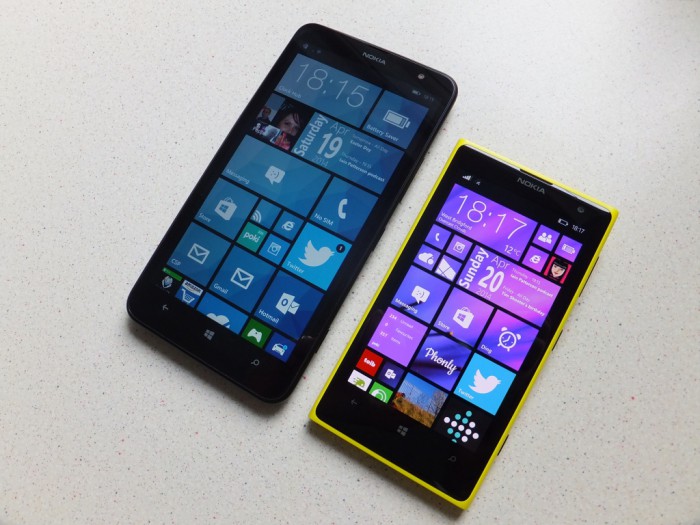 Nokia are slowly and surely releasing devices of all shapes, sizes and to suit all different budgets. Want a smallish high spec phone? Yep they've got one. Small budget phone? Yep they've got one. Big super high spec phone? Yep they've got one. Somewhere in between these? Yep.
You get the picture? With the Nokia Lumia 1320 which was announced last year at Nokia World in Abu Dhabi, Nokia have a product that caters for those of us out that can cope with a 5″+ device. At 6″ Lumia 1320 is pushing the boundaries of the term "phablet" with many people out there deciding that 6″ devices are just too damn big. But at the price of the Lumia 1320 are people going to be tempted? I've had the Lumia 1320 for a good few weeks now and it's time to bring you my review, starting off course with my good and bad points.
Good Points
Nice and lightweight.
Micro SD slot.
Screen viewing angles are great.
It feels really quite quick in general usage.
A low cost large 4G device.
Bad Points
The screen isn't the brightest.
Internal memory is a little lacking if you're a gaming addict.
The camera is a bit weak.
Rear mounted speaker is a bit tinny and lacks depth.
Design
The Nokia Lumia 1320 is a large unassuming device, compared to some of the other Nokia Lumia devices you can definitely see that it is one of their mid range devices, it's closest in design to the Lumia 625. The buttons are laid out in the standard Nokia manner, but they've lowered the volume rocker a bit so that you can almost reach it one handed, it's a nice touch. The headphone jack is up top and the power socket is down below exactly as you'd imagine. The Micro SD slot and Micro SIM slot are hidden away underneath the removable backplate, which tidies up the look of the 1320 on the outside, which is different to the Lumia 1520. I.E no ill fitting unsightly SIM tray doors.
The speaker on the back is a bit muffled when you hold it in two hands, but you can cup your hand to boost it. The speaker itself lacked depth of sound, at volume it sounded quite tinny. For normal YouTube or Vine usage it would more than suffice. The headphone socket on the top quality wise is pretty good, paired up with a decent set of headphones and a little bit of adjustment in the Nokia Audio app and it sounded really quite good.
I like the design of the Lumia 1320, its basic nature lets you concentrate on the software and not so much on the way it looks unlike some of the other Lumia range. It's a great big phone though, which sticks out of pockets, you'll struggle to use one handed and you'll probably drop it at some point trying to manhandle it around.
Hardware
Spec wise it's pretty much like a Nokia flagship from last year. Saying that sounds bad, but in real life the Lumia 1320 feels really quite quick. I never really noticed any lag, although it doesn't feel as smooth as my Lumia 1020 does, no doubt thanks to the RAM. Even playing large memory intensive games like Halo: Spartan Assault didn't phase it.
Processor: Qualcomm Snapdragon S4 Dual-core 1.7 GHz .
Internal Memory: 8 GB.
RAM: 1 GB.
MicroSD: Max size 64 GB.
Display: 6″ , 720p (1280×720 pixels), 245 ppi, Gorilla Glass 3, Clearblack, IPS LCD.
Rear Camera:5 MP, Auto focus with two-stage capture key, LED flash, 4 x digital zoom, Sensor 1/4 inch, Aperture f/2.4, Focal length 28 mm, minimum focus range 10 cm.
Rear Camera Video: 1080p, 30 fps, 4 x zoom.
Front Camera: VGA (640×480), f/2.8.
Bluetooth 4.0.
LTE network bands3: 3, 7, 20.
LTE max data speed DL: 100 Mbps.
LTE max data speed UL: 50 Mbps.
GSM network: 850 MHz, 900 MHz, 1800 MHz, 1900 MHz.
GSM max data speed DL: EGPRS 236.8 kbps.
GSM max data speed UL: EGPRS 236.8 kbps.
Wi-Fi: WLAN 802.11 b/g/n.
SIM card type: Micro SIM
Battery: 3400 mAh non removable.
Dimensions: Height: 164.2 mm, Width: 85.9 mm, Thickness2: 9.8 mm.
Weight: 220g.
Things worth mentioning in the spec are the 720p display which at 6″ looks a bit stretched, with some graphics and text left looking slightly pixelated, in the main though the screen sufficed, with outdoor visibility being top notch on auto brightness mode. Indoors though the screen wasn't as bright or as colourful as some of my other devices.
The internal memory also is worth mentioning, as out of the box you get about 4GB spare which soon starts to fill up with apps and games. If you add a memory card you can store music and media on the card and when you get the Windows Phone 8.1 update you can install apps to the card as well.
Software
The Lumia 1320 out of the box runs Windows Phone 8 with GDR3 and the Nokia Black update, which we've all seen and heard about. Nokia with the announcement of the large Lumia 1520 and 1320 added an extra column of tiles, which means you can use up to six small tiles wide. I like the extra tiles you get on a larger screen, although I wish you could have a full width tile.
During my time with the Lumia 1320 I installed Windows Phone 8.1 on it and boy what a difference it made, it was like a whole new device, the main exciting addition was the ability to install apps and games onto the memory card. This alone made the Lumia 1320 go from a severely restricted memory device to something that you could just install hundreds and hundreds of apps and not worry in the slightest, great if you like playing games. The transparent tiles and notification centre made a difference too but nowhere near as much as the memory card thing.
Other Notable Stuff
Camera
The camera on the Lumia 1320 is 5 MP, which I thought wasn't going to be the best. Using the Nokia Camera app with the manual controls
Battery Life
Battery life on the Lumia 1320 has been good, lasting me a couple of days if lightly for calls, messaging and social media stuff, if I set all of my Email accounts to sync and used it for all of my news, multi media and gaming requirements it would last me a day. I guess the combination of a 3400 mAh battery and the lower resolution screen help the Lumia 1320 battery last quite a while.
Conclusion
Overall I really liked the Lumia 1320, which is strange as I wasn't too keen on the higher spec 1520. I see the 1320 as an ideal media player, games machine, social media device, web browser and messaging device for a great price, at the moment you can pick one up for around about £235 which is a great price. The Lumia 1520 just felt a bit too expensive for what you could do with it, although that may change soon in my eyes. I should point out that Windows Phone 8.1 really really makes the Lumia 1320 a cracking device, it could almost be worth getting a Lumia 1320 and waiting for the update or just signing up for the developer preview program (if you don't mind the risks involved). As long as you want a large oversized phone running Windows Phone anyway.
Nokia Lumia 1320 - Review
Design - 6
Hardware - 7
Software - 7
Battery Life - 8
Camera - 5
Screen Quality - 8
6.8
Overall I really liked the Lumia 1320, which is strange as I wasn't too keen on the higher spec 1520. I see the 1320 as an ideal media player, games machine, social media device, web browser and messaging device for a great price.