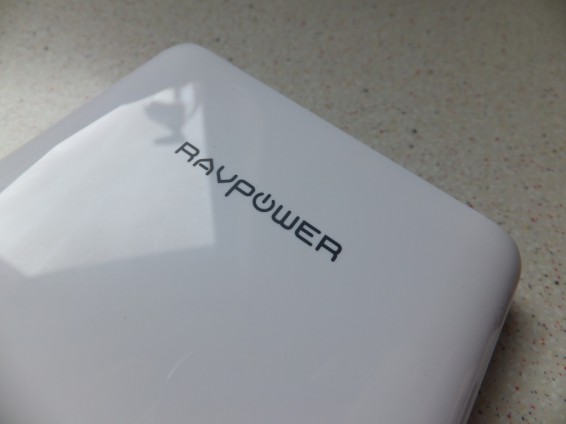 We live in a world that is becoming increasingly mobile, wherever we go we have our mobiles and now and again you find yourself stuck. Stuck trying to get a set of files onto your phone, usually when a client or friend has some vital pictures or files stuck on a USB stick. USB On The Go is one solution, but not all devices support it and not many people carry the correct cables. WiFi storage devices are another option, I've got the RAVpower Wireless FileHub to test out at the moment and it is one solution to problems like this, so let's have a look at the good and bad points.
Good Points
Light and compact.
Various inputs.
In built battery pack.
Internet pass through function built in.
Some third party apps can browse shared files also.
Bad Points
Quite plasticy.
FileHub app is a bit jarring.
Set up is a bit fiddly.
Functionality is a little confusing at first.
Design
The RAVpower file hub is a pretty basic looking thing. The front edge has a selection of ports and sockets to plug in your various memory types, the left hand edge has the charging Micro USB port and the power button and the top has a confusing array of blinking lights.
The whole unit has a sort of turquoise band running around the edges, this unsurprisingly doesn't have any functionality, it's just a strip of coloured plastic. It does however make the file hub look slightly better.
RAVpower have a handy image that shows what each flashing light is, it makes perfect sense with this.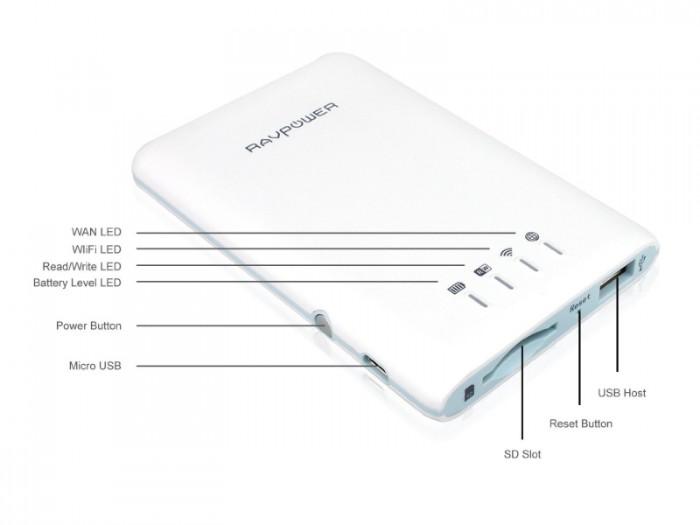 In Use
To use the FileHub takes a little bit of preparation, basically it needs to be charged up for starters. You then add your media, be it a Micro SD or a USB stick, once turned on the FileHub creates an ad-hoc wireless network which you connect to using default SSID and Password details (both of which are detailed in the instructions. Once connected you can run the special RAVpower FileHub app, which is available on the Play Store  or on iTunes here and it will show you the file structure of the memory you inserted. Once you've connected using their app you can change the SSID  and Password for wireless access to the FileHub which is advisable really. You can also set up an internet pass through using the file hub, so basically the FileHub connects to a WiFi network and also creates its own network. In the past using devices like this meant that you would be offline whilst browsing through the files, as most devices disable your mobile data when connected to a wireless network. Using this method you can browse files and still be connected to the web.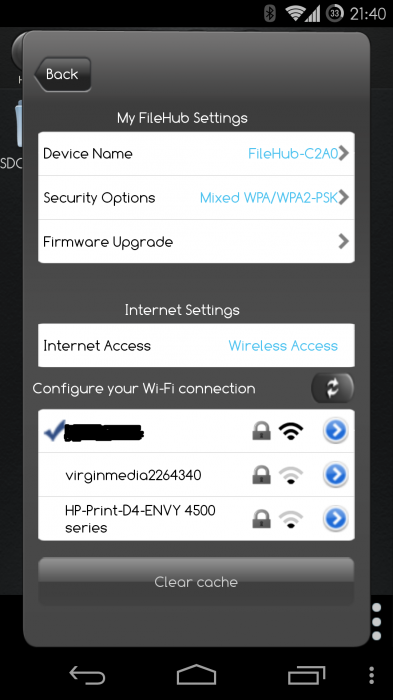 So what are you going to do with all of these files on memory cards? Well that's the fiddly bit, you can browse the files using either the built in stuff or third party apps. If you want to do anything with the files like posting images to Facebook or Instagram or emailing a PDF to a client, you're going to have to download the files to your device first. It's a fiddle and slightly tedious as the sharing functionality is built into the app, it even goes so far as to tell you to download the files to your device when you hit the share button and then goes through all of the motions of sharing the file (it fail at the very last stage of the process).
Lastly as it has a 3000 mAh battery built in if you get in a pickle you can charge your phone using it as well, admittedly it won't get you far but it's better than nothing. The instructions for the FileHub mention that you can connect to the FileHub using third party file managers, well I tried and failed, I just reverted back to the RAV FileHub app instead.
Conclusion
The RAVpower FileHub is an interesting little device, it certainly has a purpose. For me I can see it becoming part of my daily kit as people often hand me memory cards and expect me to magically send them the files in an instant. It is also slightly more reliable than USB on the go as not all devices support that and not everyone has the right cables. It does seem a bit steep when compared to a USB OTG cable but the FileHub offers so much more, such as file sharing for up to five simultaneous users and the aforementioned battery pack. So if you fancy buying one of these little handy things head over to the relevant Amazon page for your country either UK here costing £39.99 or US here costing $44.99.