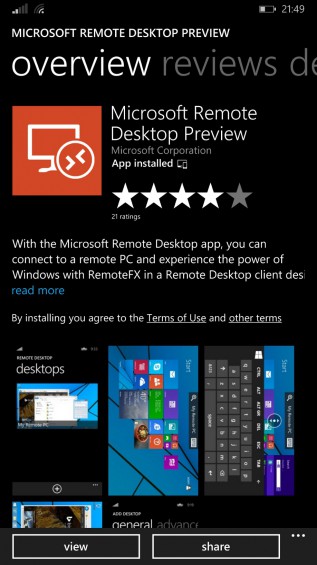 The Developer's Preview version of Windows Phone 8.1 has, by all accounts, been downloaded millions of times around the world.  Clearly people are not prepared to wait months for the final release and are happy to put up with a beta version.  The same might be said of a new app released on 23 April.  Much hinted at over previous months, the 'preview' version of the Remote Desktop app has now been released for anyone who has upgraded to Windows Phone 8.1.  Impressively, this  means that Microsoft has now, finally, added its own OS to the list of those already supported.
Much as it says on the tin, the app is designed to allow people to use their phone to navigate around connected computers.  Supposedly when connected to a Windows 8 (or 8.1) machine, the phone can utilise multi-touch to aid navigation.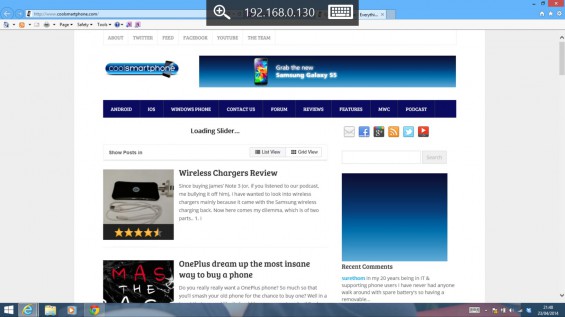 Having never used (nor felt the need) to try a remote desktop app it took several attempts to get my phone to connect with my PC but, after much cursing, the two were conjoined.  As a loyal coolsmartphoner I immediately navigated to the site – the evidence is above.  Even on the monster sized screen of the Lumia 1520 everything was titchy and hard to use.  The theory is great – provided your PC is awake you can access files, music etc anywhere on earth.  In practice it is a little cumbersome to use and, for the life of me, I'm not sure quite why you'd want to use this over a cloud service for accessing files.  Personal doubts aside, the app is free to download and worth a peek.  We shall have to wait and see what goodies await us in the final version.