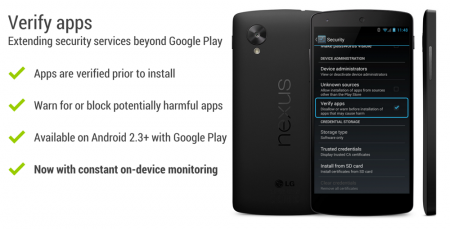 Android if full of malware and viruses isn't it? Well no, not unless you believe the hype. Yes the Android operating system has its weaknesses, but as long as you're careful and not go around side-loading apps from the less desirable sites things should be OK.
This is where Apple has the big advantage: the app store is well curated and malware struggles to get through.
Google has been fighting back with Verify Apps. Today Google has announced plans to make Android more secure.
Verify Apps will have the ability to constantly monitor installed apps for malware and suspicious activity. Previously, Verify Apps would only scan apps while they were installing, and only if the user was doing a manual install instead of getting it from the Play Store.
This is a staged roll-out (as most Google software roll-outs are) to the Google Settings app for those running Android 2.3 or above.
Source Androidbeat