Microsoft held their Build 2014 event recently and the focus for mobile was on Windows Phone 8.1. The improvements it brings to the mobile platform include a new voice assistant called Cortana, background tiles and a notification centre the company calls 'Action centre' plus much more.
The disappointing part for many people was having to wait until the summer to be able to update your existing Windows Phone 8 device, or until June to get either the new Lumia 930 or Lumia 630/635.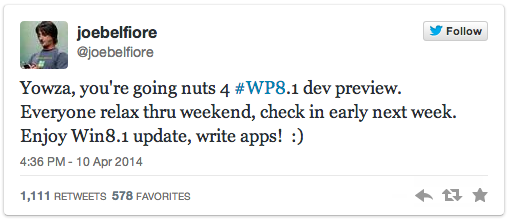 That is, unless you have a developers account, as it looks like Joe Belfiore (Corporate Vice President and Manager for Windows Phone) had stated that developers will be able to download the update 'early next week' Rumours point to Monday as the all important day.
Whilst this update is supposed to be for developers to try out their apps before the official launch, if you look hard enough online (well OK, it is actually very easy) you can register yourself to get access totally free of charge.
This means if you have some time over the weekend and want to get 8.1 on your shiny existing device, now is a good time to get signing up and preparing yourself.