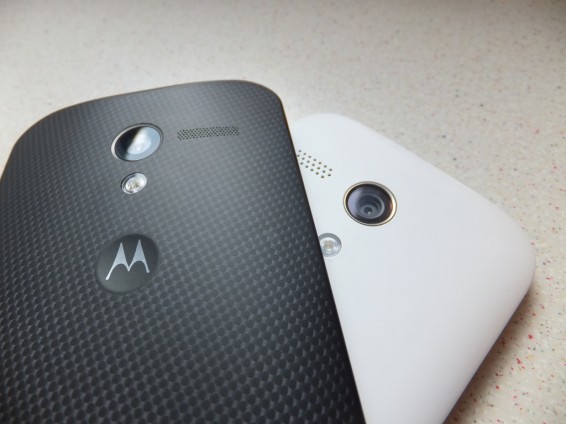 Cast you mind back to 2013 Motorola announced the Moto X, resplendent in many different colours and accents with talk of tiny bezels and no need to have the latest and greatest spec . Fast forward eight months and us poor UK residents can finally get hold of a Moto X. I'll go for a white one, with a yellow back and orange accents. Or maybe a black one with red accents. Or maybe a wooden backed one. Or maybe I won't, the UK release wasn't anywhere as near as colourful as the launch, with white and black being the only options. Motorola have sent me a Moto X for a few weeks and as a Moto G and Nexus 5 owner I was interested to see quite how it shapes up as a 2014 flagship. So let's kick the review of with my good and bad points.
Good Points
Glorious AMOLED screen.

Great size. 

Great feel in the hand.

Active Display Notifications. 

Motorola software.
Bad Points
Only a 720p display.

No Micro SD slot. 

Nano SIM makes it difficult for people like me to swap phones about.

No Moto Maker for us in the UK. 
Design
Motorola have done a great job with the Moto X and the Moto G, they are both great looking phones that are a joy to use. The layout of the Moto X is nice, intuitive and almost like a Nokia layout. With the volume and power button on the right hand side. The top edge has the headphone socket and the bottom edge has the charging socket. Dotted around the Moto X are a few holes which are where microphones are positioned.
The back of the Moto X made it for me, it's a soft touch carbon fibre effect and it feels really nice, really really nice. In the hand the Moto X looks and feels miles better than the Moto G. The back also houses the camera and the flash.
It is a crying shame that Moto Maker didn't ever make it to the UK. The black version that I've been using is damn nice and I'm a sucker for a white phone, the potential for mass success in Europe was huge if they'd bothered with the different colours. If you believe the conspiracy theories that Motorola only ended up selling them in UK because they had a large stockpile of them in the US thanks to the higher spec and cheaper priced Nexus 5.
Side by side with other devices you realise how small the bezel on the Moto X is and that even though the device is rather small comparatively the 4.7″ screen is more than adequate, I have been using it as my main device for a few weeks now and I haven't really yearned for something bigger.
Hardware
Spec wise the Moto X is good where it matters. Here are the specs:
CPU – Motorola X8 optimised Qualcomm Snapdragon S4 Pro, 1.7GHz Dual-Core Krait CPU.

GPU – Quad-core Adreno 320.

Natural language processor.

Contextual computing processor.

Memory – 2 GB RAM.

Internal Memory – 16 GB.

Connectivity – Bluetooth 4.0 LE, EDRWi-Fi 802.11a/g/b/n/ac (dual band capable).

3 GSM/GPRS/EDGE – UMTS/HSPA + up to 42 Mbps – 4G.

GSM/GPRS/EDGE bands 850/900/1800/1900.

3G UMTS bands 850/900/1800/1900/2100.

4G LTE bands 800/1800/2600MHz.

Display – 4.7″ AMOLED (RGB), HD 720p.

Android 4.4 KitKat.

Dimensions – Size (H x W x D) Width 65.3mm, Height 129.4mm, Curve depth – 5.7 -10.4mm.

Weight – 130G.

Battery – Sealed 2200 mAh.

Rear camera – 10MP CLEAR PIXEL (RGBC), LED flash, 1080p HD video (30 fps), 4X digital zoom, Slow motion video, Burst mode, Auto HDR, Panorama, Control focus/exposure.

Front Camera 2MP 1080p HD video.
On paper the spec of the Moto X seems a bit mediocre, especially as it's their flagship device, but in a similar vein to the Moto G, they've made the specs that matter good and those that don't matter quite so much they've trimmed them. Take the CPU, they apparently worked with Qualcomm to add the language processor and the contextual computing processor to the slightly ageing but adequate S4 Pro chip, which in use doesn't inhibit the device in any way shape or form. The Moto X has 2 GB of RAM as well which really helps it feel quick.
Having no expandable memory for me is always a down side, yes people should be using the cloud but they don't. Take my wife as an example, she has a Micro SD card filled with music in her device because she doesn't want to stream as she barely has any data allowance on her contract. I'm sure many out there are in the same boat.
But if I hadn't seen the spec sheet and I was just handed a Moto X and similarly a Moto G and asked me to guess what the specs were just from performance. I would right down a list of specs for both way higher than what they actually have. Motorola have obviously tweaked every last thing to get the Moto X to fly. It really feels every bit a high end phone.
The display on the Moto X is really quite nice, it's bright, colourful, with virtually any bezel and with great viewing angles. Motorola have decided to go with a really nice decent screen.
Software
The Moto X runs Android 4.4.2 and the only additions marking it out from a Nexus device are a handful of Motorola apps, oh and the Google Now Launcher which you officially aren't allowed to use. I easily fixed that by downloading it and I was happy. Using a third party launcher gives you many more options like grid size, icon packs and unread notification badges on icons. Just little things that drive me round the bend using stock launchers. Motorola haven't really added much to the Moto X, but what they have added is well thought out and implemented.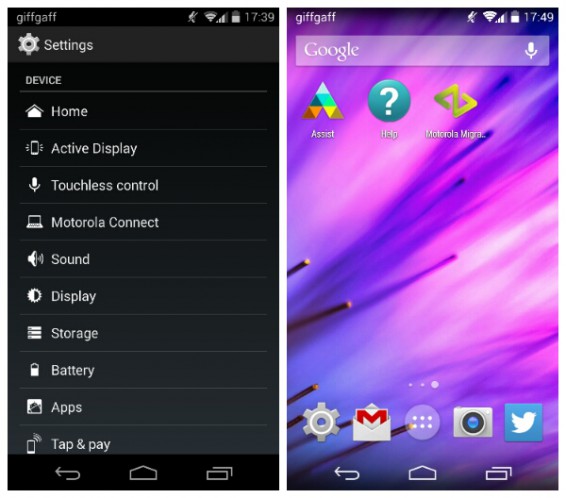 The most exciting thing about the Motorola Moto X is the contextual stuff, aided by a few coprocessors attached to the S4 Pro chip the Moto X has a few features that make your life easier. For starters there is the lockscreen, you get a normal swipe to unlock circle and then you also get a black overlay that shows you notifications when they appear. So if your phone is sat on your desk and you get an email it'll vibrate, play the tone and then you'll get an email icon appear in the middle of the black AMOLED display. You can then swipe on it to open up the relevant app or swipe it away to lock the phone again. The thing with this is that being AMOLED is that it doesn't case excessive battery drain.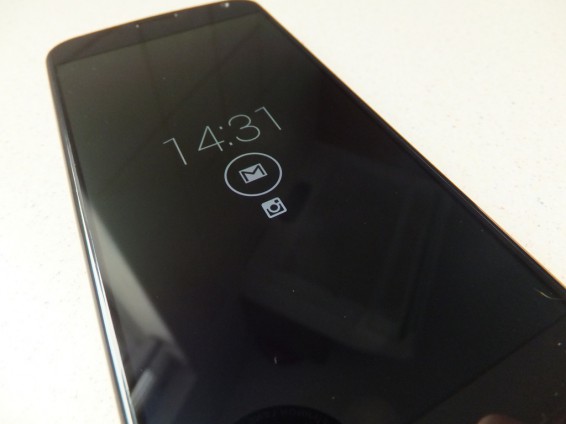 Another trick the Moto X can do is to recognise you picking up the phone and it powers up allowing you to quickly unlock it, so even the motion of taking it out of your pocket semi unlocks the device, it almost does away with the need for a power button. You can also quickly trigger the camera as well by flicking your wrist around, so again quickly take the phone out of your pocket flick your hand about and the camera app starts up.
The contextual stuff also recognises when your driving, sleeping or when you have scheduled a meeting. Motorola really have created something good here. The different apps they have created really help you use the Moto X unlike any other device around.
Motorola have added something called "Touchless Control" which basically is Google Now that never turns off, so it is listening for you say "OK Google Now" at all times as opposed to when the device is unlocked.
The Motorola camera app in my opinion is a bit clunky, I don't like it on the Moto G and lo and behold I don't like it on the Moto X, preferring to use something like Focal instead.
Other notable stuff
Battery life
For a phone that has a 2200 mAh battery I wasn't expecting much, but what I got was a phone that outlasted my Nexus 5 and nearly lasted as long as my Note 3, with it's bigger battery. Motorola have obviously been having a good old play with the software and battery power saving background stuff and it sure works. It makes me wonder what they could do with a bigger device with a bigger battery.
Benchmarks
Antutu – 22947
Quadrant – 8187
3DMark – 10794
Benchmark wise the Moto X comes out slightly higher than devices with the same S4 Pro chip like the Galaxy S3, Note 2, Nexus 4 and Xperia Z. Which again is thanks to Motorola having a good old tinker with the phone and the chip to make sure they worked in harmony.
Camera
The camera on the Moto X is a 10 MP unit, it's classed as Clear Pixels, which in real life doesn't make much difference, for me I found the camera to be good, but the camera app let it down for me. The app is fiddly, I don't like camera apps that make you swipe around within the UI just to get things done. Motorola to give them their due are regularly updating the camera app and a recent update allowed you to take picture using the volume rocker as a shutter button.
Software aside the camera takes decent shots that suffer in low light and it struggles to take macro shots. Here are some examples I took over the last few weeks.
Conclusion
Overall the Moto X is a cracking phone, it's got a great design, some great software and some decent specs. But for me it's just out of place in the UK market. It's been dropping in price for the last few weeks and is currently just about cheaper than the LG G2 and Nexus 5, which in my opinion are both better devices for only a little bit more money.
As to how I would have improved the Moto X, a Micro SD slot, a half inch more screen, a slightly better camera and of course the whole Moto Maker thing to be available to us UK people. As to whether I prefer this, my Moto G, my Nexus 5 or my LG G2 best I don't know. I guess I'm on the fence with the LG G2 and the Moto X. 

Motorola Moto X - Review
Design - 7
Hardware - 7
Software - 9
Battery Life - 8.5
Camera - 7
Screen Quality - 8.5
7.8
Overall the Moto X is a cracking phone, it's got a great design, some great software and some decent specs. But for me it's just out of place in the UK market.