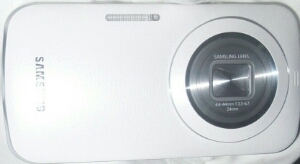 Following on from the Galaxy S4 Zoom, rumors for the next interation of the Zoom series the Galaxy S5 Zoom have been hitting the internet.
We have now had a Mr Blurry Cam photo of the device, now if this is the S5 Zoom (referred to as the Galaxy K Zoom in the leak) one thing noticeable is the camera optics don't seem to protrude as far out of the device as the S4 Zoom.
Other leaked Spec's include
20-megapixel camera with 10x optical zoom.
Xenon flash.
Optical image stabilization.
A quad-core/octa-core processor.
1.5-2GB of RAM.
4.8-inch display of 720p resolution. Android 4.4.2 KitKat.
The S5 Zoom is believed to be released in May and when we have any more news we will let you know.
Source Sammobile