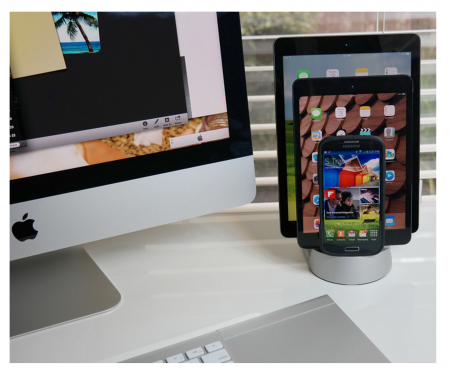 Kickstarter has always seemed to be the sort of place where venture capitalists hang out online when they're slumming it. The idea of it is great, but what would make one want to shell out cash in the hope that a project makes it? Because of the design language or the industrial design? For someone who just looks at documents on a computer screens all day and used to consider a basketball the finest design ever invented ever, all those phrases just sounded, well, arty.
The mind boggled. That was, right up until ARQ suggested we take a look at their docks, and then it all just clicked into place.
Up until that point, charging points and docks were supposed to be functional. Anything above that was merely a nice plus, but ARQ has made some truly desirable pieces of kit. I want one. I want more than one. I want a stack of them, all nested together the way they're supposed to, and I want a stack of toys that can be plugged into them just so I can show them off.

As they mention on their page "Arq Dock was inspired by the utility and space saving features of nesting furniture. CNC machined from aircraft grade aluminium, bead blasted and then anodized for an exquisite finish. Arq Docks will compliment any environment you place them in to showcase your devices."
These docks won't do anything other docks won't. They won't change the world, or boil your water for coffee. What they will do is look really really good. You can select options for micro-USB or lightning adaptors for the newer Apple gear and most Android phone, and you don't even need to take your case or battery pack off if you keep one on your phone.
Kickstarters wouldn't be the sort of place I'd want to spend my money on, but this is one potential item that has made me want to look a whole lot closer at what else may be on offer.
The kickstarter page can be found below, and there is a youtube video to show them off.
Source: kickstarter