So just to set my stall out, pre-Lumia and "Here", I used CoPilot. It was one of the most feature-packed and reasonably-priced navigation products for Windows Mobile at the time.
So here we are on a new platform – Windows Phone. It's the same product and of course they cater for iOS and Android too.
ALK Technologies offer a free version giving you one map. The UK & Ireland download is 250MB and so I, as they do, would recommend using a WiFi connection. You also get 14 days of the full application with a "in-app" purchase option to extend this.
The Basic Features are..
Offline Maps Stored on Device
2D Map Views
Trip Planning and Multi-stop Optimisation
Alternate Routes
Drag and Drop Route Editing
Adding the full license add give these features,,
Voice Guidance
Turn by Turn Instructions
3D Map Views
Detour
Safety Cameras
Speed Limit Indicator/Alerts
Lane indicator arrows & real sign post info
As you'd expect the app is tap friendly, so selecting your destination is as easy as supplying a post code and then selecting the street and house number. Route calculation is very fast, just a couple of seconds. If you have a full address in your contacts then you can select the destination that way too.
Should you wish, you can just browse the map and select your destination.

All in all the destination selection options seem complete to me.
The en-route navigation is clear and there's a selection of good clear voices issuing instructions, though the default Microsoft voices have some interesting pronunciations.
If the Live Traffic (in-app subscription required) informs you of a delay, you can generate an alternative route to see if a shorter journey is possible by going another way.
The lane indicators help prevent confusion as to where you need to be to get the exit you want. Great for those complicated junctions you've not driven through before.

CoPilot monitors your speed in relation to the speed limit and will let you know if you are exceeding it. If you want it can warn you about known safety cameras too.
When you reach your chosen speed the app will "lock" the phone to stop you making changes while on the move.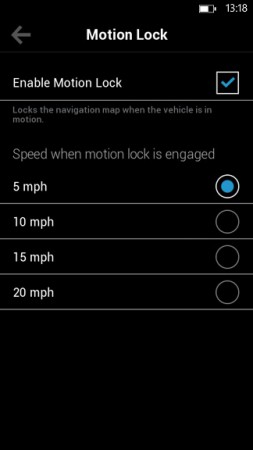 CoPilot is, pretty simply, a fully featured satnav app. It ticks a lot of boxes and is well worth considering if you are looking to replace your traditional in-car device with an app.
Check it out at their website http://copilotgps.com/uk/. Even if you don't drive or cycle there is a walking mode and you can download the map you want before you travel. This saves on data roaming if you are going abroad. The full version is £19.99 for UK & Ireland or £34.99 for the European Maps. With that you get the ActiveTaffic(TM) system for one year.