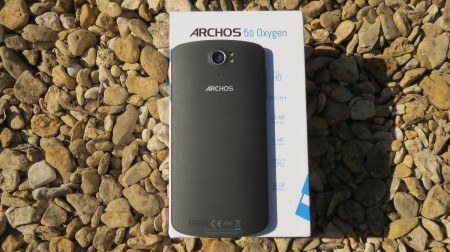 Archos may not be the first name you think of when it comes to buying a mobile phone, but maybe it should be on your list. I spent a fortnight in the company of the Archos 50 Oxygen to see what the French company had to offer.
Good
Screen
Very comfortable to hold
Almost stock Android
Bad
Whole phone is a fingerprint magnet
Occasional lag
Android 4.2.2
No 4G LTE
What's in the box?
Charger, microUSB cable, the phone.
Design
As I said in my initial impressions review, the first thing I thought when I saw the 50 Oxygen lying in its box was that it looked like a Samsung Galaxy Nexus; this is no bad thing. It's only on closer inspection that I noticed a recess at the top of the front of the phone where it looks like the glass has been cut too short. I don't know if this is meant to be a cosmetic feature, but it doesn't do it for me! Perhaps I'm a philistine.
The back of the phone is coated in a soft touch plastic which makes it a joy to hold. It's black with tiny charcoal grey flecks in it, and has a bold, but subtle Archos logo just under the camera and dual LED flashes.
The whole of the back of the phone is convex, which looks really good, but it means one can't lay it on a table and text because it wobbles from side to side.
Something I only noticed once I'd turned the phone on was that the capacitive navigation buttons are made up of little dots. There's nothing wrong with this, per se, but it does look a bit odd.
Probably the most annoying thing about the phone is it's love of fingerprints. It grabs them, holds onto them and won't let them go. Be prepared to rub this on your shirt all the time, or carry a glasses cleaning cloth with you wherever you take it.
One thing that stands out about the Archos is its excellent build quality. The phone feels sturdy, well put together, and gives confidence in a brand that doesn't have the greatest reputation.
Specs
Android 4.2.2
Processor: MediaTek MT 6589T Quad-Core 1.5 GHz
RAM: 1 GB
Storage: 16 GB
Screen: 5″ IPS 1920 x 1080 pixel (Full HD) 440 DPI
Main Camera: 13.4 MP with LED flash
Front camera: 5.3 MP with LED Flash
Weight: 130 g
Dimensions: 143 x 70.5 x 9.9 mm
Battery: 2300 mAh
Price: £299
Performance
Good old Antutu wasn't impressed by the Archos, but it's not as bad in real life as you may think.
The MediaTek processor coupled with a gig of RAM really isn't up to the mark in 2014, yet most of the time I didn't have any trouble with lag. Yes, most of the time; there were occasional, and unrepeatable spats of lag. Presumably some process in the background was hogging memory, I couldn't tell you what though.
Overall, in everyday use I was never frustrated by the performance of the Archos, but I can only describe it as adequate.
Display
Even though they are becoming more and more common these days, I was still surprised to find a 1080p, 5-inch full HD display on this device. I was even more surprised at quite how good it was. In fact the clarity of the display was let down, bizarrely enough, by a weak backlight. In all but the darkest situations I had to have the brightness up full. It's a real shame, because an excellent display could have made up for the 50 Oxygen's performance deficiencies.
Cameras
The main camera packs a reasonably impressive 13.4MP sensor, with dual LED flashes to brighten things up, from which I got some reasonably good photos in daylight, although low light photos were let down by either noise or washout from the overbright flash. I was especially impressed by the macro shots I managed to take. Auto focus is pretty quick at any distance, and certainly beats the hell out of my LG G2.
The forward facing camera is 5.3MP is more than good enough for its video calling, selfie taking duties. The oddity here is that there is a second LED flash to accompany the face-shooter. It seems a little pointless, however, because whenever I tried to use it I ended up squinting. The resulting selfies were ever uglier than normal!
Software
It's always a relief when booting up a phone I've never seen before to see vanilla Android popping up, rather than some memory hogging skin. OK, it's not running KitKat, and there are some added extras that Archos have chucked in, but overall I think the phone feels faster than the benchmarks suggest because there's no bloat to tote.
There is a small bundle of software included: a reasonably good file manager, a music player, video player and even a weather widget featuring a 3D sheep that wanders around eating grass as the climatic conditions change behind it.
Conclusion
For all its faults, there's something I really like about the Archos 50 Oxygen. The trouble is that I don't know what! You know how some people prefer the mutt with the funny markings and one droopy ear at the rescue centre to the pedigree show dog? That's how I feel about the Archos.
The problem is that at £299 the Archos is pedigree money, and when you consider that you can currently buy a Nexus 5 for £240 there is no way I can recommend this loveable maverick.
Many thanks to our friends at Clove for the lone of the Archos 50 Oxygen.
Archos 50 Oxygen
Design - 8.3
Hardware - 6.1
Software - 7.5
Camera - 5.8
6.9
An interesting and good looking phone that is just too expensive to recommend