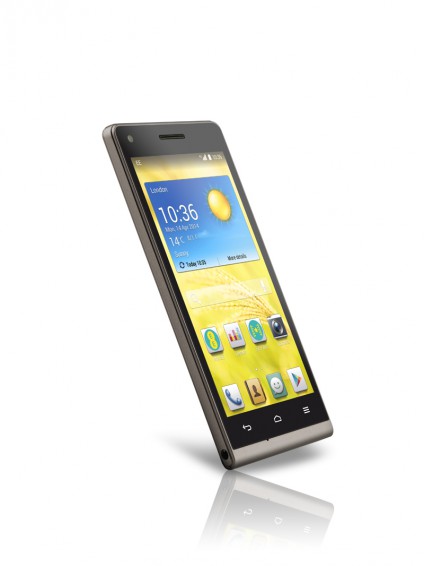 In Barcelona we saw a couple of devices that Orange were making available to their various territories. However, here in the UK the Orange (and T-Mobile) brands are becoming ever more diluted into the big new EE network. So, I asked, will Orange or EE be announcing any own-brand phones in the UK any time soon?
"Wait and see", was the answer.
Today EE have answered that question fully, by launching the new EE Kestrel, a Huawei built device which looks set to be the UK's lowest price 4G smartphone. How much? It'll be free on plans their 4G plans starting at just £13.99 per month (provided you've got EE Home Broadband) or £99.99 on 4G pay as you go.
It's called the Kestrel and has a 1.2 GHz Qualcomm Snapdragon 400 quad-core CPU inside. Packing a 4.5″ qHD display, it also has the usual WiFi, GPS and other goodies plus HD Voice compatibility for those spookily-clear calls.
EE tell us..
Perfect for capturing and sharing HD video and pictures, through to playing the latest online games, the new smartphone, named "Kestrel", after the British bird of prey, will be the first in a range of EE own-branded 4G devices.
EE have also announced new 4G price plans, which you can read about here. As you can see from the press release below, it looks like EE are planning to return to launching their own-brand kit, which could see manufacturers like ZTE and Huawei suddenly finding an easier route into your pocket.
More on those specs then. The 4G smartphone will do up to 150Mbps download thanks to the simple fact that it's LTE cat 4. It also has 8GB of internal storage (plus a microSD card for topping that up), 1GB RAM and runs Android Jelly Bean 4.3. It'll be available in a sleek graphite colour and has that 4.5″ qHD screen which has a 540×960 pixels resolution. For photos, there's a 5 megapixel rear camera (with zoom, auto-focus and LED flash), a 1 megapixel front camera and HD video capture.
The EE Kestrel measures in at 131mm x 65.3mm x 7.85mm and weighs 145 grams. You also get Bluetooth 4.0, an FM radio and a 2000mAh battery. It'll be available towards the end of April.