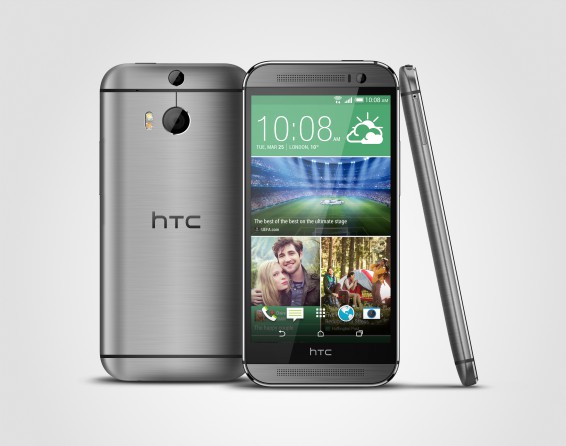 Well, you've got to admit, we had plenty of notice on this one. The new HTC One seems to match pretty much all the rumours we've read, but the official name is the "HTC One (M8)". The original HTC One, by the way, had the codename "HTC One (M7)", so there you go.
Here's a look at the highlights…
HTC Duo Camera
The major feature is that HTC Duo Camera – the second lens we saw on those leaks. It has the UltraPixel technology and a dual flash with 1080p HD video recording. However, the Duo Camera has a depth sensor which, with the UltraPixel sensor, adds effects like tweaking the focus after the photo has been taken with "UFocus".
There's a slow motion mode and the video montage system, HTC Zoe, makes a return plus it's looking like HTC will be making app updates available through Google Play as an all new version of Zoe will be available shortly after launch. No more waiting for big firmware updates.
You can also change the background, add animations and even paste in other shots into your photos. This means you can stick in a shot of your family on a totally new photo. Another feature is called "Dimension Plus" which will let you view images from a totally different angle just by tilting the screen.
It's not all about tricks and effects though. The new HTC One (M8) gets the sharpest and best image from the moment you hit the shutter. The LED dual flash ensures that the resulting images get the right tone and lighting. The advanced camera technology also works behind-the-scenes capturing images right from launch, so that when the shutter is activated, the sharpest possible image is instantly displayed. The camera autofocus operates at a speed of 300 milliseconds, it grabs a professional shot incredibly quickly.
Oh, and let's note forget that front-facing camera (that everyone wants to call a "selfie camera") – it's a 5 megapixel wide-angle unit.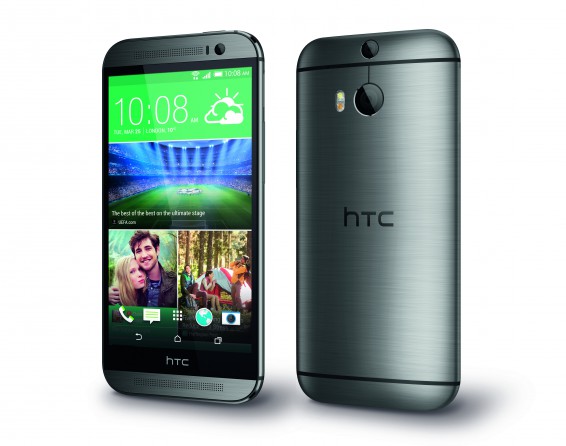 The handset, which will be available in Gunmetal Gray in selected London stores from 4PM, is yet again made from a metal unibody and will be coming to 230 operators across the globe very soon indeed.
HTC Sense 6 and Motion Launch
Inside there's the new version of HTC Sense – version 6. There's also a clever "Smart Sensor Hub" which will apparently anticipate what you'd like to do, before you actually do it. Geddit? HTC Sense 6? Sixth sense? Eh? Eh?
Sensors inside the phone will let you interact with your new HTC One without having to turn on the screen. The "Motion Launch" system uses position and movement which means you can answer your phone simply by sticking it next to your ear.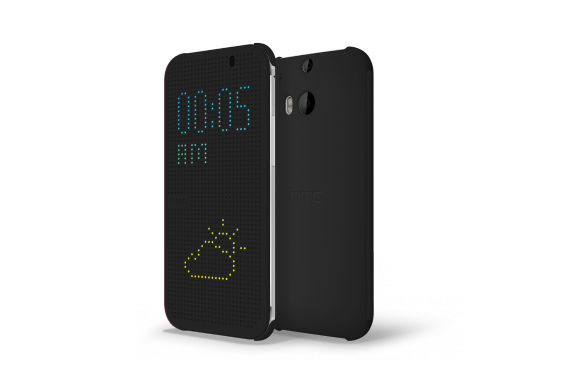 A double-tap (like the LG Knock-on system) let you turn the lock screen on and off, plus much more. You can also buy this special "dot view" case which will extend the double-tapping capability. Don't ask me why, but I'm wanting this more than the actual phone at the moment.
Just double-tap the case and you can get the same result, then read texts, emails and view your call log or check the whether without having to touch the screen via a retro dot-matrix style screen.
Battery Life
Gah, we all hate talking about that, usually you'll get a day out of most modern smartphones if you're lucky. However, HTC tell us that their new handset has an "Extreme Power Saving Mode" which makes the battery power last 40% longer than the original HTC One. The result should be an epic 14 days' worth of battery power in the "Extreme" mode, and you can still receive calls, texts and – yes – emails too.
You can crank this on automatically or manually and is ideal if you're out and away from a power socket for some time.
The stats on this are pretty amazing. Even at a 20% battery level you can get a huge 60 hours of extra standby time. Also, for those moments when you glance at your screen and see "5% battery power", you can activate the Extreme Power Saving setting and get a huge 15 hours of usage.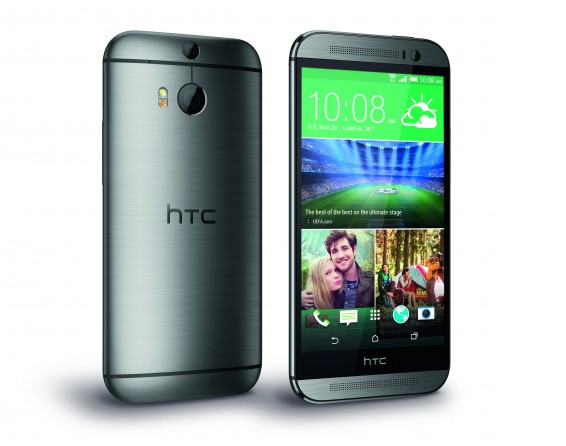 Sound
As for the audio quality. there's oodles of "oomph" thanks to the return of HTC BoomSound and dual front speakers. They're now 25% louder than the HTC One (M7) and produce a punchy sound thanks to the "redesigned speaker chambers and a tailored audio profile" for the best sound quality.
HTC BlinkFeed
The magazine-style news-delivery system is back again and a new SDK has been announced too. You can find and subscribe to media sources now or create a new feed based on a subject. "News Bundles" deliver articles and tweets on a topic you're interested in easily.
Fitness
With Samsung going all "health conscious" on the S5, HTC are doing it too. This new smartphone includes the Fitbit app and you can use the Fitbit accessories (trackers) to keep an eye on your fitness and sleep patterns.
TV
HTC Sense TV is back again and the smartphone remote control has now been tweaked to include Facebook and Twitter whilst watching a show. Live sports stats will also pop up.
Original HTC One owners won't miss out
Let's not forget that the original HTC One is still winning awards. Indeed, Peter Chou, CEO tells us..
In 2013 we introduced the best smartphone in the world, but we never stopped challenging ourselves and the status quo in this category. As pioneers in mobile innovation, we continue to design and build devices that will dazzle, inspire and transform the smartphone industry. Today I'm proud to launch the most stunning, intuitive and advanced handset that the industry has seen to date, the new HTC One (M8).
What's that? You've got yourself an original HTC One and want to get in on some of this fun without upgrading your handset? Don't worry my child. HTC will be making the all-new HTC Sense 6 available as upgrade from the Google Play store. The new GUI has had a full redesign and now has a clean and crisp look with distinctive and colourful themes. There's also a new personalised theme and intuitive experience.
If you'd rather not have the HTC custom tweaks and GUI, don't worry, the HTC One (M8) Google Play edition will be available for pre-order today and you'll be able to buy it from the Google Play store very soon indeed.
Now, as I type Dan is running around the live event and, I'm reliably informed, has the handset in his hands right now. Keep following us on Twitter for all the latest on this brand new handset from HTC.
Want the specs? We'll be posting them in the very next post. 🙂 The HTC One (M8) will be available globally in Gunmetal Gray, Glacial Silver and Amber Gold. No pricing as yet.