If you are looking for a Office editor for your Android or Amazon device today then I recommend you head over to the source link at the end of the article to download this free today.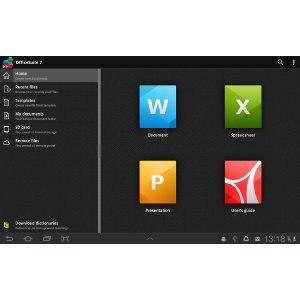 OfficeSuite Professional 7 is a full Office suite with document, spreadsheet and presentation creating and editing functionality, think Word, Excel and Powerpoint. It also has a PDF viewer built in. Rather than just being a trial or just viewer this is the full version and is available for free today as part of the Amazon free paid app of the day promotion.
The app is normally £9.36 on Amazon or £9.08 on Google Play so a fairly big saving by app cost standards. I've used the standard free viewing app for a few years on various devices  and find it easy to use and responsive so looking forward to see what else you can do with it.
If you haven't downloaded anything from Amazon before then you will need to download the Appstore, just follow the instructions here. Oh and as an added bonus you also get £1 to spend on music from Amazon's MP3 store.
Source: Amazon