So today is a big day for Three in the UK with a refresh of their pay monthly phone contract price plans (excluding Sim Only and Mobile Broadband) and there are some good changes, and a few not so good ones.
First of all, existing customers will still keep their existing deals until the time comes you want to upgrade and then when you select a new device you will have to pick a new plan
And if you are on an existing deal and want to take one of these new ones mid contract this will be possible by calling customer services.
So on to all the details…….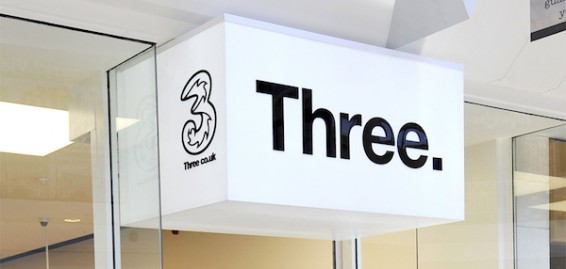 First of all AYCE Texts is included on every plan so you are free to text as much as you want.
This is an increase from the 5000 texts on plans like The One Plan which would be VERY hard to go over, but was still possible for some people.
Then comes the minute bundles which come in with 50 minutes, 100 minutes, 300 minutes, 600 minutes and a brand new AYCE minutes pack where you really can talk all you like to UK mobiles and standard landlines.
When it comes to data the offers are 500MB, 1GB, 2GB and the very important AYCE data which made Three so well known here in the UK for mobile data customers.
Now all a customer needs to do is pick the minutes and data they want and have a plan suited to your needs.
Also some great news on these new plans is that 0800 numbers are now totally free so no more expensive calls to these, and all other 08 numbers will now cost just 5p per minute, again a great saving from the normal per minute charge it used to be.
However…..
Every great story has a grey cloud and this comes in two forms on these new deals.
First off is the fact the AYCE data plan now comes with a 2GB limit for tethering use, replacing the fact on older plans you can tether all you want, 1GB or 50GB it would not matter on older plans.
If 2GB is not enough you can add another 1GB of tethering for £5 and unlike existing deals where The One Plan was the only plan to allow tethering, all these new plans will allow it up to your data allowance so a 500MB plan can tether but will be quick to burn that precious data.
The second part is although 4G has now launched and costs no extra per month to get on Three, TrafficSense the service the network uses to manage customer data experience now seems to state that the maximum speed a customer will get on it's 4G network is 50Mbps, which is half the 100Mbps LTE can support and far short of the 150Mbps EE offer in their 'double speed' cities.
Realistically 50Mbps is far more that most people will need on a mobile anyway and still lets you stream with no buffering and download music in seconds but there are people out there who will be disappointed to see the speed at half what LTE should support.
Plus considering many of us use Speedtest.net fro Ookla if my network maxes out at 50Mbps and yours goes to 75Mbps you will see a visual difference.
And this change will impact every customer both new and existing even if you are on an older plan
The quote from the TrafficSense site says
We currently provide a maximum speed of 50Mbps on our network which is fast enough for all streaming activities, including watching HD videos on your device, and gives a great experience. This applies whether you're on 3G or 4G. We do this to make sure our network is spread correctly across all our users and gives everybody the best possible experience on our network.
Now when it comes to deals available we have a few examples below what you will be paying
iPhone 5S 16GB with AYCE minutes, texts and data you will be paying £44 a month with £29 up front
iPhone 5C 16GB with AYCE minutes, texts and data you will be paying £41 a month with £19 up front
Galaxy Note 3 with AYCE minutes, texts and data you will be paying £46 a month
LG Nexus 5 with AYCE minutes, texts and data you will be paying £41 a month
Sony Xperia Z1 Compact with AYCE minutes, texts and data you will be paying £42 a month
These new deals go live on the Three site today if they are not already available for you to see and order both online and in your nearest store.
So whilst it is great to see deals like AYCE minutes, great to see AYCE data stay on the handset at least and Three push forward with new ventures like cheaper 08 calls and Feel at Home, the 2GB tethering cap and 50Mbps network maximum might cause a few unhappy people who were looking to upgrade shortly and want the fastest network possible when their DC-HSDPA network is reaching speeds of 30Mbps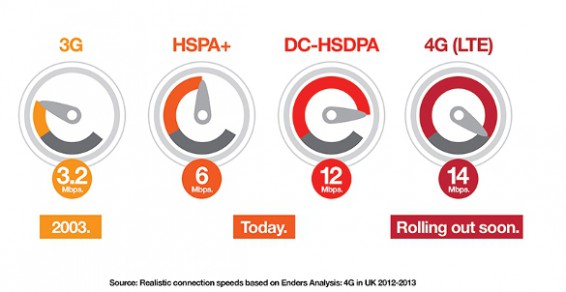 Of course Three did cover this quote a while ago on their blog where a graphic was posted that average 4G speeds will be around the 14Mbps mark so remember 50Mbps is in theory the maximum and won't be seen 100% of the time.
Just to confirm though to anyone worried that sim only deals have not changed and you can continue to get the One Plan on a sim deal AND have unlimited tethering including 4g access which is great news
What are your thoughts on these new deals?
Please leave comments below