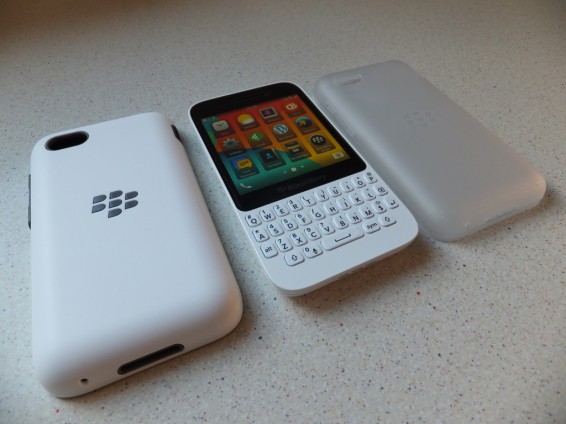 I like change, I like being forced into doing things differently, I like hearing my brain clicking as it tries to comprehend a new way of doing stuff and I also like a bargain. The last one is probably going to be my downfall one day. I recently bought a BlackBerry Q5 from Carphone Warehouse for £99.99 for no other reasons than it was cheap and it was different.
I've used BB10 several times before as I reviewed the BlackBerry Z10 and Q10 last year and I found the hardware to be great and the software showing massive signs of potential. So I was eager to see how things had progressed in the time since I last had a BlackBerry in my hands. I had heard that since the last BB10 update you could just copy Android apks straight onto the device and install them, this coupled with a selection of nice native BlackBerry apps, the slightly confusing messaging hub and a qwerty keyboard I was sold. Two days later I had in my hands the BlackBerry Q5, it initially seemed too small to be of any use. As the Q5 has been out a while I decided not to review it and instead just to bring you my thoughts on the Q5 in light of its new rather splendid pricing. Starting with my good and bad points.
Good Points
Small and compact.

Qwerty keyboard is handy for quick typing once you've got the hang of it.

Reader mode in Web browser.

Being able to sideload Android apps.

Micro SD slot.

BlackBerry Hub once configured is a useful notification hub.
Bad Points
Small screen makes web browsing fiddly.

Sideloading Android apps feels like your cheating.

BlackBerry Hub out of the box is a bit much.

Google Services a bit fiddly to setup.

Some Android apps just don't fit on a square screen.
So what else can I tell you about it? Well people mainly want to know about BB10 itself, the keyboard, the apps, sometimes about the camera and about the whole email side of things. I'll have a look at each separately. First though let's have a look at it up close, I bought the white model if you were in any doubt.
About BB10 itself
BB10 is getting there, the core OS and the built in native apps are a joy to use, with a mixture of swiping in from different sides of the screen to trigger various elements of the app and the OS itself. Setting up Google Mail, Calendar and Contacts is quite fiddly, so much so I had to add the same account details three times. Once the contacts were in place you can add Facebook and Twitter to the mix to really populate your contacts list with nobody's. The social media integration is second only to Windows Phone for its functionality. The app store is still a little disappointing, with a mix of Android ports, overpriced Native BlackBerry apps and a whole pile of trips to fill in, it still reminds me of the Windows Phone Store a while back. It's certainly improved since I last had a play but it still needs work. Barely any of the big name new app exist relying instead upon sideloading apps instead.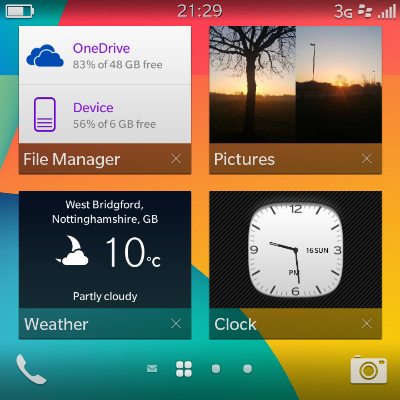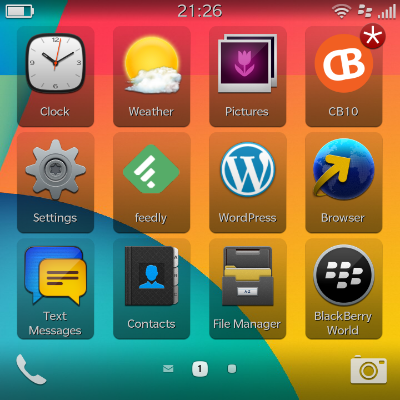 I really liked how when you minimise an app it sometimes turns into a little widget showing you certain info. This functionality only really exists with native BlackBerry apps.
The Keyboard
I've had many qwerty keyboards on my phones over the years, from the Ubiquio 503G running Windows Mobile, the rather large HTC Advantage, the HTC Desire Z, the Dell Venue Pro, a brief time with the BlackBerry Q10 and now the BlackBerry Q5. I like using a keyboard, it used to help me type faster but these days only SwiftKey helps me type faster. The keyboard on the Q5 is almost the nicest keyboard I've used out the list above, second only to the BlackBerry Q10, it's not bad, it's just not as good. It's a little bit flexy and a little bit annoying having to use an alternative function button to get to the punctuation marks. The more I use it the more I get used to the quirks though, I can even text one handed using it. I've found little software tweaks like double clicking the space to get a full stop or pressing enter to send a message all add to the speed at which I can type. The more I use it the more I struggle with a touch screen keyboard.

The apps
The other thing people ask me about are the apps, well in BlackBerry 10.2.1 things are a whole lot easier than they were. The native app situation has improved and the sideloading of Android apps is a whole lot easier as well. Browsing the BlackBerry World Store reveals games from developers like Disney, Gameloft and Rovio who may just have ported their apps to BlackBerry but it shows that they are interested. After playing around with BlackBerry World there was still a noticeable gap in what apps I use on a daily basis. No WordPress, no Feedly app, barely any Google services, barely any Microsoft services and a lack of Social Media apps. I was a bit concerned and decided it was time to take matters into my own hands and jolly well install me some Android apps. There are three ways to do this, firstly by installing the Amazon app store (click here if you want it), from there you log into your Amazon account and it will let you download, install, purchase and update a whole host of apps.
The second way is to acquire Android APKs from various websites around the internet and copy them to your BlackBerry or its memory card, hoping to not have acquired dodgy ones. Once you've done that you locate the file in the file manager and run it, it installs the app and adds an icon to your home screen. You then get to run it and hope it's not dodgy and that it will actually work, you've basically got to hope it doesn't rely on any Services or Frameworks not Present in BlackBerry 10. Things such as Google Maps or Hangouts or something along those lines. The downside of this method is you aren't really sure where the app has come from and what else someone has added to the app before offering it for download.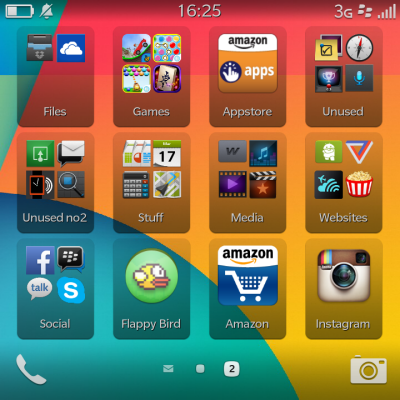 The third method which albeit the most fiddly I found the most straightforward once set up. It basically requires an Android device running the Google Play Store, with Astro File Manager installed and also with Dropbox installed and set up. You simply download an app in the Play Store, create a backup of the app using Astro and then using Astro again browse to the Backups folder and upload the newly created APKs to a folder in your Dropbox wait a while for them to upload and then get hold of your BlackBerry. You need to have connected your BlackBerry file manager to Dropbox and then you can browse to where you saved your backed up apps. Tapping on them downloads and then installs them. This way you know that the app is up to date, it's legit and if it updates on your Android device you can make another backup and move it on over.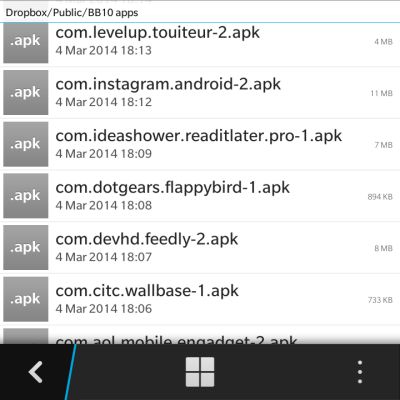 The problem with adding various Android apps to my Q5 was that some apps just weren't designed with a 720 pixel square screen in mind, there aren't really any Android devices with the same form factor, so why would a developer make it to suit. Some app are responsive to the screen size and just work, like Feedly which just readjusted itself and worked perfectly. Others such as Instagram or Flappy Birds installed ok, but just squashed everything down making it unusable. Others such as Pocket got so confused thanks to background downloads that I just had to uninstall it.
The Camera
The camera in the BlackBerry Q5 is a 5MP shooter which can be dropped down to 3MP in 4:3 or 1:1 capture modes, which seem more intuitive with the square screen. Basically it's easier to frame a shot on the square screen, but using this lowers the resolution of the shot. It is handy for Instagram though (as long as you've side loaded it).
In bright light the camera takes reasonable shots, facing the sun you can get over exposure and in low light you get more noise and poor focusing. For the device and the demographic its new price will attract the Q5 it's more than adequate.
To take a shot you can tap the screen which quickly focus where you tapped and takes the shot or you can use the volume keys to capture a shot. Doing this one handed is a fiddle though as you'll end up pressing some keys on the keyboard instead. This doesn't matter but it is distracting if you are trying to line a shot up. The space bar also allows you to take a shot too.
Conclusion
The BlackBerry Q5 is a nice phone, for it's current price anyhow. I always felt that the new BB10 devices were a little overpriced, at the price I got it for (under a £100 at Carphone Warehouse) it's a bargain. It offers me a handy messaging device that I can almost use for anything. BlackBerry keep improving things with each update, I can only look forward to what comes next.