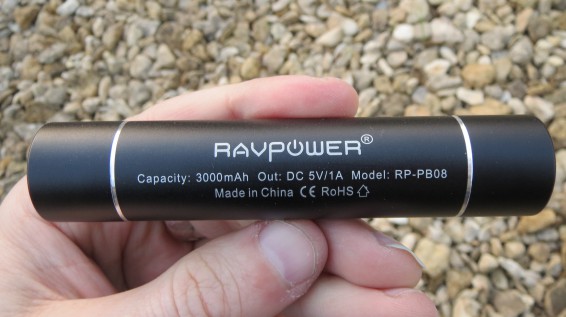 The Ravpower RP-PB08 is a small portable battery backup pack for charging phones when away from mains sockets. I carried one with me for a week to see how it performed with a variety of phones, and these are my findings.
Good Points
Size
Charge level indicator
Torch
Flat battery notification
Bad Points
Not enough capacity to charge a large phone
Belt clip is insecure
No iPhone adaptor
Easy to turn the torch on accidentally
Strobe effect
Specs
Capacity: 3000mAh
Input: 5V, 1A
Output: 5V 1A
Size: 4.25″ x 0.87″ diameter
Weight: 2.93 oz
Colour: black, silver, blue, gold, "hot pink"
Price: £11.99
What's in the box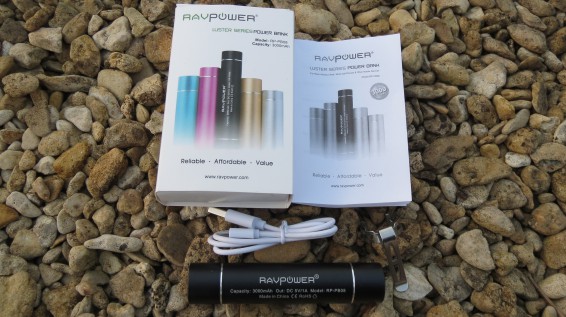 The battery pack, a short USB to microUSB cable, a detachable belt clip and an instruction manual. No charger.
Design
The cylindrical metal casing is described as being like a lipstick, but it's bigger than any lipstick I've ever seen (not that I'm an expert!). It looks more like a small torch to me, although that's probably because it's got an ultra-bright led in one end!
The other end houses a microUSB port for charging it, a full size USB port for charging a phone, and a power button for the torch.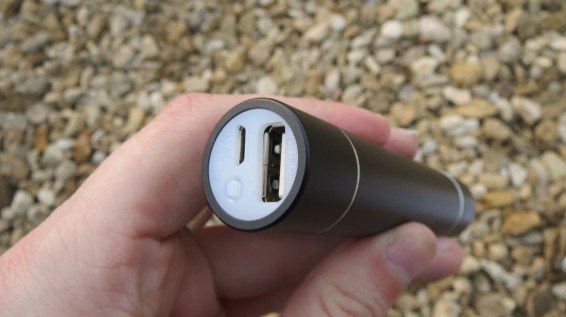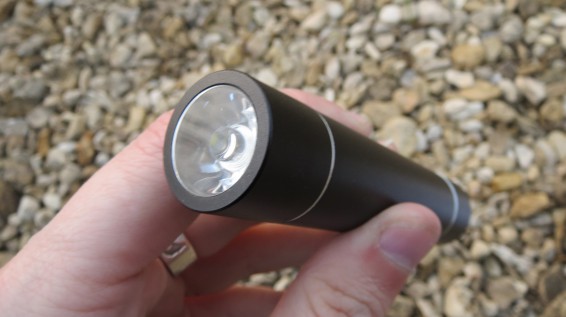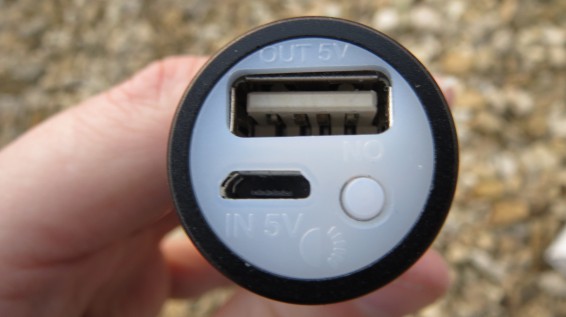 In use
The first thing to do when one gets a new battery pack is to give it a full charge. I had to use the charger that came with my phone though, because Ravpower doesn't supply one.
When the RP-PB08 is nearly flat the translucent end panel (where the ports are) glows red. When full it glows green, and it glows blue when charging. All very nice, easy and useful. However, the best thing for me is that if it runs flat whilst charging a phone the torch flashes a few times as a notification. Well done, Ravpower, great idea.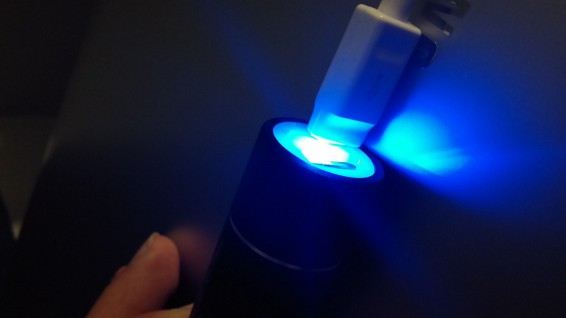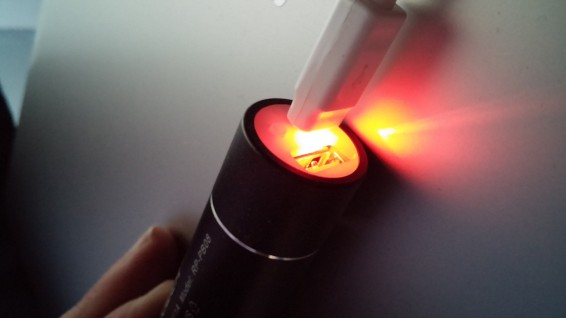 Once full, it's simply a case of plugging a phone in and letting it charge.
The switch for the torch is a push button affair, which toggles through off/on/strobe. There's two things I don't like about this:
It's too easy to accidentally turn on if knocked in a bag or pocket. It happened to me a couple of times and I only noticed when I felt my pocket getting very warm.
Being an epileptic I don't like the thought of having to toggle through a strobe light function in order to turn the torch off (because strobe lighting can trigger seizures in people who are photosensitive). If a strobe function is fitted it should have an independant switch. The question is though, why does it need to strobe at all?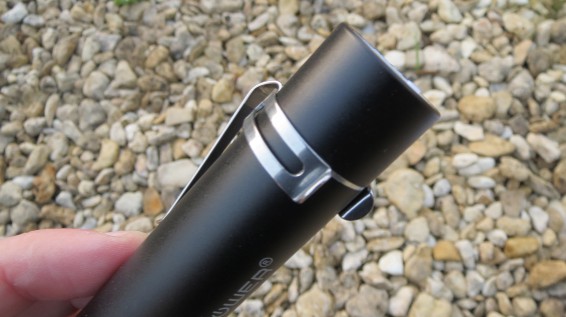 There is a detachable belt clip provided, which fits by slipping over the body. The trouble is that it it slipped off again as soon as I tried to put it over my belt or pocket. In short, it's useless.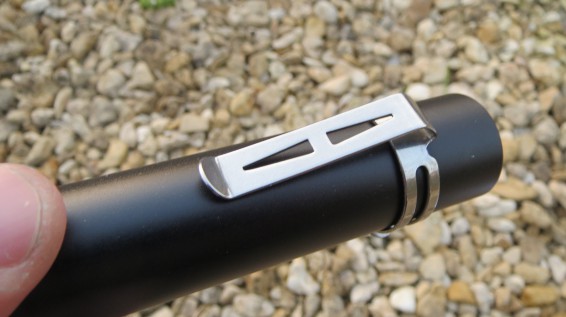 The inclusion of a belt clip that doesn't work is worse than not including a belt clip at all, so just leave it out, OK?!
Performance
I don't have fancy electronics testing gear, so I decided that charging various phones with different battery capacities would give a reasonable idea of how it would perform with your phone.
The test required charging each phone from 10% as far as it could go before the battery ran out.
Each handset was soft rebooted before being plugged in. They were then left on with the screen off. They had good mobile network signal, wi-fi on, and GPS off. Twitter and email clients were set to synchronise every five minutes. The RP-PB08 was recharged fully between each test.
Test results
| | |
| --- | --- |
| Handset | Time taken to charge/how far it got |
| LG G2 (3000mAh) | 3hrs 20mins (70%) |
| Samsung Galaxy Note (2500mAh) | 2hrs 55mins (74%) |
| Huawei Ascend G300 (1500mAh) | 2hrs 35mins (100%) |
| Samsung Ativ S (2300mAh) | 3hrs 5mins (83%) |
| Jolla (2100mAh) | 2hr 45mins (92%) |
| Archos 50 Oxygen (2300mAh) | 3hrs 15mins (79%) |
Please bear in mind that due to different operating systems, processors, etc. batteries of the same size in different phones may not show the same charging characteristics, but 2.5 – 3.5 hours to get to at least 70% full seems like a good ballpark.
Note on Amazon Reviews
There are reviews on this product's Amazon page that say how the customers got up to four full charges out of the device, however, if you look closely you can see that the reviews for different capacities are all shown under the one product page. It's physically impossible for a 3000mAh backup battery to charge a 2000mAh phone four times without it needing to be charged itself!
Conclusion
Aside from my niggles about the torch and belt clip there is nothing that can be levelled against the Ravpower Lister Series Power Bank RP-PB08.
It's a good backup battery for keeping in a pocket or bag for those times when your phone needs a shot in the arm, and this is exactly what it's designed for. It's not a powerhouse that will charge umpteen devices during the course of a camping holiday. When this is taken into account, it does its job very well.
The Ravpower Lister Series Power Bank RP-PB08 can be bought in a variety of colours for £11.99 from Amazon
Ravpower Lister Series Power Bank RP-PB08
Design - 7.3
Performance - 7.5
Value for money - 7
7.3
A nice little emergency backup battery, but look elsewhere if you need a full charge of a modern flagship smartphone.