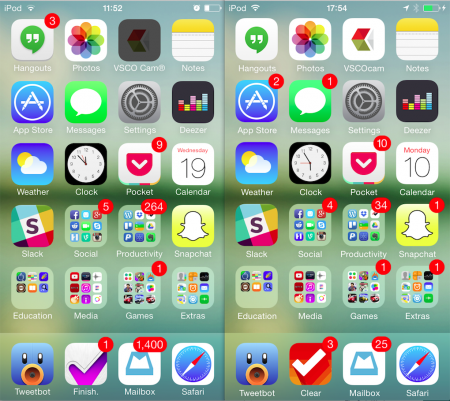 After what seems like forever in testing, iOS 7 was today pushed to iPhones, iPods and iPads around the world. I've posted a full changelog as a GitHub Gist here, but here are some of the key changes.
iOS 7.1 integrates CarPlay, the AirPlay equivalent for motorists that was announced by the company in the past few weeks. This allows you to use Siri, listen to music, and use select apps on the on-board computers of specific manufacturing partners. The first cars with CarPlay are arriving sometime later this year.
Other major enhancements include iTunes Match subscribers now being able to stream iTunes Radio ad-free. This feature was touted at the iOS 7 launch last year, but it appears that it's only now arriving on devices. You can now search directly from the iTunes Match homepage to create stations.
The keyboard has been tidied up a bit, with bolder keys and a new, albeit controversial, shift key action. Speaking of input, check out Siri's new voice for the UK English market – a bit too chipper, if you ask me…
New accessibility features have also been added, such as button shapes (thanks, @MitchellEve!) and 'Reduce Motion' working in more apps. Also working in more apps is the bold text feature, which will be a welcome sight for some users.
As with any other iOS release, several bits and bobs have been tightened under the hood. Animations feel much more responsive, and home screen spacing has been widened along with some other minor graphical tweaks. Performance on the iPhone 4 has also been improved, apparently – this is an issue that I'm sure at least a few of my friends will welcome, as it used to struggle along on their devices.
The end result is an operating system which feels far more 'solid' than its predecessor. The update is available for free, naturally – just check your iOS Device settings. If you notice anything else new, let us know in the comments below.