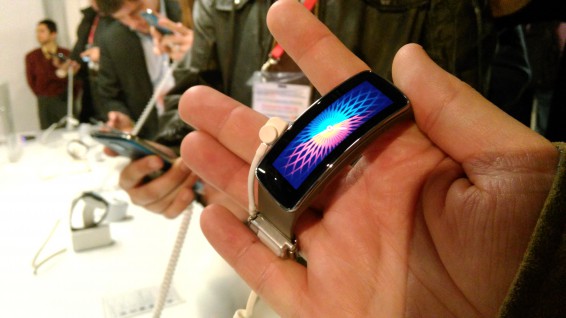 That's the thing with Mobile World Congress. You go out there, you do about 20 miles of running about, then a few days later you sit back and find that one of your posts never made it past the "draft" stage. I blame the sheer fact that I wrote most of this particular article at 3AM and I was going slightly delirious.
Wearable tech. It seems to be "the phrase" that everyone is kicking about in Mobile World Congress this year. That big Samsung Galaxy S5 event also revealed this, the Gear Fit. It's a watch that directly targets fitness fans and can monitor heart rate whilst communicating with your Samsung phone.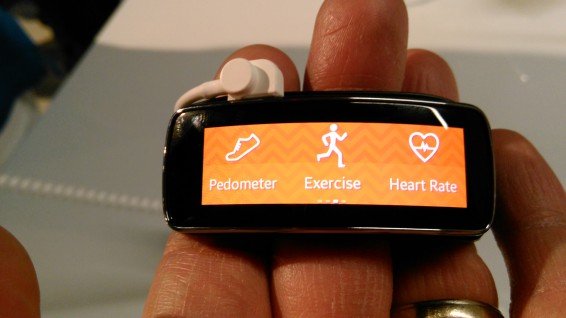 During our time playing with it we were impressed with how slim and light it was, plus that curved OLED screen produced some rather beautiful images. The 1.84″ device weighs in at a mere 27g and also lets you make and receive calls or display messages if your Samsung phone is connected up. The Gear Fit also lets you take your pulse an measures your movement as you sleep. You can also fire up a stopwatch or switch the backdrop images.
The word "Galaxy" has been dropped from this particular watch as it's not actually powered by Android. The straps and themes can be changed, plus the navigation was easy and simple. We were told by the Samsung rep how a "Fitness Motivator" will push you on when you're trying to push your fitness to the next level. Oh, and it's both dust and water resistant.
The stand you see in the images here also doubles as your charging point. You merely pop the watch on there and it'll charge the watch.