Naming an app must be a difficult task, if I was tasked to do that I'd be there for weeks thinking and thinking what to call it. So I can entirely understand what the confusingly named Recent is all about. Picture the scene, you have taken a load of pictures recently, you've also downloaded a load of files, you've installed a lot of apps and you've been using a lot of apps as well, basically you've been sat around playing with your phone for a while. If you wanted to find a recent app or recent download it is sometimes a bit fiddly trying to find where it has gone. Recent aims to help you out with this sort of thing.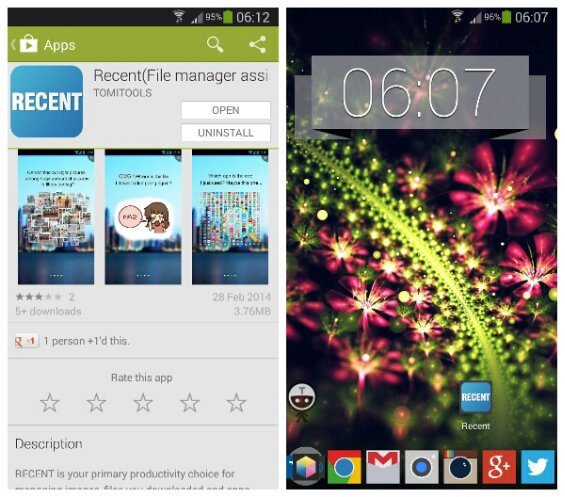 Recent is a free app with no adverts, once installed you get two versions of the app, one that is triggered by an omnipresent stickman who now lives on your homescreen and the other version from the app icon as usual.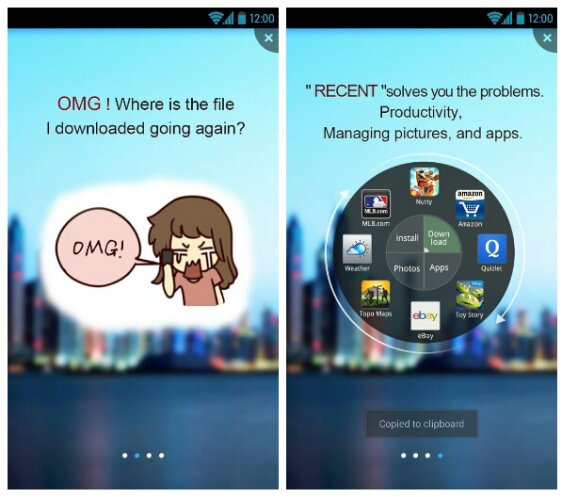 So let's have a look at the most visually appealing part of the app, the section that appears when you tap on the stickman. Once you tap him/her up pops a circular widget type thing, with different categories in the middle and a load of corresponding shortcuts around the edge of the circle.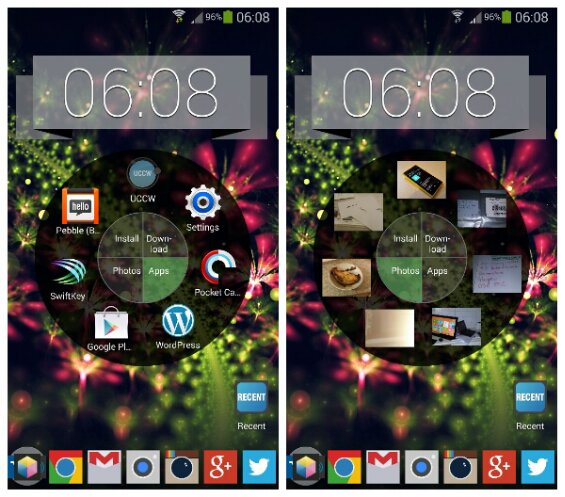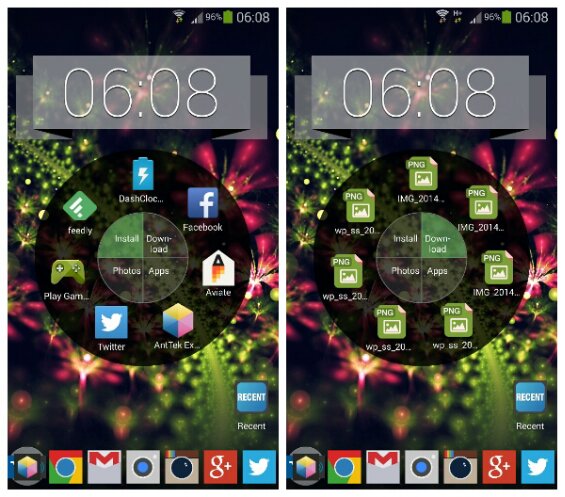 If you tap apps it will show you recently loaded apps, which you can then tap and it will load them. The other categories are photos, install and download, which show you recently taken pictures, recently installed apps and recently downloaded files. It's a handy widget and a quick tap away from it closes it down, displaying the little stick person. It might just be me and my overly tidy homescreen thing, but having a stickman overlaid of any icons or widgets and also the app drawer is a little bit annoying. At times you have to move it to get to an icon beneath. Which is slightly annoying. I've seen similar apps that do similar things to this and they have a 1×1 widget that triggers the popup circle. Oh well, maybe in a future update they'll change the functionality. The other annoying thing, is that there isn't a way to turn the stick person off. It's there for ever , until you lose it and uninstall the app.
The second part of the app makes a bit more sense. You tap the normal app drawer icon and up comes the same four categories, but this time you get access to way more "recents".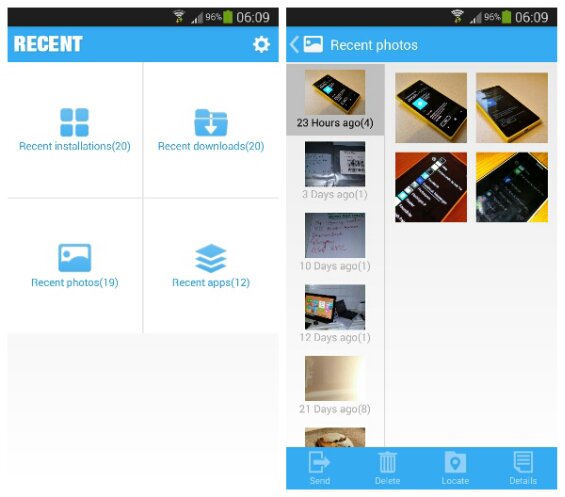 This time if you tap on category you get a long list of recently installed apps, recently used apps, recently downloaded files and recently taken pictures. You just select the one you want and you can open it from within the app. It's quite useful, especially for downloads as I'm always downloading images and zip files that are related to the latest phone or tablet. My downloads folder is a mess so having an app show me the latest files is really useful, I know if I fiddled with my file manager enough it would probably show me the same, but hey this is simple and straightforward, if only they get rid of the flippin stickman.
Yes there is a settings button, it doesn't do anything really apart from checking for updates to the app. Maybe one day they'll add a "turn stickman icon off".
The app is free in the Play Store, just click the link below on your device and the rest is easy.
Google Play Store Link – Recent