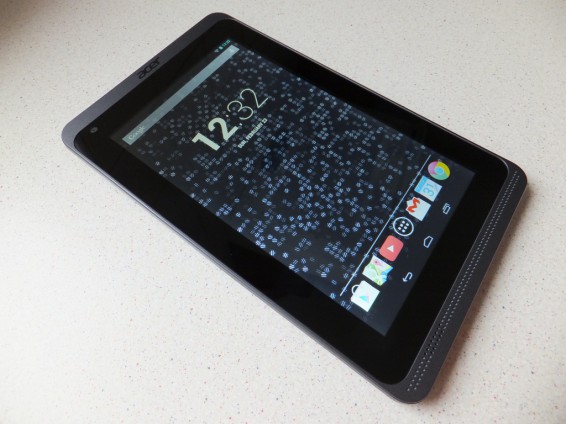 Acer keep on releasing products, year in year out. Seemingly regardless of whether or not the product will sell, it just like clockwork, another year another tablet. The Iconia B1-720 is the latest in their budget range of 7″ Android tablets, the Iconia B range offer reasonable specs and a decent price, almost to offer people something that don't want to spend a few hundred pounds and yet want a decent tablet. I've had the Iconia B1-720 for a few weeks now and it's about time to bring you my review. Starting with my good and bad points that have barely changed from my initial impressions.
Good Points
Nice lightweight device.
Nice looking design.
Loud front facing speaker.
Micro SD slot.
Charging point at the top.
30 GB extra Dropbox storage.
Device feels snappy for the price (about £126 or £135 depending on memory and colour).
Bad Points
Viewing angles on the display at times are a bit off.

Quite a few unnecessary apps are pre-installed and are non removable.

Screen feels a bit slow to respond at times.
Design
The Iconia B1-720 shares a similar design with the Windows 8 equipped W range tablets, with a different coloured frame around the screen and bezel. The Iconia B1-720 though has a back panel that on initial glance is just designed to look like the original Nexus 7, closer inspection though reveals there nothing like. It's just a coincidence they look similar.
The buttons and ports are arranged in what seems like a random manner around the edges of the tablet. The top edge holds the charging Micro USB port, the headphone socket and the power button, I quite like the placement of the power button on the top, it means you can be slumped on the sofa with the tablet resting on your chest and have the power cable sticking out the top. The right hand edge has the volume rocker which is almost flush to the casing but still retains a certain clickability. The left hand edge is where you stuff your little memory card thats full of films and music. There isn't anything left for Acer to put along the bottom edge and as the Iconia B1-720 doesn't have a rear camera it is just home to some branding.
Overall I like the design, the bezels are pretty large much as in the same way on the Nexus 7 (2013). See some comparison shots below.
Hardware
The Iconia B1-720 is a pretty basic tablet, at a budget price and with a spec to match. Here are the specs.
Processor & Chipset – MediaTek MT8111 1.30 GHz Dual-core (2 Core).
Memory – RAM 1 GB DDR3L SDRAM.
Memory Card Reader – MicroSD (microSDHC).
Storage – 8 GB Internal memory (4.3 GB available out of the box).
Display – 7″ TFT LCD WVGA (1024 x 600).
802.11b/g/n WiFi.
Bluetooth 4.0.
Front facing camera 0.3MP.
Battery – 1-year Lithium Polymer 2955 mAh.
Dimensions – 199×122.3×10.7mm.
Weight (Approximate) 320g.
Things to mention here are the lack of memory in the 8GB model, you get about 4.3 GB out of the box. The 1024×600 resolution display leaves some images and websites looking a bit pixelated, but worse of all are the viewing angles, turn the device to the left or the right and visibility goes out of the window, tilt it down the same happens and tilt it up not a lot happens. The screen also responds a bit slowly to some touch inputs at times, this could be the CPU and RAM just lagging behind a bit. Colours on the screen aren't as vibrant as on my other tablets.
The Iconia also only has a 2995 mAh battery, so don't expect huge uptimes with it, using it here and there every day I got through a week with it, however sit down and try and play some games you can wave goodbye to the battery.
The speaker on the front looks like it will be decent, but it only resides in the far left hand edge and sounds pretty basic, but that is made up for with volume as it is really quite loud, at full volume it's a bit distorted and doesn't have any bass to it. Using  headphones gives a better quality of sound, just again there isn't a huge depth to it, lacking in deep bass. However thanks to the inbuilt graphic equaliser you can tweak this, I found it to be a perfectly decent music player after a bit of fiddling.
Software
Acer never really mess about with Android, choosing just to install the standard stuff from Android 4.2.2 and the Google Services and with the Iconia B1-720 they have decided to ship a handful of apps with it, they've installed 19 extra apps, of which I used one or two. They do help the new user find their feet but for me it was just annoying trying to disable them and then knowing they'd used up some of the storage space. Once nice thing was getting some extra Dropbox Storage (30 GB) upon setting it up.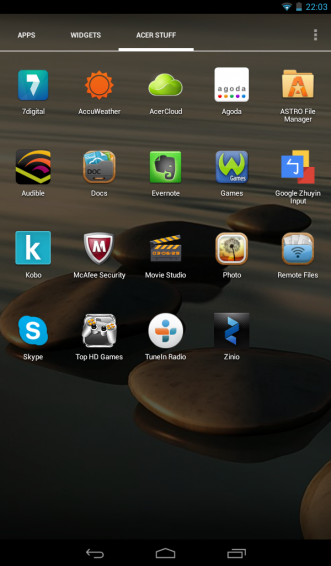 Acer have done a good job with the MediaTek Dual Core processor, I wasn't expecting the best but screen transitions and app loading just whizzed past. The only real time I noticed a slow down was when I was installing a handful of apps simultaneously.
I received the 8GB model to review which left about 4.3 GB out of the box, so it's more of a casual web browsing device with some apps installed as well, as opposed to a big gaming machine. The memory card slot lends itself to being used as a media centric device. Load it up with music or films and you would have a perfect device to hypnotise small people with.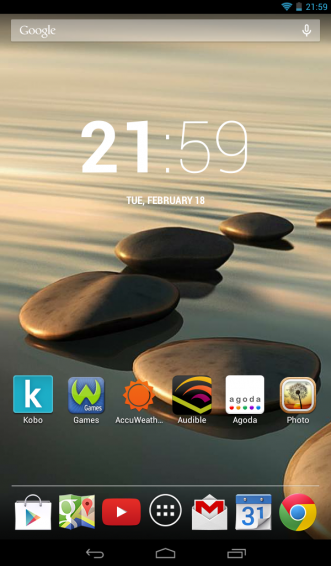 The games I tried out all worked as you'd expect, with a few missed touches on the screen here and there. With games like Ski Safari, Despicable Me – Minion Rush, Jetpack Joyride and Temple Run 2 playing well. Things like Modern Combat or Nova 3 aren't ever going to be pleasant thanks to the basic internals.
Benchmarks
Benchmarks aren't everything but they give you an indicator of what's going on with a device. Here are some scores for the tablets I've got currently. The Acer comes out around about devices like the Galaxy S2 to give you an idea of where it scored.
Acer Iconia B1-720
Quadrant – 3987

Antutu – 12452

3DMark (Ice Storm) – 2507
Asus Nexus 7 (2013)
Quadrant – 5152
Antutu – 20231
3DMark (Ice Extreme) – 7581
LG G Pad 8.3
Quadrant – 11945
Antutu – 19582
3DMark (Ice Extreme) – 6356
Conclusion
For the money the Iconia B1-720 is a viable option, the budget tablet market is a fierce one and there are many tablets to chose from. The Iconia doesn't have the best spec or build quality but the B range aren't about that, they're about offering something for the whole family at a reasonable price.
So hats off to Acer for producing another reasonably priced device, that performs reasonably well. Personally I'd save a few more pounds up and get a Nexus tablet.
Acer Iconia B1-720 - Review
Design - 6.5
Hardware - 5
Software - 6
Screen - 5
Battery Life - 6
5.7
For the money the Iconia B1-720 is a viable option, the budget tablet market is a fierce one and there are many tablets to chose from. The Iconia doesn't have the best spec or build quality but the B range aren't about that, they're about offering something for the whole family at a reasonable price.