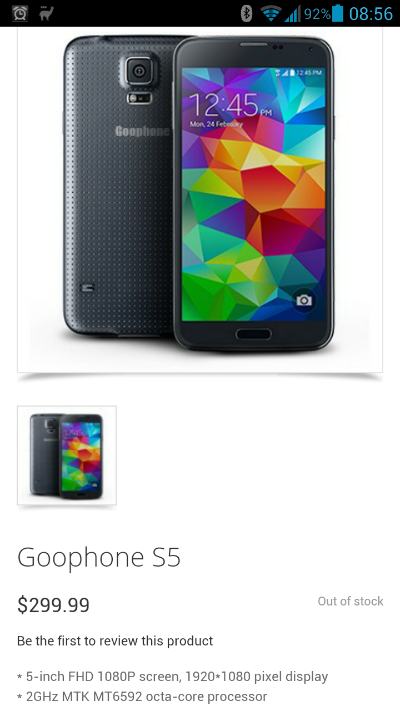 Was it really only Monday night that we see the Galaxy S5 for the first time? Well, in a factory somewhere in China plans are a-foot to clone it. Meet the Goophone S5, which has been listed on their website.
Thankfully it's not fully available just yet, and that picture is obviously the real Galaxy S5 with the Goophone logo pasted on, but you can bet that this cheaper and not-as-good knock-off will be available soon enough.
If you've got $299.99 and are prepared to wait for it to be made, expect an octa-core 2GHz MTK MT6592 CPU, a 5″ 1080P full HD screen (1920×1080 pixel) and dual SIM slots.
Powered by Android 4.2, it'll apparently also get GPS, 2GB RAM, 32GB storage, a 13 megapixel camera with LED flash at the back and a 5 megapixel camera up front. The battery is a 2800mAh unit and there's WiFi so you can download knock-off movies onto your knock-off phone.
You get the distinct impression that the makers just sat watching the live Samsung Galaxy S5 launch making notes…
Anyway. Cheap it is, similar it may look, but real it won't be. Be careful young Skywalker.