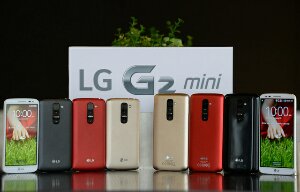 As MWC looms ever closer, we're getting ready for rhe official LG launch of the G2 mini and were a little surprised to see that LG have decided to out the handset today instead.
LG G2 mini is set to be a smaller, mid-range version of the flagship LG G2, following on the likes of the S4 mini, HTC one mini and the Z1 compact.
Specs for the mini are :-
– Chipset:  1.2 GHz Qualcomm Quad-Core MSM8926 (LTE) / MSM8226 (3G) / 1.7GHz Nvidia Quad Core Tegra 4i (LATAM LTE version)
– Display: 4.7-inch qHD IPS (960 x 540)
– Memory: 8GB eMMC / 1GB RAM / SD Card Slot
– Camera: Rear 8.0MP / 13.0MP (LATAMLTE version) / Front 1.3MP
– Battery: 2,440mAh (removable)
– Operating System: Android 4.4 KitKat
– Size: 129.6 x 66.0 x 9.8mm
– Weight: 121g
– Network: Cat. 4 & VoLTE / Cat. 3(LATAM), HSPA+ 21Mbps (3G)
– Connectivity: Bluetooth 4.0, WiFi (802.11 b/g/n), A-GPS, NFC (4G LTE version only)
– Colours: Titan Black, Lunar White, Red, Gold (depending on region)
–    Other: Plug & Pop, Guest Mode, Clip Tray, Quick Window, etc.
It's all about delivering that "premium experience" in a smaller device. The design is pretty much the advice the larger handset with a button around the back and inside there's features like the Guest Mode for those moments when kids or other want to use your device. There's also Plug & Pop, Clip Tray and Capture Plus inside and there's a duam-SIM version on the horizon too.
C.E.O of LG Mobile division Dr. Jong-seok Park, said..
You'll notice most of the talk is about the "experience" of the LG G2, not the exact speeds and feeds — these aren't the G2's specs squeezed into a smaller frame.
Get more details in our earlier story and do follow us on Twitter for all these latest news from Mobile World Congress. Further details of the LG G2 mini in the press release below.