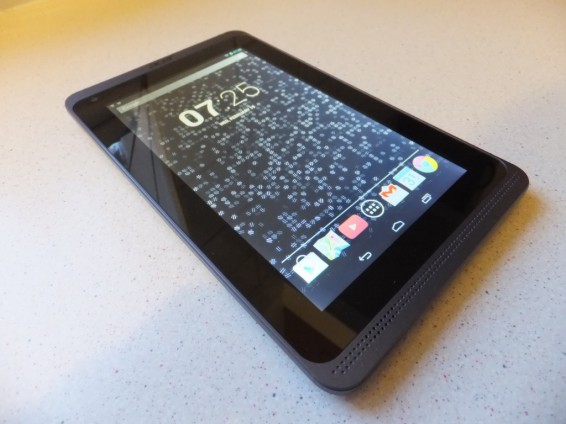 Google and Asus with the Nexus 7 tablets have really tipped the whole Android tablet market on its head. They showed the world that you didn't need a fancy skin and premium materials to make a decent tablet, you just needed reasonable materials and non cluttered software oh and a decent price. Acer and all of the other competitor's were left to catch up and to be honest up until now the offerings from Acer weren't up to much. When the Acer Iconia B1-720 arrived I wasn't expecting much, upon opening it I was really quite surprised. Here was something well priced and that looked and felt really quite good. I've got the Iconia B1-720 for the next couple of weeks and to start things of I thought I'd bring you my initial impressions.
Good Points
Nice lightweight device.

Nice overall design.

Micro SD slot.

Charging point at the top.

30 GB extra Dropbox storage.

Device feels snappy for the price.
Bad Points
A few iffy viewing angles on the display.

Overall low spec leaves the Iconia lagging in certain areas.

Quite a few unnecessary apps pre-installed.

Screens feels a bit mushy.
Design
I've had umpteen Iconia tablets over the last few years to review and in the main they've been plasticy and sometimes a bit flimsy. Is this new Iconia B1 any different, well yes slightly. It's still plasticy, but it's nice plastic, sort of like a budget version of the original Nexus 7.
It has a selection of buttons and ports as you'd expect. A volume rocker on the left, power top left, Micro SD slot right hand edge and the Micro USB and headphone socket on the top also. That's it.
The backplate is rather fancy looking, it's solid plastic and feels alright in the hand.
The front of the device has some big old bezels, but compared to the new Nexus 7, they are slightly smaller. The two tone plastic edge just sort of highlights it. The bottom bezel houses the speaker, whilst it looks like a great big thing it lives on the far left edge.
Hardware
The Iconia B1-720 is a pretty basic tablet, at a budget price and with a spec to match.
Processor & Chipset – MediaTek MT8111 1.30 GHz Dual-core (2 Core).

Memory – RAM 1 GB DDR3L SDRAM.

Memory Card Reader – MicroSD (microSDHC).

Storage – 8 GB Internal memory (4.3 GB available out of the box).

Display – 7″ TFT LCD WVGA (1024 x 600).

802.11b/g/n WiFi.

Bluetooth.

Front facing camera.

Battery – 1-year Lithium Polymer 2955 mAh.

Dimensions – Height 7.8″, Width 4.8″, Depth 0.4″.

Weight (Approximate) 11.11 oz.
For the price (approximately £110 ish) it is to be expected, the reasonable internal memory and Micro SD slot really are the highlights. As I'm often saying about budget devices, "this would make a decent media player for your holidays".
Software
Running Android 4.2 it may seem a little bit out of date, never has budget hardware been so much in need of a KitKat update with its support for lower specification devices. It just feels a little laggy at times when installing apps or multi tasking. The whole KitKat update should come soon, but Acer haven't really got much info around about it.
Acer have bundled quite a few apps with the Iconia, which in their eyes "improves" the out of the box experience. Most of which I can live with, the McAfee Security app hassles you every time you turn the Iconia on. I'm going to try and disable some of these.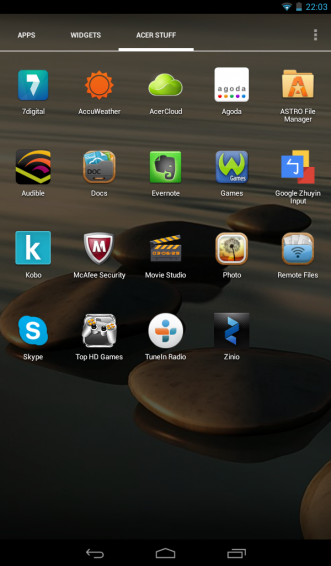 Conclusion
As this is my initial impressions I'm still not totally decided about the Iconia, I am surprised at the performance for the price as normally around about £100 in the tablet world things are bad. The Iconia certainly has a place in the world, for holidays or kids it would be ideal.
If you have anything that you want testing out just let me know in the comments below.