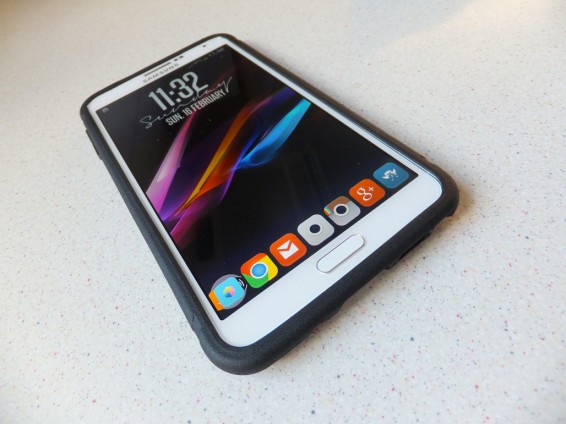 Me and phone cases have a colourful history, I swing from wanting a huge super protective case with a built in screen protector, through to a slimline but cushioned case and even some days I go a bit mad and use a phone naked. My Note 3 is no exception, I've got a stupid number of different shape, size and colour cases for it, every morning I have to make a choice as to which case to dress it in. Thanks to Tech21 I've got another case to choose from and it's actually pretty good. So onto the review, as always with my good and bad points.
Good Points
Slimline and lightweight.

D30 cushioning in the edges.

Nice matte grippy back.

Easy access to all ports and buttons.
Bad Points
The fit is a bit tight thanks to the tiny bezel on the Note 3.

The screen is only just protected as the case only protrudes by a MM if that.

A little costly at £24.99.
Design
Tech21 like their D30 impact material, it's a space age material that absorbs and dissipates shock away from your device if dropped. It is inserted in a strip around the inner edges of the case, which are visible on the inside of the case, so if you drop it and it lands on a edge your phone "should" be ok. Although the back and front aren't quite so well protected.
The case has cut outs for all of the buttons, ports and the S-Pen. The power and volume buttons are covered by the case although these parts don't have D30 in.
In Use
The smaller the bezel on a phone the harder it is to get a case to stay put and the harder it is to get it to fit properly. When I came to fit the Impact Tactical case I really had to firmly push it into place, I thought it was going to be one of those cases that just doesn't fit. It does, it's just a tight fit. I always worry with Samsung Galaxy devices that the palm swipe to take a screenshot won't function properly when using a case, as some of the huge cases get in the way of the edge of the screen. The palm swipe screenshot thing works perfectly well for me, so I can continue sharing screenshots with people who really don't care.
If the phone took a drop face down you may need to worry a bit, the edges of the case only just come past the front edge of the Note 3 so the screen is only just protected, but any slight unevenness in whatever you've dropped it on and your screen may be a gonna. A drop to the back of the phone and you should be ok, the case doesn't really offer anything special at the rear, just a layer of firm TPU type material, no fancy D30.
Conclusion
Overall I liked the Impact tactical case, it was nice and grippy, lightweight and I felt that my Note 3 was being looked after. You can get the Impact Tactical case here at the Tech21 shop page for £24.99, they also do it in Blue or Pink. There is also a clear variant that is called "Impact Mesh" which uses gloss clear TPU instead allowing you to see through.