Popular specs leaker '@evleaks' has another great leak today – the new Sony Xperia Z2 Tablet. It's due to be announced next week in Barcelona at Mobile World Congress and we'll be there live.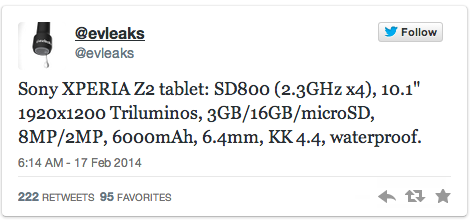 Considering @evleaks has been right about so many devices in the past, we can assume these specs are accurate. The new flagship tablet will have once again a 10.1 inch 1920x1080p resolution screen and RAM is now 3GB allowing for smooth multitasking.
Storage looks to be 16GB and expandable with MicroSD memory cards. The cameras are 8 megapixel on the back with 2 megapixel front facing for video calls.
The battery is an impressive 6000mAh to easily last you the day, especially with the great Stamina mode setting. It seems to be launching with 4.4 KitKat and is still waterproof.
Considering Sony normally launch new products on the older version of Android and confirm an update will be coming soon, it is great news to see them using the latest version out of the box
We will be in Barcelona attending Mobile World Congress so check back for all the news next week!