It's probably not the lightest, most practical or cheap skirt in the world, but it certainly looks pretty. Shown off at London Fashion Week, designers used 3D printers and a laser cutter to put together the design, which features 35 Lumia 1520 and 45 Lumia 1020 phones displaying alternating images on screen.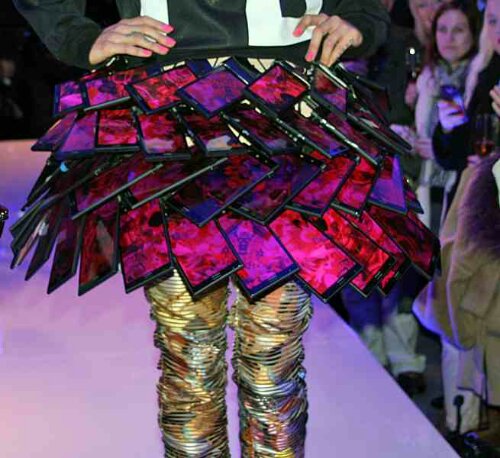 The reality of wearing such a skirt might be a little less appealing though. You'll need to charge the 80 handsets and set the specially-created software to display the images on each of the handsets before you head out of the house. Considering none of these use Mr Nutcase, you'll no doubt scratch or break a few (and possibly injure yourself too) whilst travelling to a big posh event. Once there though, you can hopefully make your big entrance provided one of the 80 handsets hasn't gone flat after displaying images on full brightness constantly.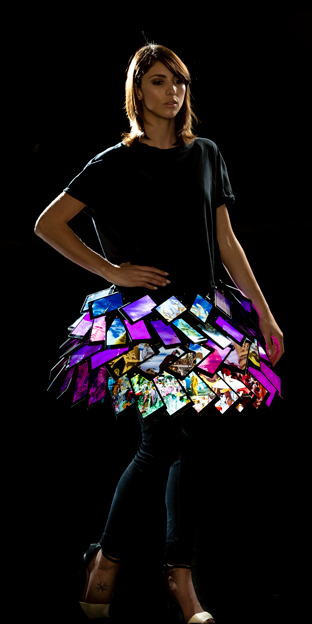 Design duo Fyodor Golan worked with Nokia on the stunt, and they told us…
The colour changes as the skirt moves and the idea of making screens react to the world around it via photographs and video is something we do not think has been done before.
We've seen handsets used in in new and interesting ways in the past, but we've got to admit this is very enjoyable to look at and we'll no doubt see handsets used in displays at Mobile World Congress.
Oh, and before you ask, no. It doesn't look like Nokia are going to be offering up the "Lumia Skirt" any time soon. That's probably a good job too, because the you'll need several thousand pounds to purchase the phones required – and we're not even including the cost of the skirt itself for that!
Get more info on the Nokia press release or watch the video below..