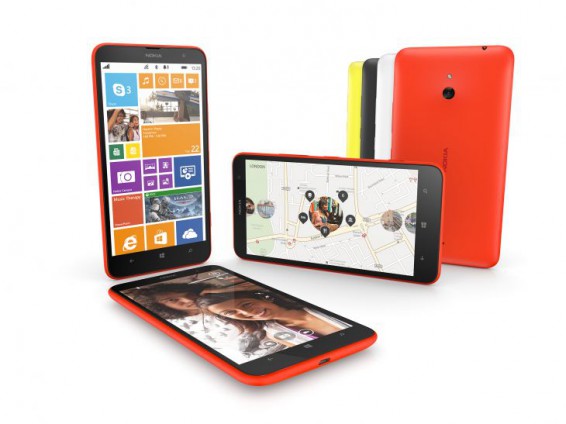 A few weeks before it started raining we heard about the new 6 incher from Nokia. The Lumia 1320, which comes complete with 8GB internal storage, 1GB RAM and a dual-core 1.7GHz CPU, runs Windows Phone 8 and has a 5 megapixel shooter at the back to add to the VGA one up-front.
You'll already know about the 1280×720 pixel screen, Bluetooth 4.0, WiFi, FM radio, HD voice and the 3400mAh battery. Now, though, it's available here in 'ole flooded Blighty. Available a week on Monday (February 24th), it'll be sold by EE, Virgin Mobile and Carphone Warehouse plus other online retailers.
Carphone Warehouse have already added it onto their site and you can get the 1320 freew on plans starting at £21 per month.
Conor Pierce, VP of Nokia in the UK and Ireland, stated..
We are building on the continued success of the Lumia range by looking to offer the latest Windows Phone in a large-screen smartphone format at a highly competitive price. Consumers and particularly businesses will love its large screen, warm industrial design and the richer imaging experience it is able to deliver. The Nokia Lumia 1320 brings a cost effective addition to our large screen Windows Phone portfolio.
4G connectivity, Nokia Camera, Nokia Storyteller and unlimited ad-free music streaming from Nokia MixRadio also come as part of the deal.