With MWC coming up in a couple of weeks, it's inevitable that some things will leak before. Now the latest news is the updated Samsung Galaxy Tab range. These new tablets will be the 4th generation which now includes a 7″, 8″ and 10″ model.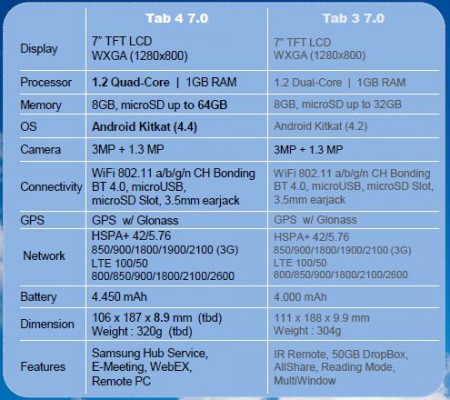 The above picture shows the differences between the new version and the previous iteration, the main differences being the newer version of software, bigger memory card support and the boost in processor from a dual-core to a quad core. This trend continues with the other sizes, with the 10″ also sees a boost in the camera to 8 megapixel (although why people use a 10″ tablet as a camera I don't know). Not sure about the massive weight drop on the 10″, 320g seems a little light and flimsy so think that might be a typo.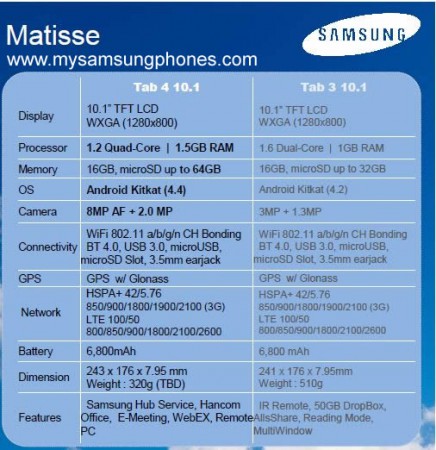 The 8″ is a bit of an odd one, getting a RAM drop, unless you get the LTE version and then the camera drops in megapixel too.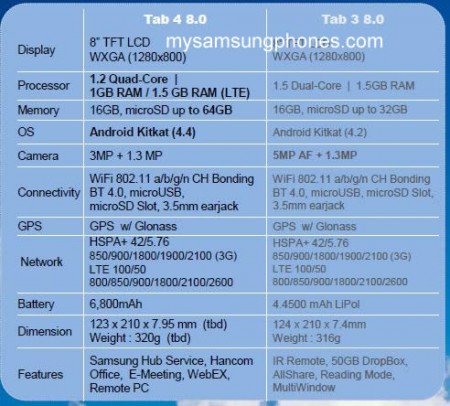 We will of course be bringing you full details from the Unpacked event and all other events at MWC, so stay tuned for more details, official confirmation, prices and release dates.