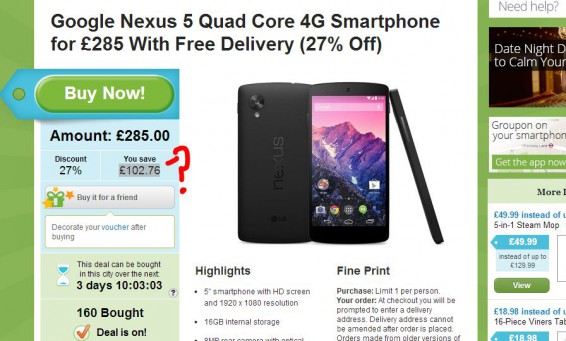 I don't often "do" this whole Groupon thing but here's a rather fine deal on the Google Nexus 5. If you buy it from Google direct you'll be paying £299 for the 16GB version and then another £10 to have it delivered.
Groupon, for the next few days at least, are selling the 16GB Nexus 5 in black for £285 with free delivery. The Nexus 5 runs Android 4.4 KitKat and has an 8 megapixel camera around the back. You can read our full review if you're thinking of getting one.
Oh and no, I've no idea where Groupon got the "You save £102.76" figure from. Nuts. Either way, it's a good deal. Meanwhile, O2 continue to try and off-load it for £449.99 on their Pay & Go plans. Insane.