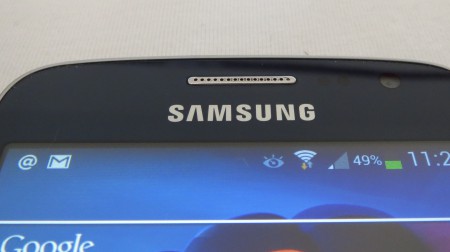 If you have been living in a cave with your eyes shut and your fingers in your ears, you won't be aware of the upcoming Mobile World Congress, which kicks off at the end of the month.
Mobile phone giant Samsung have the "Unpacked 5" event on Feb 24th where it is rumoured they are going to announce their new flagship device, the Galaxy S5.
As always, the interwebs are full of leaked this and leaked that, and another leak has emerged this time from the AnTuTu the benchmarking site.
The benchmarks show two versions of the Samsung Galaxy S5, suggesting an affordable version, perhaps like the Apple iPhone 5C, appearing alongside the flagship S5.
The first, SM-G900R4, has a 2.5GHz Snapdragon 800 processor, 3GB of RAM, 32GB storage, 16-megapixel and 2-megapixel cameras, Android 4.4.2 and an eye-watering 1440 x 2560 resolution display (2k).
The other variant, SM-G900H, has a 1.5GHz octa-core Exynos 5422 processor with Mali-T628 graphics. This has 2GB of RAM, 16GB storage, 16-megapixel and 2-megapixel cameras, Android 4.4.2 and a 1080 x 1920 display. This version sounds nearer to the S4 than an S5.
This could be Samsung announcing two devices like Apple or like the Note 3 and Note 3 Lite, or could it be a completely different (dummy) devices just to throw us off the scent?
Not long till we find out.