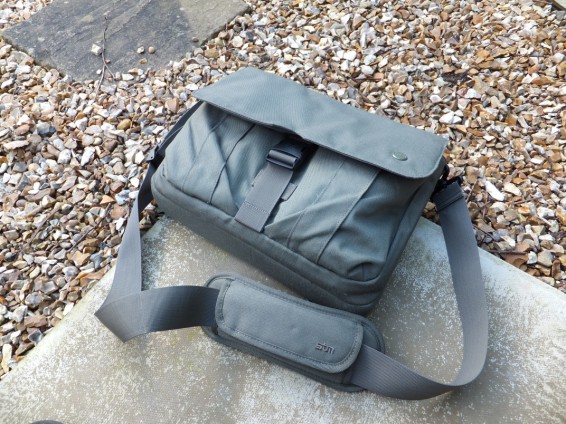 I've got too many laptops and tablets lying around at home at the moment and I've been on the lookout for a bag that'll allow me to safely store 3 or 4 devices plus cables accessories. I've often looked at STM bags in the past, so when I recently got a 13″ Lenovo Yoga laptop I decided now would be an ideal time to get a new bag for my kit. So onto to the review starting of course with the good and bad points.
Good Points
Great build quality.
Nice selection of pockets and pouches.
Water resistant canvas outer.
Bad Points
A little pricey at £39.99.
Design
The Scout 2 on the outside just looks like any other laptop bag, it's only when you open it up that you start to realise that it is a little bit different and that's different in a good way. On the outside you get a large buckle attached cover that covers the pouches, you also get two handles, one is a small hand strap which is tucked away under the cover and the other is a shoulder strap with a nice padded shoulder pad, which is removable if you want. In fact the whole shoulder strap is removable, via some nicely designed brackets at each end of the strap. The back of the bag also has a document pouch to put any paperwork in.
The inside of the bag is pretty cool, the laptop section at the back is padded meaning your precious cargo hopefully won't get damaged. It is quite deep so you can fit a chunky little laptop or a few tablets in there. The rear pouch also has another flip cover which attaches via velcro, which is really nice as the cover stops that annoying gap you get at the edges of other bags.
The next pouch is another document pouch or as I used it for another tablet, this has a small zip compartment on the front and then after that you get two accessory pouches, which are for carrying battery packs, a DVD drive perhaps and a tangled bundle of charging cables.
There are four sizes of the bag available, I got the "Small" size which just about coped with my Lenovo Ideapad Yoga 13 and my Microsoft Surface RT in the padded section simultaneously. The dimensions on this model for the rear pouch are 24.5 x 33.5 x 3 cm. The smaller models are designed for iPads and the larger one is for 15″ laptops.
In Use
The bag is cavernous, whether that is because I'm putting ultrabooks and tablets in it, instead of a huge laptop. I can carry a whole host of stuff, I managed to fit my Lenovo laptop, a Microsoft Surface, a Nokia Lumia 2520, some documents, a Galaxy Note 3 plus its charger and a Anker mobile battery pack and it wasn't bulging. Remove a tablet or two and you could also carry all of the relevant chargers for you device.
The Storm 2 bag has a few little features that in my eyes mark it out over similar products. The first one is the velcro flap that folds over the padded section at the back which has side flaps as well. The second one is the buckle holding down the main cover I don't know why I just like it. The third one is the handles, I often find my bags not to have decent straps, on this the main strap is removable and there is also a little handle on the top as well which tucks away.
As the rear section is the padded bit, it is fairly firm so when your carrying the bag at your hip it is obviously a laptop bag as opposed to a normal messenger bag.
Conclusion
The STM Storm 2 bag is a great piece of kit, it would be a worthy addition to anyone's collection. I find it handy as I can carry a laptop and a load of tablets. As to how I would improve it, I'm not sure, maybe a few more velcro covers over the other sections not just the rear section and I'd also make it a little cheaper.
A big thanks to GearZap who sent us the STM Storm 2 bag, you can yourself one for £39.99 from them here plus a range of other bags here