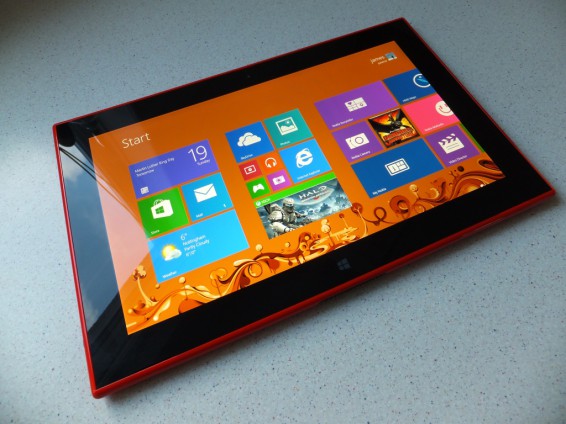 The rumours surrounding a Nokia tablet have been floating around the web for a while now, the big questions for me were always how big will it be and what operating system will it run. Well late last year those questions were answered and now we have the Lumia 2520 in the Coolsmartphone offices for review. So to start us off let's have a look at the good and bad points.
Good Points
It feels great in the hand.

It has a glorious screen.

4G built in.

Micro SD slot.

Decent front facing speakers.

Bundled Nokia software.
Bad Points
It isn't as functional as a Windows 8.1 device.

Annoying little quirks like not being able to add Google Calendars.

No full sized USB port.

A little pricey for what you get (around about £400).
Design
The Lumia 2520 has a tough job, how to make a 10″ tablet look good, Microsoft tried with the Surface, Apple succeeded with their iPads, Samsung failed with their plasticy monstrosities and Nokia have pretty much done it. They've just took the popular design of many of their phones and made it bigger. So that means lots of polycarbonate, curved edges, curved corners, concealed SIM and Micro SD slots and some nice ports and connectors.
In the hand the 2520 feels good, as it's a whole lot less angular than the Microsoft Surface I found myself using it quite a lot, I even sat down for a lengthy session of Halo Spartan Assault on it. Which tends to hurt after a while on the Surface.
The top of the device is where most of the fun stuff resides. At the top left you get the dual tray which holds the Micro SIM card and also a Micro SD card. This tray is a dual tray which pops both cards out when it's removed. Which is slightly annoying, but once they're in I doubt they'll be removed much.
The top right is where the power button and the volume rocker live. Both buttons are nicely placed and they don't stick out too much. The power button works the same way as the power button on Windows Phone, as in a long press will trigger the shut down process. Which my Surface doesn't do.
The other edge have a few holes littered around. The left hand edge has the Nokia charging port, which looks like the headphone socket, which initially took a bit of concentration to work out which was which. The right hand edge has a Micro USB port for connecting the Lumia to another PC and also a USB 3.0 port again for connecting to another PC. The bottom edge has the connection for the Nokia keyboard accessory.
The back of the Lumia is pretty sparse, with just some Nokia branding, a NFC badge and the camera.
Lastly one interesting feature is the placement of the speakers, there are three placed around the screen. Two along the bottom and one at the top, together they make for a really decent sound. I'm not sure what the third at the top does though, perhaps a microphone. The speakers made listening to music or the videos on the web was a pleasure.
Hardware
Spec wise the Lumia 2520 is a reasonable spec for a Windows RT device. The spec is as follows for the UK version.
Chipset – Qualcomm MSM8974 Snapdragon 800.

CPU – Quad-core 2.2 GHz Krait 400.

GPU  – Adreno 330.

Display – IPS LCD, 1080 x 1920 pixels, 10.1 inches, 218 ppi, Corning Gorilla Glass 2, ClearBlack display.

Memory – Micro SD slot up to 64 GB.

Internal Memory – 32 GB, 2 GB RAM.

Camera – Primary 6.7 MP, 3088 x 1744 pixels, Carl Zeiss optics, autofocus, Features 1/3.4" sensor size.

Camera – Front facing 2 MP.

4G Ready.

Micro – SIM.

Bluetooth 4.0.

NFC.

GPS, A-GPS and GLONASS.

USB 3.0 with USB Host support.

Micro HDMI out.

Battery – Non-removable 8120 mAh

Dimensions – 267 x 168 x 8.9 mm.

Weight – 615g.

Microsoft Windows RT.

Colours –  Cyan , Red, Black, White.
Highlights in the spec are the Snapdragon 800 processor which really makes the Lumia feel rather quick. The display also is really rather good too with great viewing angles and colours, 1080p has become the norm amongst high end Windows tablets so to find it on a Windows RT device is a pleasure. The speakers are also really quite good, creating a nice stereo sound. Having Micro HDMI out is handy as well to show friends and family photos and videos or just to play games on a larger screen. Having a memory card slot is also rather handy, you can fill it with music and videos and really make it into a multi media device, ideal for a holiday or something.
The USB 3.0 port is an odd choice, it really limits what you can plug into the Lumia, although part of the port acts as a Micro USB port and it allowed me to plug in my Micro USB memory card reader. If they had used a full sized USB port it would have really increased the potential for this tablet. The USB 3.0 port isn't for charging either.
Out of the box I got 15GB of storage out of the 32GB it comes with, although as you can see below even that is rather misleading. I think 64GB should be a minimum on devices like this.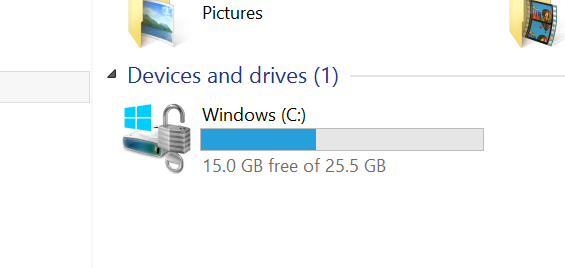 As to how I would improve the Nokia Lumia 2520, well I'd possibly have used an Atom processor and installed Windows 8.1 instead and I might have ditched the 4G and gone with more internal memory, oh and fitted a full size USB port. They then could have probably sold it for the same amount.
 Software
A lot has been said about Windows RT since its release and yes it may seem like an odd choice for a tablet OS, but it really is growing on me, the Metro modern UI apps are really starting to improve in quality and quantity, with some big name brands and app developers publishing apps. For me the whole desktop side of things just over complicates the experience, yes on my laptop it's great being able to jump to the desktop environment and continue working, but on a tablet it's less about that and more about the tablet experience, which Windows 8.1 RT is pretty good at offering.
Although saying that, to a certain extent Windows RT does lack in the same areas as Windows Phone, ie no big name Internet Banking apps, no ASDA app, Expedia can't be bothered to publish their app in the UK, so it's just the same old story but on a bigger device, but being a bigger device you can just get what you want to do using the web browser. I like and hate Windows RT in equal measures, from one side it is perfectly adequate and from the other you question its existence.
Onto the issue of the web browser, Internet Explorer has come on leaps and bounds since the olden days and the latest version is a great piece of touch optimized software, but I often find websites that just don't behave as they should and the option to use another browser just isn't there, as there aren't any. Little things like that make me yearn for a real Windows 8.1 device not an RT model.
Gaming is also a big thing on Windows RT, with many of the big name games like Angry Birds and Cut the Rope existing in the store, it is definitely more the casual corner of gaming as console class games just aren't going to work on a touch tablet. I did have great fun playing Halo – Spartan Assault on the Lumia as the speakers really churn out some good sounds.
As the screen is a 1080p panel it means that some apps unlock extra real estate and you'll notice this if the app developer utilises the space nicely. I noticed it running Nextgen Reader which had an extra column to display my RSS feeds compared to my Surface.
Nokia have bundled a selection of apps that tie in nicely with their Windows Phone handsets.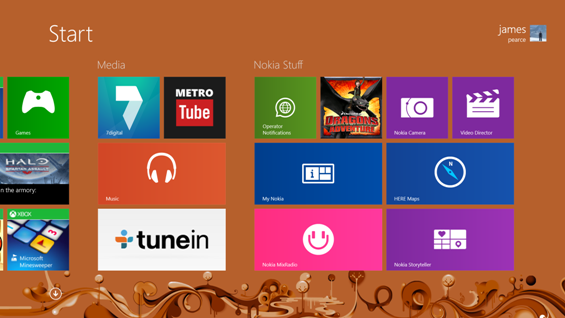 If they continue to develop Windows devices it will be interesting if they continue to expand their catalogue of apps.
As a Windows RT device the Lumia 2520 get Office 2013 pre-installed which is nice, although having to run it on the desktop side is weird. In fact the whole desktop side of things is weird, having to jump into it to change some settings is possibly the strangest thing that has happened in my life recently.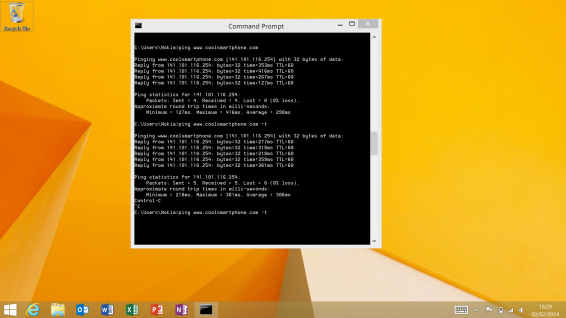 Other Notable stuff
Camera
The camera in the Lumia 2520 seems pointless, in fact I would go so far as to say that all tablet cameras are pointless. But, there is always a but. The camera in the 2520 is the same as on the Lumia 720, which was surprisingly good at low light shots, so rather unsurprisingly the 2520 is too. Although the size of it and lack of OIS makes it weird to use at night, the shots I got were a little noisy. The lack of flash also limits it, but during the day it can take a decent shot.
Benchmarking
As I have an original Microsoft Surface RT I thought I would run some benchmarks on both devices to see which was the faster device on paper. In real life the Nokia feels so much quicker than the Surface, but I just wanted to see some numbers.
Lumia 2520
3DMARK Score – 16256
Microsoft Surface RT
3DMARK Score – 3758
So as you can see the Nokia Lumia 2520 is pretty much miles ahead of the Surface RT.
Battery life
I always find battery testing tablets that you don't use solidly difficult. In the few weeks I have had it, I've only really charged it a few times and it's been used pretty much every day. If you used it with the power keyboard case it would no doubt last you a decent amount of time on a charge.
Conclusion
Overall the Nokia Lumia 2520 is a great device, it just has a few issues that when you look at the bigger picture you'll probably not buy the Lumia. First is the price, in this day and age when you can get full blown Windows 8.1 touch devices for a similar amount why would you get this? Just because of the design? Doubtful really.
Windows RT is getting better but it really does limit what you can do with the Lumia 2520, having Office 2013 installed is handy, but it does feel weird having to use the desktop side of the device to fill in a spreadsheet.
I think if Nokia continue this line of devices they have the potential to make a seriously nice device, it's just balancing price, software and hardware features that they need to get right. They certainly got damn close with the Lumia 2520.
Nokia Lumia 2520 - Review
Design - 9
Hardware - 8
Software - 6.5
Camera - 6.5
Screen Quality - 9.5
Battery Life - 8
7.9
Overall the Nokia Lumia 2520 is a great device, it just has a few issues that when you look at the bigger picture you'll probably not buy the Lumia. First is the price, in this day and age when you can get full blown Windows 8.1 touch devices for a similar amount why would you get this? Just because of the design?