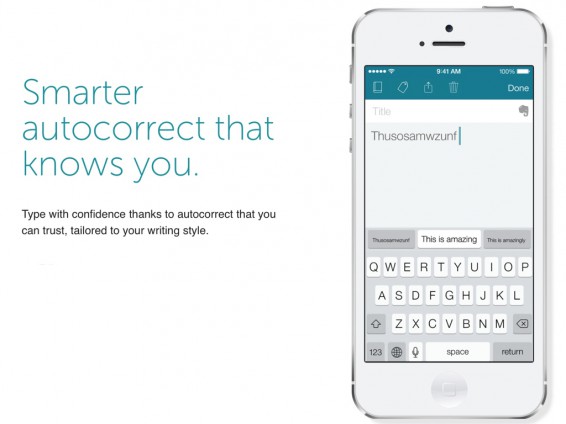 Many Android users are very familiar with Swiftkey's excellent replacement keyboard, which is one of the best on Android. However, Apple are far more restrictive on custom keyboards – as in you can't replace the keyboard, only make some enhancements in individual apps.
This has obviously been vexing SwiftKey, but where there's a will there's a way, and today they have launched Swiftkey Note for iOS.
On the surface, it's a simple, but effective note taking app, with Swiftkey's excellent predictive text functions built in. It has a great clean look, very much in the iOS7 aesthetic and also integrates fully with Evernote.
The Swiftkey predictions are as great as always, and considerably better than iOS' in my opinion – and I suspect good for anyone else that has struggled with the iOS keyboard's slightly peculiar ways.
So far so good, but there's actually a feature that makes it more then just a note app – sharing. Open up the app and type and hit share and it will send the text straight into an email, an iMessage or copy to the clipboard for other apps. And voilà, you have a Swiftkey keyboard by the backdoor for iOS. Yes its limited in terms of working with other apps, but actually email and messages probably take up a lot of your typing day anyway, so this app is a most welcome addition. If they can add Twitter and Facebook integration too it will be fantastic, but its still great now.
Oh and the best part – it's free! Go and get it now.
Link – Note on the Swiftkey website
Link – Note in the App Store