The big rumour today is that Google plan to cease using the 'Nexus' branding in 2015. Instead they'll begin to offer 'Play Edition' handsets, thus merging both the Google Edition and Nexus range.
This hot tip comes from a very reliable source – Eldar Murtazin. He is widely known in the mobile industry for getting information well ahead of release.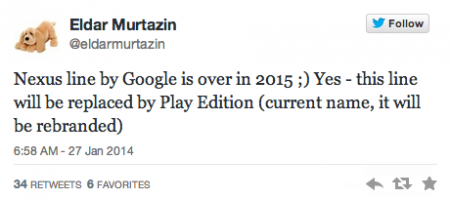 Whilst this could be good news considering the great hardware other manufacturers have already made under the Google Edition brand (such as the HTC One and Galaxy S4), it will be a shame to lose the Nexus branding.
This does also make some sense considering Google own Motorola now and devices such as the Moto X and Moto G are almost 'nexus' like already
Whilst this is not 100% confirmed, Eldar has been right about so many things in the past I would expect this will now actually happen
Source: Twitter