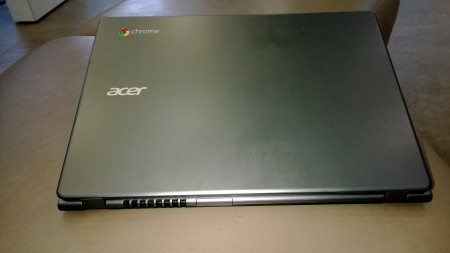 Chromebooks. Are they a good alternative to your day to day laptop?
That is the question we are going to try and answer over the course of this review. I have been using one now for the past few days courtesy of Acer who lent me the device for review. Also I am going to to try and answer the question about where it fits in amongst a world of ever more powerful tablets such as the iPad Air, Nexus 7(2013) and Dell Venue 8 Pro.
 Hardware
I have been intrigued for a long time about the concept of the Chromebook since its original inception a few years ago. As a long time Macbook user I crave portability of my devices over most things (that being said, my Macbook is practically a desktop now). For this reason I have been a huge fan of Tablets and I have tried several over the course of the last 4 years, covering all the main contenders. Whilst my tablets in their various different guises were and still are great, they come with compromises. The main one, of course, being the lack of a physical keyboard. for writing. As a writer for the site and also a new dad I find that I am trying to to get my writing done whilst commuting as I don't really have the time elsewhere. I have tried doing this on Tablets, Phablets and also Netbooks.
The Chromebook works well in this environment as it is light and easy to use, once you have some things set up (see later in the review). It also has a very nice keyboard for typing on. All the main keys are where you would normally expect to find them. They all have a good feel to them and a nice spring back action once pressed. Now, we are by no means talking Macbook Air or Thinkpad levels here, but for the average typist this will more than suffice.
Unfortunately the trackpad is not quite as good as it feels very stiff and is plasticy. I also found the loudness of the click quite disconcerting after the first day of using it. This device would definitely benefit from a touchscreen and the good news is that Acer have one coming very soon.
The screen measures in at 11.6″ and has a resolution of 1366 x 768. It is of a good quality and is crisp when looking straight at it. From a sideways angle however, I did see some inversion of colours which was a disappointment. Considering that this is a TFT screen that is not too bad. At a middle level brightness is good enough for me to be able to see what I am doing without too much reflection. Given the focus of this device is for web work then that's fine.
If, on the other hand, you were trying to use this for digital media editing, then you would struggle a bit. The colours just seem a bit "off" in comparison to a Macbook.
The battery life on the laptop has proven to be very good, getting me through a working day with no real issues. This is due in part to the Intel Haswell processor (Dual Core 1.4ghz Intel Celeron 2955U). It's optimised for longevity.
The laptop does not get warm in normal use and, although it does have a fan, it will hardly ever come on. The webcam on the front is good enough and can be used for Hangouts with no real issue. However, I would be reluctant to use it for anything else.
By means of connectivity you are doing quite well here. There's a full-sized HDMI, USB 3 and a 3.5mm headphone jack on the left hand side.
On the right you've got a Kensington lock, USB 2 port and a full-size SD card slot. Inside you have Bluetooth 4.0 and WiFi supporting A,B,G,N protocols. This is in my opinion where Acer have made a grave mistake.
Let me explain, Google is an on-line ecosystem and Chrome is, as we know, a Browser. Chrome OS is essentially a thin and light platform where all the major elements of the OS are dependant upon an internet connection. That internet connection is (on this model) just WiFi, and therein lies the problem. You need to provide the internet connection from somewhere else i.e. a smartphone or WiFi hotspot. Perhaps a MiFi.
Now yes, you can use your Smartphone to tether and get internet that way, but let's face it, we don't all have the unlimited data plans that we would like. It'll also kill our ever-precious batteries. Pocket WiFi hotspots are still expensive and somewhat fiddly. If Acer had put in a 3G or 4G modem in this device it would solve a lot of the potential issues that people are going to have. It will also make it a more viable option for professionals wishing to use it on the road. This problem can be overcome with some careful planning though as I will mention later on.
All in all, the Acer C720 is a good device. It is well built and looks good. It is not quite up to the Macbook Air sort of quality or Ultrabooks, but it's not trying to be either.
This is designed as a second computer and in that space it ticks all the boxes. It will also be perfect for someone like my parents who very rarely need the requirement to use the device away from home. For a computer that will get you change from £200 this really is not much to complain about.
 Software
If you have used Chrome on your Mac or PC or even your Android Tablet you will be very much at home with the Chromebook. This is essentially what Chrome OS is all about – the browser. As I have alluded to earlier on in the review, the device can be used in an offline state but it does require some pre-planning to do so. I am actually writing this review on the Chromebook on a grey Sunday morning whilst heading to work on the train. There's no internet connectivity in sight.
How you ask?
Well, Google Drive, Docs Sheets and Slides can all be accessed offline. They will be saved on to local storage (of which this device has 16GB, the touch version will have 32GB) until you are able to sync back to Google. This can also be done with email and some other apps. In the Chrome apps store there is an entire selection of apps that can be used in this way. It does help to alleviate the need for the missing modem capability, but as soon as you step out of these apps you run into problems.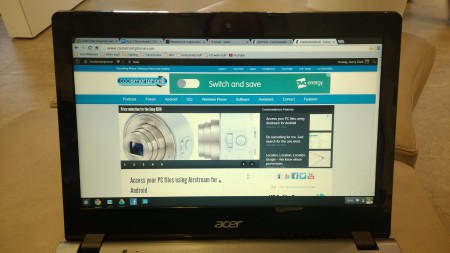 The OS is clean and very spritely which is helped to tick along by the Intel Haswell chipset. I was only really able to make it sweat by playing Command and Conquers latest game, Tiberium Alliances, which is web based. I did also play Murder files on the device, which is an offline game and it worked really well and was extremely fluid. Again, though this is not intended for hardcore gaming, it will handle most of your casual games fine.
Summary
So, to come back to my original question that I asked at the beginning of this review. Is this a suitable replacement for your laptop?
Well, the answer to that is a little trickier than one might first imagine. In some scenarios, yes it is, but then in other scenarios it is not. For a road warrior who needs to have all his info on him and be instantly available regardless of connectivity, this will not work in its current format i.e. without the mobile data. However, for someone who is using it at home for browsing the web and doesn't need an all singing all dancing laptop, or to worry about updates and antivirus, then yes this will do that.
However, you then get into the grey area in the middle of these two extremes where I fit. I do prefer connectivity when on the road and I would like to have the ability to edit digital media on the my machine for purpose of writing for this blog. With the current software available that is just not possible right now but I think it will be in the near future.
I do think that Chromebooks are definitely worth keeping an eye on and as more manufacturers get on board the appeal will continue to grow.
As for my other question, "Is it better than a tablet?", well yes, for web consumption and apps.
Also, if you are wanting a touch experience, then it will be well worth waiting for the bigger brother to arrive in the form of the Acer C720p coming in March for £300.
I would like to thank Acer for the loan of the device.
Acer C720 Chromebook review
Hardware - 60%
Software - 60%
A good thin and light laptop but hurt by lack of 3g