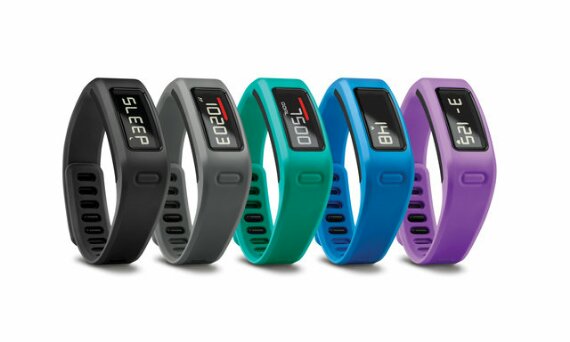 The wearable device market is hotting up. What with SmartWatches, fitness wristbands and eyewear being the current favourites. Garmin the well known and long established GPS device manufacturer have branched out into the fitness wristband arena. Which isn't too far from the GPS watches they've been making for years now.
The Vivofit is a wristband and watch that basically tracks and records your every move and syncs with the Garmin app on your phone (Windows Phone need not apply).
Vívofit's lightweight, waterproof and comfy, curved design means that you can wear it just about anywhere – even in the shower – and with batteries that last for a year, you don't need to worry about recharging it.
The Vivofit will be available from March 2014 and it will be available in black, purple, teal, blue and slate and comes with both a small and a large adjustable bracelet. The price should be £99 which for me makes it quite appealing.
The Garmin vívofit's key features include:
·         Personalised daily goals
·         24/7 wearable and waterproof soft band
·         One year battery life
·         Display showing: time, steps, distance, calories and how you are progressing towards your daily goal
·         Compatible with a heart rate monitor
·         Inactivity monitor
·         Sleep tracking
·         Wireless sync with Garmin Connect for a complete overview of progress